2022 WDF Winmau World Masters – Day 1 Report
For the first time in three years, the Winmau World Masters is back on the darting calendar.
Taking place outside of England for the first time in the event's illustrious history, De Bonte Wever in Assen played host to 799 matches on day one of the 2022 tournament.
Duff and Klaasen through as Tricole and Hurrell crash out
A new World Master is guaranteed in the Men's tournament with there being no former winners in this year's field. Day one saw the round-robin phase take place, with 290 players spread over 64 groups with the top two from each group advancing to the knockout rounds.
World Champion Neil Duff kicked off his charge for a major title double in 2022 by coming through his group with a 100% record. After coming through a last-leg decider with Sweden's Björn Lejon, the Northern Ireland international beat both Erik van Manen and Janne Passo 4-1.
Duff is now course for a potential Last 64 clash with the WDF World No.1 and the man who won the Dutch Open in this venue earlier in the year, Jelle Klaasen. 'The Cobra' had won his first two games but a defeat to America's Elliot Milk relegated him to second place in the group.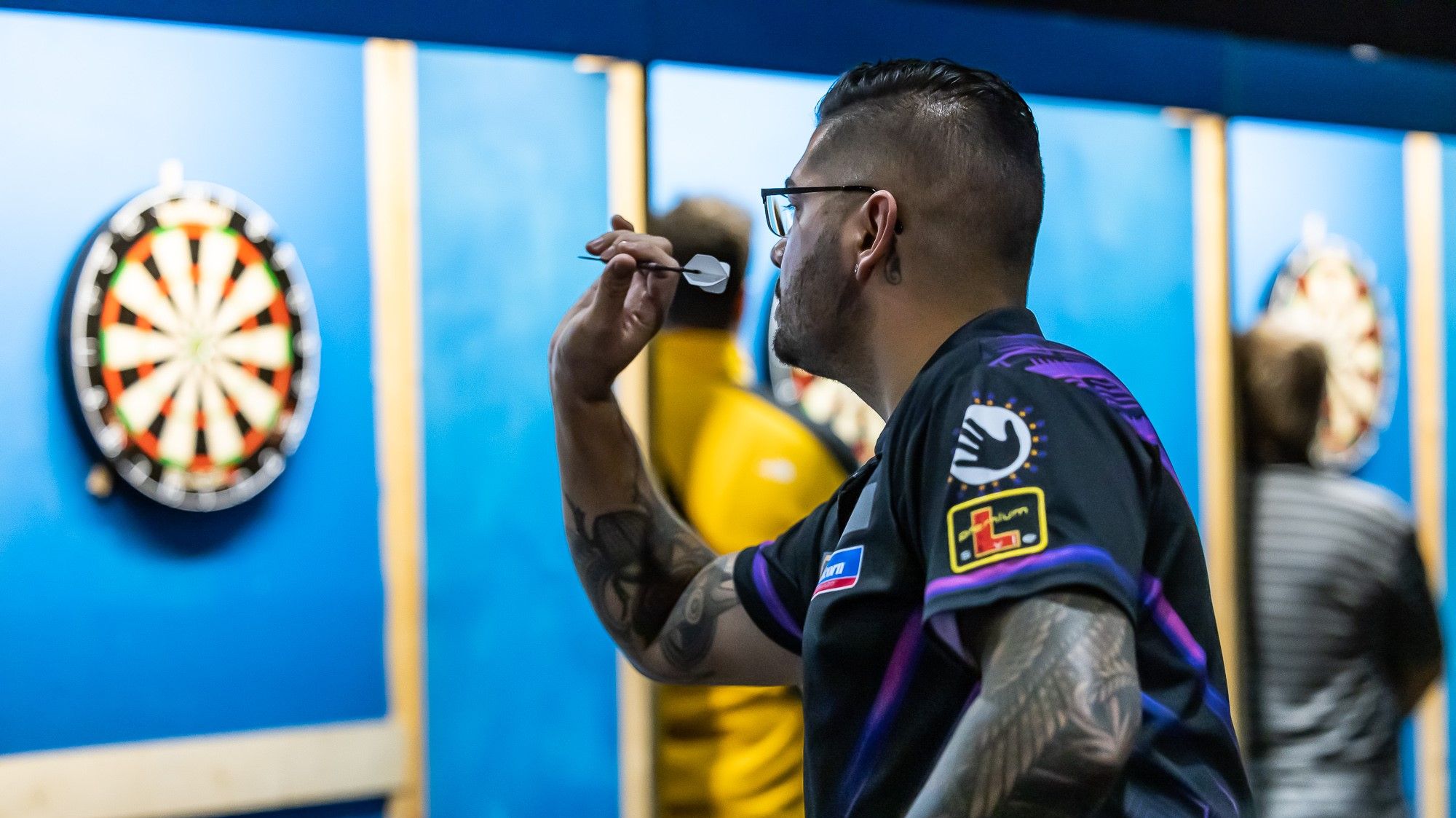 Jelle Klaasen at the 2022 Winmau World Masters. Photo: Jos Groen/NDB
The highest-ranked player to exit the tournament on day one was England captain James Hurrell, whose opening game defeat to Kent Sivertsen proved costly as he finished third in his group on leg difference.
World Championship finalist Thibault Tricole also bowed out early after losing two of his three games. One of those defeats came against American international Robbie Phillips, whose 105.64 average was the highest individual average of the day.
Jacques Labre, who made history by winning the Europe Cup in October, enjoyed far better fortunes than his compatriot Tricole as he topped his group with four wins from four. Although he didn't quite find the same level he did in Gandia a couple of months ago, 'Biko' definitely has more in the tank.
Jim Long had the highest overall average for the day, driven by the 103.66 he recorded against Germany's Simon Miebach.
Shaun McDonald, meanwhile, is bidding to become only the second man to win both the Youth World Masters and the senior equivalent. He enjoyed a perfect start to his campaign, topping his group with three wins from three and without dropping a single leg.
The legend Paul Lim also remains in contention. The 68-year-old recovered from losing his opening game 4-0 to win his next three and go through to the knockout rounds as the second-placed player in his group behind Japan's Jun Matsuda.
Andy Baetens, Chris Landman, Richard Veenstra, Luke Littler, Danny Lauby, Alexander Merkx, James Richardson and Wales captain Nick Kenny were among the others to progress in impressive fashion.
128 players are still in with a chance of being crowned Men's World Master at the end of the week. They will commence the knockout rounds on Friday, with the top eight going through to Sunday's final sessions. You can view the bracket on DartConnect.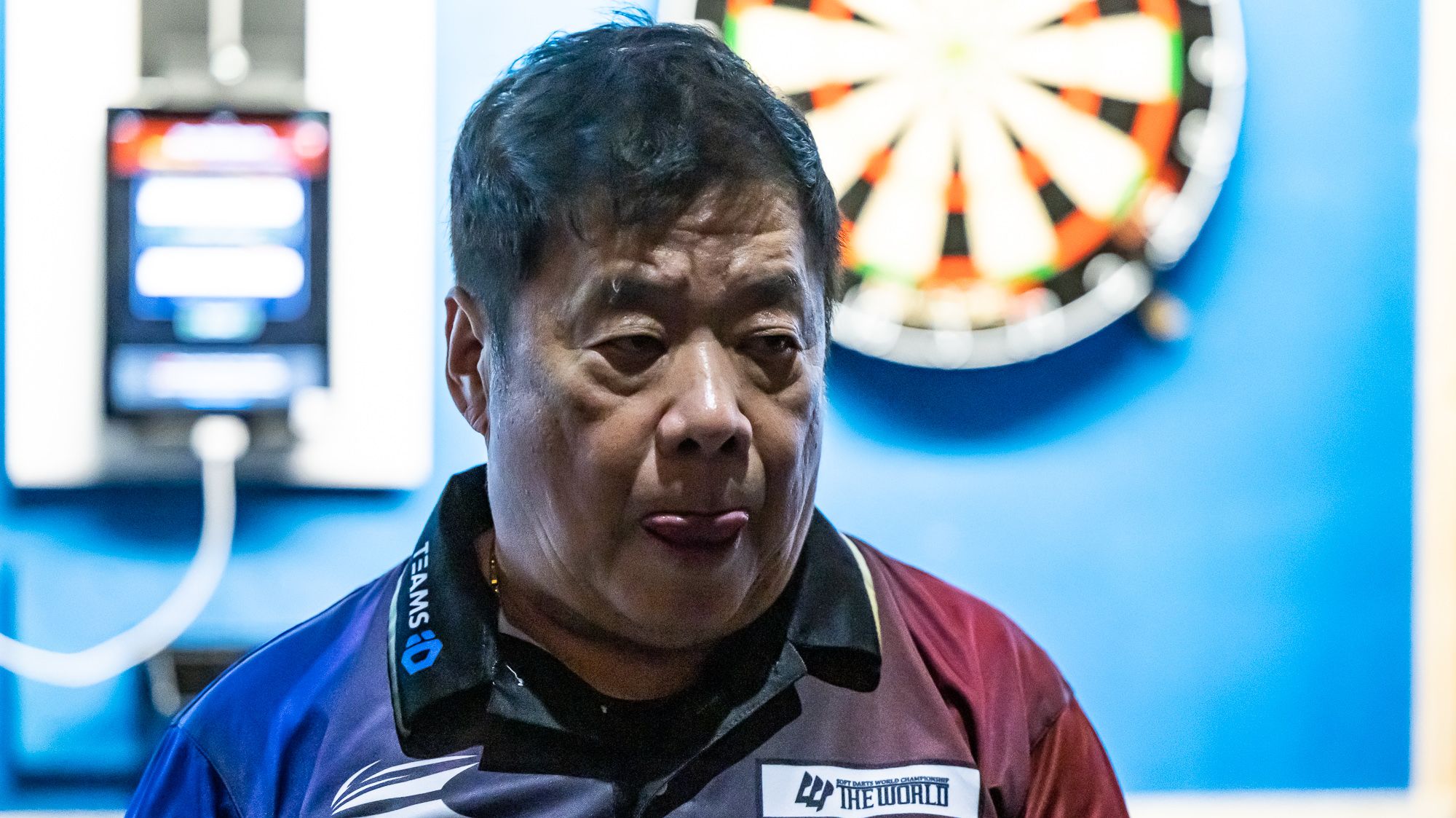 Paul Lim at the 2022 Winmau World Masters. Photo: Jos Groen/NDB
Greaves in imperious form as de Graaf survives a scare
With 14 ranking titles to her credit already this year, including the World Championship, Beau Greaves was always going to be favourite for this tournament. She lived up to that billing on day one, throwing five 180s as she won all three of her group games without dropping a leg.
Deta Hedman, the WDF World No.2, joined Greaves in winning her group, despite still playing with a cast on her left arm following a fall in November.
Karin Krappen and Aileen de Graaf joined Hedman as former winners of the tournament to progress through to the Knockout rounds, although both had their struggles.
Krappen failed to average more than 60 in any of her games but two wins from three games were enough to put her through in second place behind Finland's impressive Kirsi Viinikainen.
De Graaf, meanwhile, lost her opening game to Europe Cup finalist Almudena Fajardo and then had to survive multiple match darts against Northern Ireland's Anna Madigan to keep her tournament hopes alive. After beating Madigan 4-3, De Graaf then held her nerve in her final group game to progress.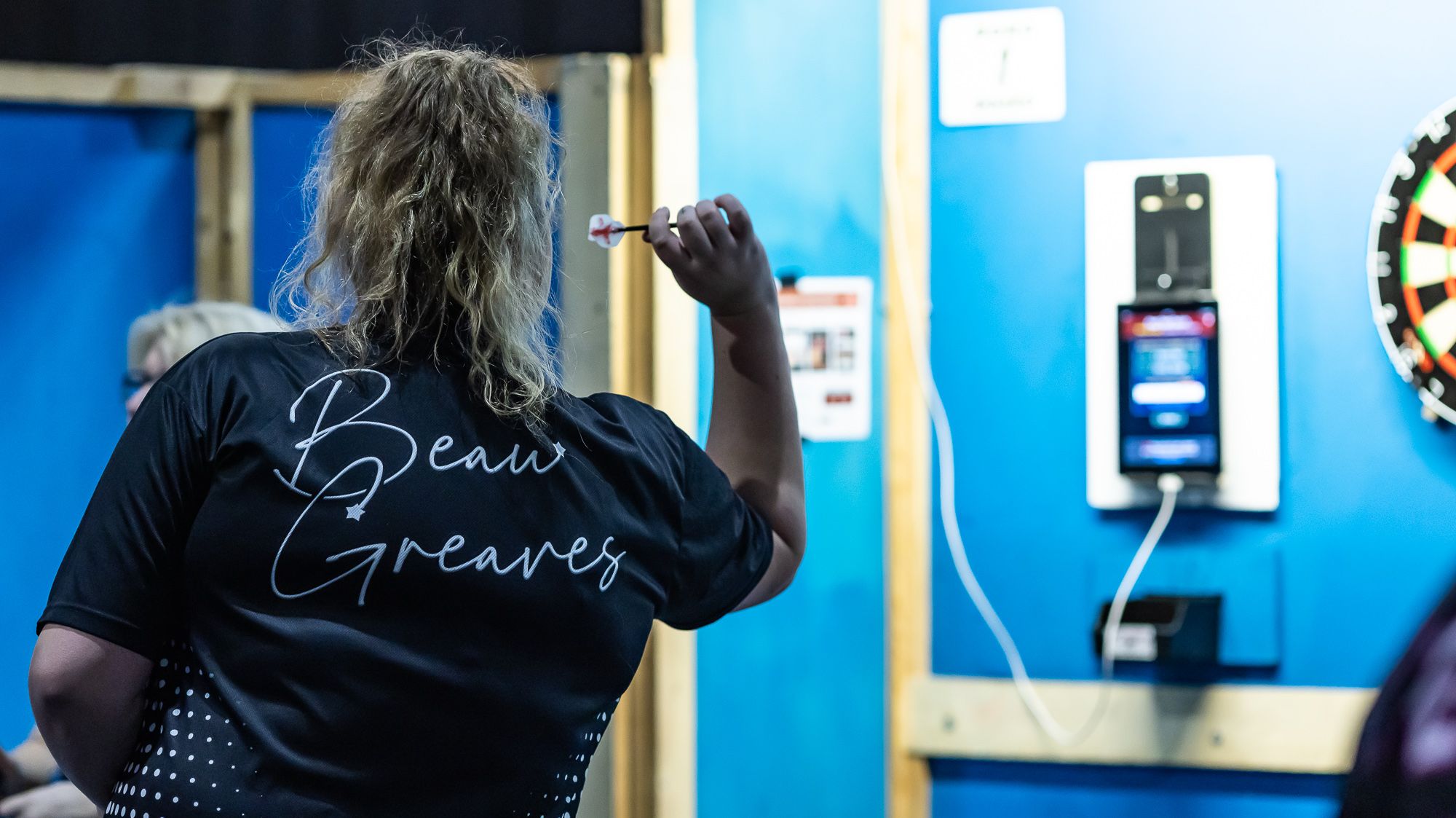 Beau Greaves at the 2022 Winmau World Masters. Photo: Jos Groen/NDB
Two-time World Champion Mikuru Suzuki needs a big run to get back into a qualifying spot for the 2023 World Championship and she started well, topping her group with three whitewash victories. She led what proved to be a very strong Japanese contingent, with Kasumi Sato, Mayumi Ouchi, Yukie Sakaguchi, Kiyo Shimizu and Yoko Tsukui all progressing.
Nicole Regnaud impressed many earlier in the year with her win over Lisa Ashton at the Australian Darts Open and she kicked off her maiden World Masters campaign with a 91 average. Although her level dropped a little in her next two games, the young Kiwi looks capable of a deep run.
Fellow New Zealander Wendy Harper is also through after winning three from three, a feat matched by Cali West, Lorraine Hyde, Jo Clements, Anca Zijlstra, Priscilla Steenbergen and Brenda Moreau.
The 94 players still in the tournament will be back in action on Friday. You can view the knockout bracket on DartConnect.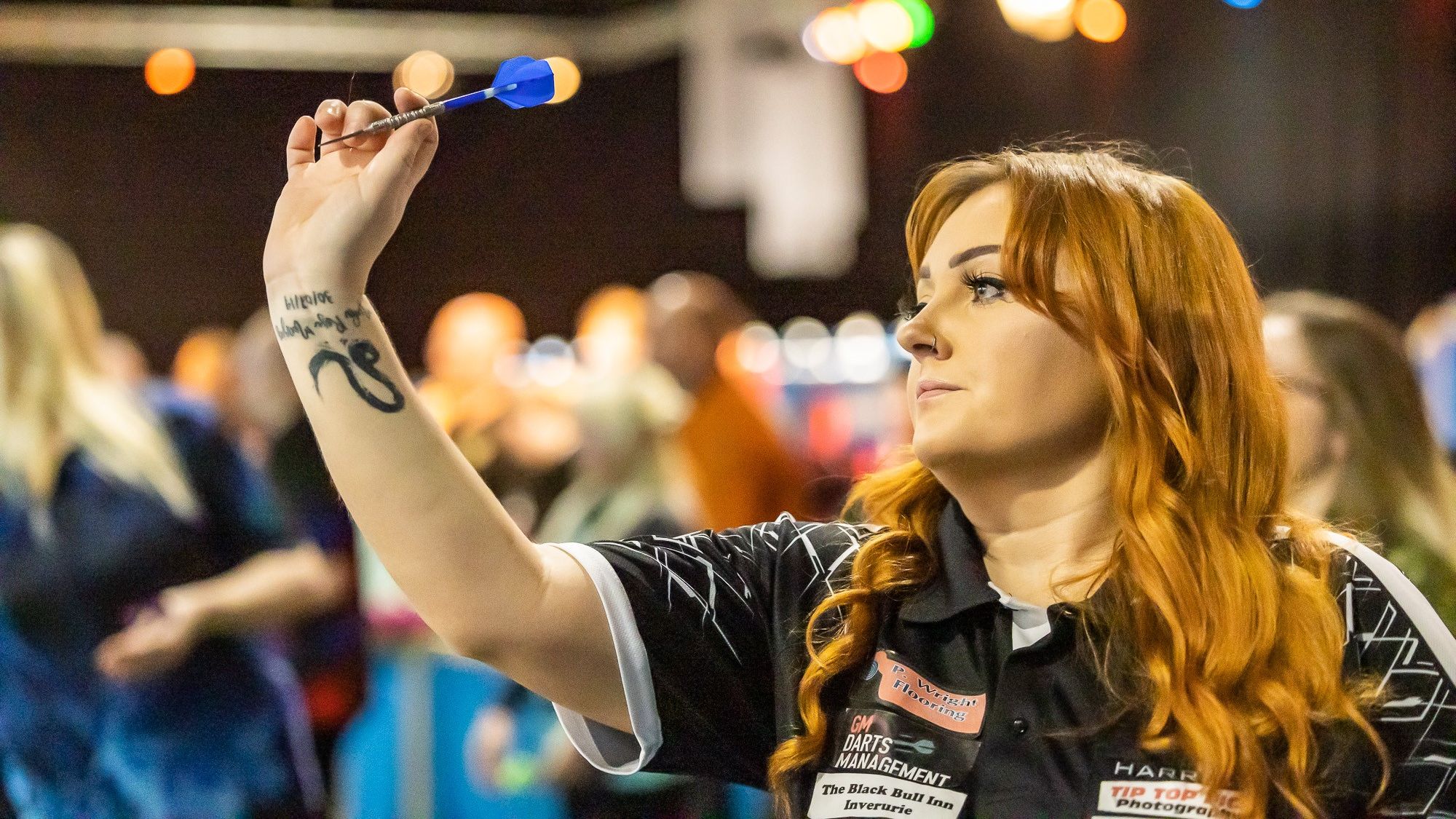 Lorraine Hyde at the 2022 Winmau World Masters. Photo: Jos Groen/NDB
Day 2 Preview
Day 2 will see play in both the WDF World Open and Winmau World Masters competitions.
The knockout stages will commence in the Men's, Women's and ParaDarts World Masters, with the Men's tournament being played down to and including the Last 16 and the other two through to and including the quarter-finals.
The Boys and Girls World Open tournaments will also be played, with action going all the way through to and including the final.
Keep up with all the action by following the WDF on social media, seeing every match play out on DartConnect's scoring system and watching live streamed matches via the WDF, NDB, Tungsten Tales and WinmauTV YouTube channels.
All photos: Jos Groen / NDB
Tags:
WDF Majors
WDF World Masters