2022 WDF Winmau World Masters – Day 2 Report
Day two of the 2022 WDF Winmau World Masters started with 128 men and 94 women still vying for the titles. 206 games later, only eight men and four women remain in contention and a first-time winner is guaranteed in both tournaments.
De Bonte Wever also saw further progress in the World ParaDarts World Masters competitions and the first trophies of the weekend won in the Boys and Girls World Open. Andrew Sinclair recaps the action.
Four Dutch players remain in hunt for Men's Masters title
The last Dutch winner of the World Masters was Michael van Gerwen back in 2006. There's a good chance that changes this year, with four of his compatriots through to the Men's quarter-finals.
Belgian Open champion Wesley Plaisier has arguably looked the pick of the bunch so far. He accounted for Italy's Carlo Ros 5-1 in his opening knockout game, producing finishes of 110 and 114 in the process.
He found two more big ton-plus finishes in his next game, this time a 120 and a 170, as he beat Shaun McDonald 5-0 with a 98.88 average.
It was a closer-run thing for Plaisier in the Last 32 though as he took on Chris Landman. In a game that featured five 180s, Plaisier survived a match dart at the bull in the deciding leg before taking out 48 to win 5-4.
Plaisier had no such troubles in his final game of the day, sweeping past Austria's Christian Goedl 5-1 to set up a quarter-final meeting with compatriot Davy Proosten.
Proosten showed his mettle when it mattered most, producing 11 and 13-dart deciding legs to beat Heine Uuldriks and Andy Baetens respectively. His other two wins were far more straightforward, beating Ricky Nauman 5-2 in his opening knockout game and then sealing his spot in Sunday's final stages with a 5-1 triumph over Ralph Polderman.
Owen Roelofs at the 2022 WDF World Masters. Photo: Jos Groen/NDB
The third Dutchman to qualify for the last eight was Irish Classic semi-finalist Owen Roelofs.
Having defeated Vegar Elvevoll in his first game of the day, Roelofs then showed his class in wins over Liam Maendl-Lawrence and Davyd Venken. Against Maendl-Lawrence he took out 120 to win a last-leg decider, while Venken was on the receiving end of a 100.91 average and three 180s.
His Last 16 win over Alexander Merkx was scrappier but sufficient to book him a quarter-final date with reigning Swedish Open champion Kai Fan Leung.
The Hong Kong ace came from 3-1 down to beat Jason Brandon 5-4 in his first game and from there looked in superb form, recording three successive averages of more than 94 as he beat Raymond Williamson, Ivo Leeksma and Jelle Klaasen.
Klaasen had beaten World Champion Neil Duff in the Last 64 but wasn't able to replicate the Dutch Open success he had in this building six months ago.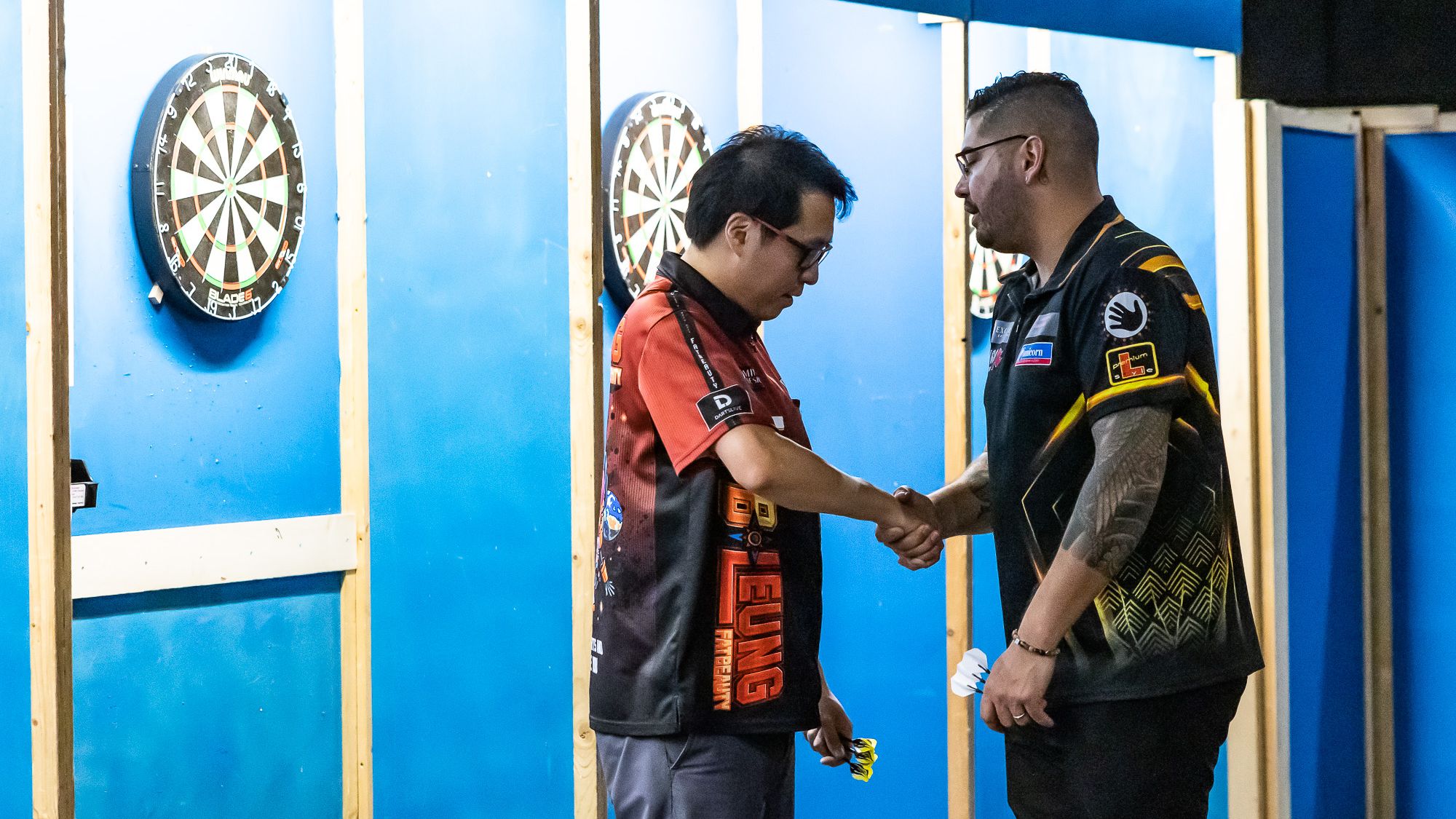 Kai Fan Leung shakes hands with Jelle Klaasen after their Last 16 game. Photo: Jos Groen/NDB
Kay Smeets became the fourth Dutchman to reach the quarter-finals by beating Antony Allen 5-2 in the Last 16. He also saw off Jeffrey Bekema, Alex Bassetti and Jim Widmayer in an impressive run through the knockouts..
Facing Smeets in the last eight will be 'The Daddy', Barry Copeland. After surviving match darts in his opening game with Gilbert van der Meijden, the experienced Northern Irishman comfortably saw off the challenges of Leslie Beukes, Daniel Zygla and Europe Cup champion Jacques Labre to record his best-ever run in the World Masters.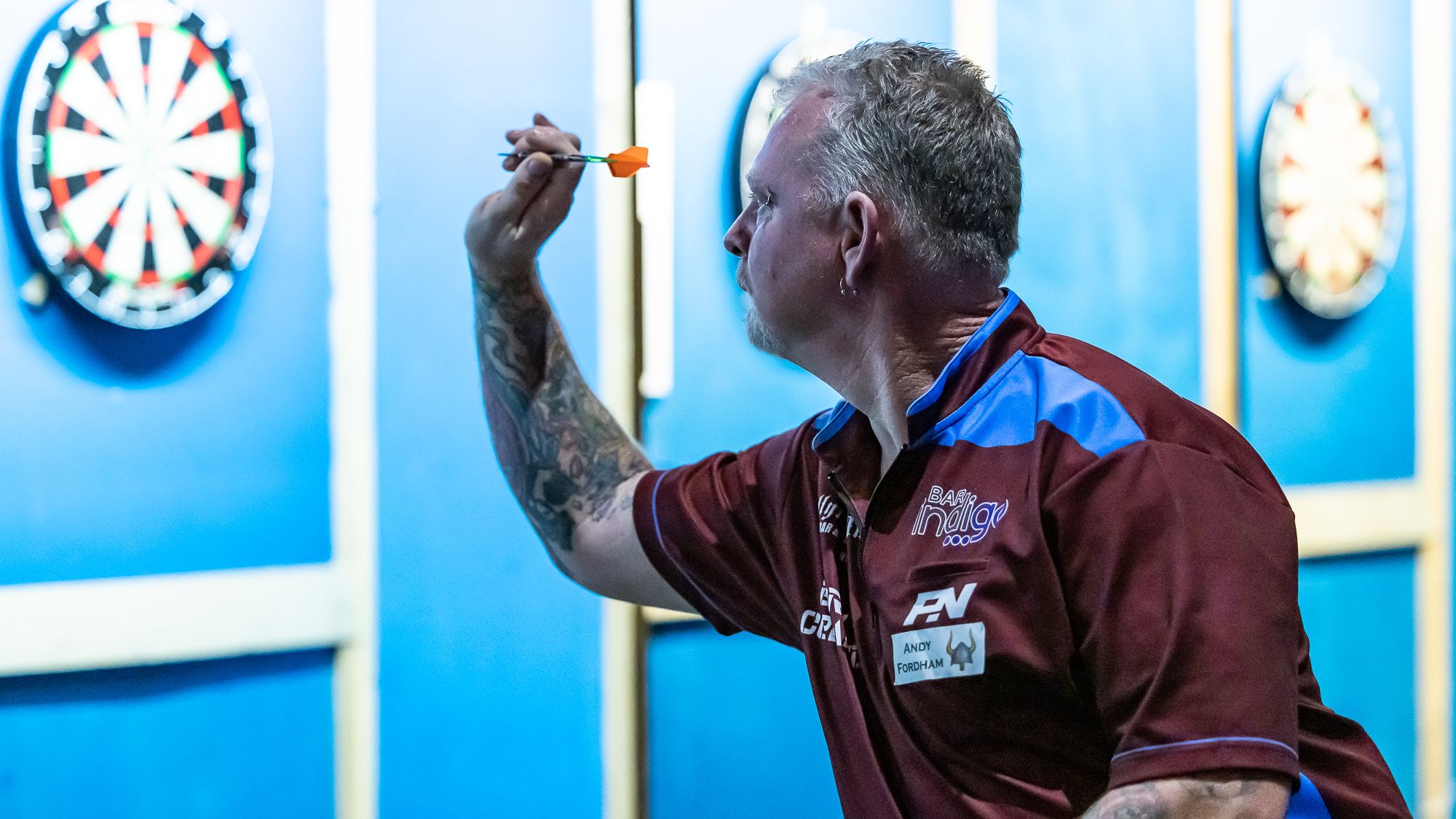 Barry Copeland in action at the 2022 WDF Winmau World Masters. Photo: Jos Groen/NDB
The only quarter-final not involving a Dutch player is the top tie in the bracket between Wales captain Nick Kenny and Danny Lauby.
Last-leg victories over Ryuki Morikubo and Richard Veenstra highlighted Kenny's run, while Lauby, a winner of five ranking events this season, looked comfortable throughout as he beat Jan de Weerdt, Simon Bak, Gary Stone and Martijn Dragt.
Greaves favourite from final four
Beau Greaves remains the red-hot favourite to add the World Masters title to her ever-expanding trophy collection after a dominant second day in Assen.
The World Champion won her round-robin group without dropping a leg and she continued the trend on day two, winning all four knockout games to nil to reach the semi-finals.
The 18-year-old recorded the same average in her first three games, a 90.54, as she defeated Petra Luyten, Samantha Piccolo and Sharon Straatsma-Pul. That average dipped by 10 points in her final game of the day but she still had too much for Norway's Rachna David.
Greaves will face Japan's Mayumi Ouchi in the semi-finals. Ouchi cut a calm and collected figure all day, beating Gerlin van Roosmalen, Yoko Tsukui, Kirsty Hutchinson and Wendy Harper to reach the last four of the World Masters for the first time after four previous quarter-final defeats.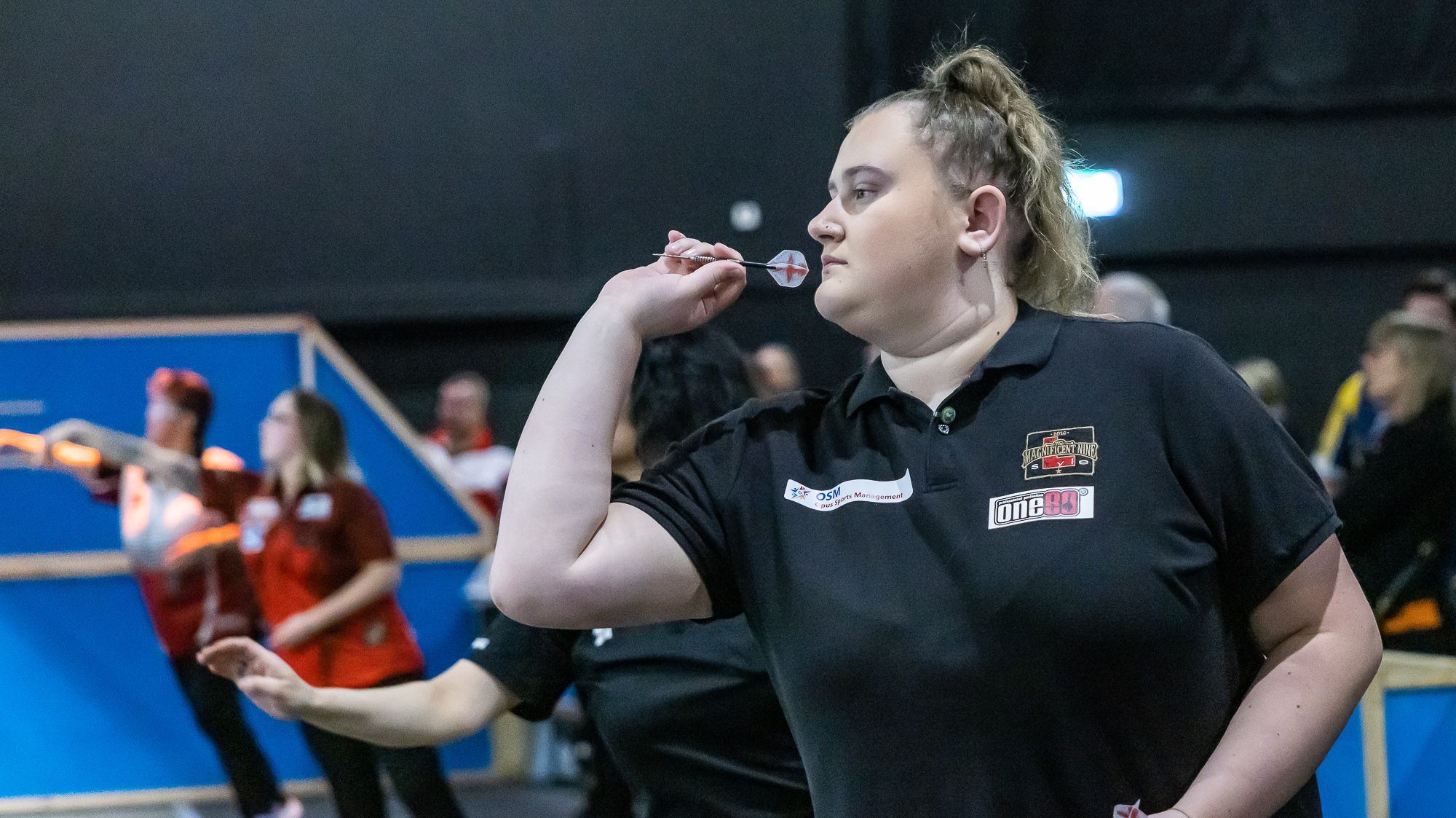 Beau Greaves in action at the 2022 WDF Winmau World Masters. Photo: Jos Groen/NDB
The bottom half of the draw saw two players record career-best runs.
England international Natalie Gilbert got better as the day went on, her average improving in every round as she beat Christiane Muzik, Brenda Moreau, two-time World Master Deta Hedman and Germany's Stefanie Rennoch.
In her streamed quarter-final with Rennoch, Gilbert almost squandered a 4-0 lead before finally hitting double five to win 5-4.
She'll face soft tip ace Almudena Fajardo for a spot in the final. Spanish international Fajardo made a name for herself earlier in the year by reaching the Europe Cup Singles final and she's continued that in Assen with a string of good victories.
She beat Aileen de Graaf in the round-robin group and in the knockouts could include Lerena Rietbergen, two-time World Champion Mikuru Suzuki and Scotland's Lorraine Hyde among her beaten opponents.
The Men's and Women's Winmau World Masters will come to a conclusion on Sunday.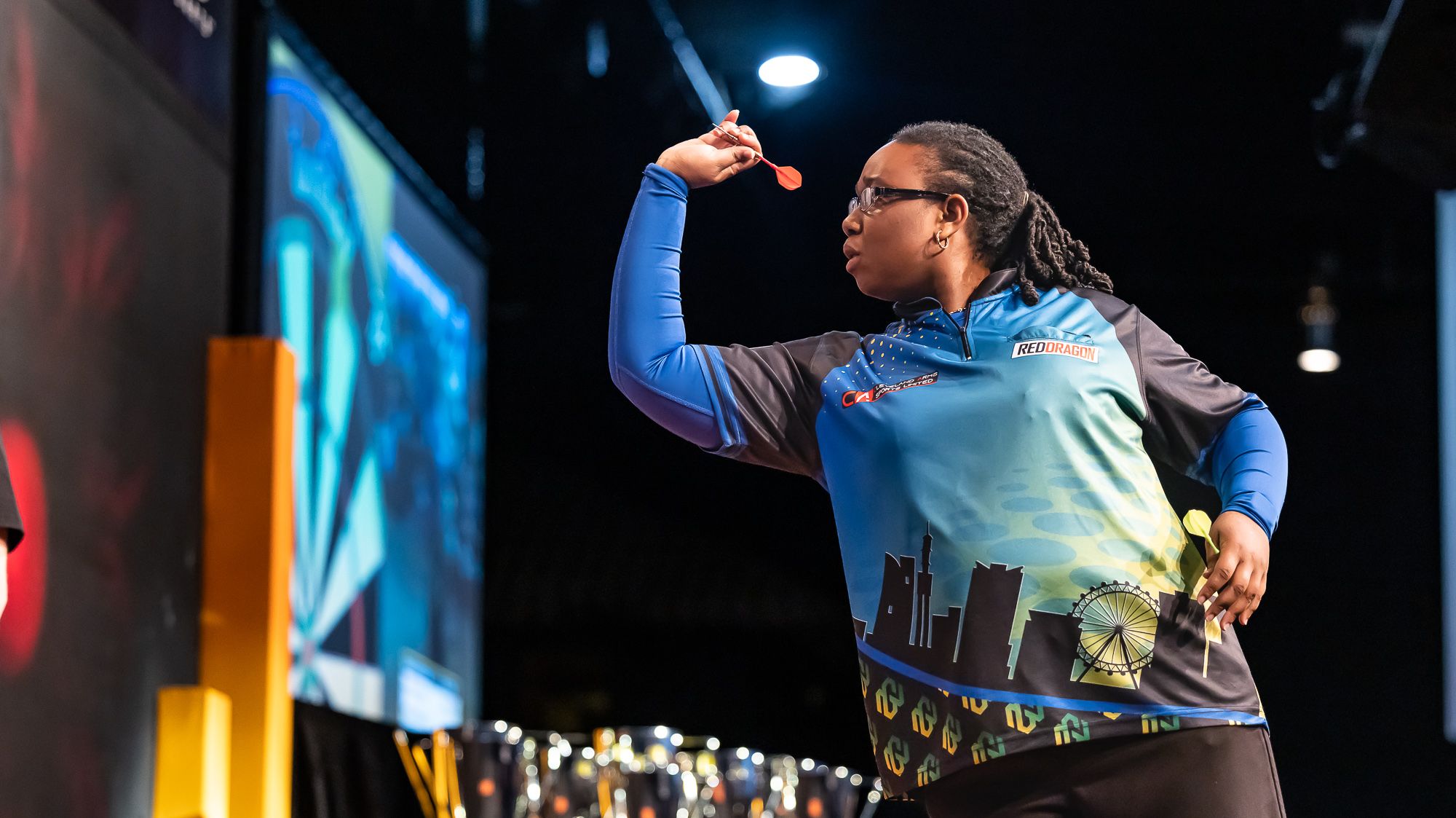 Natalie Gilbert in quarter-final action at the 2022 Winmau World Masters. Photo: Jos Groen/NDB
World ParaDarts World Masters down to semi-finals
Action in the World ParaDarts World Masters continued on day two and now both the Wheelchair and Standing competitions are down to the semi-final stage.
Three nationalities are represented in both tournaments. In the Wheelchair competition, Darren Kennish from the Isle of Man will face Belgium's Vincent d'Hondt and Carsten Steenig of Denmak will go up against d'Hondt's compatriot Serge van Belle.
There's the potential for an all-Dutch final in the Standing competition, meanwhile, with Pascal Van de Hoorn and Michelovic Van Velzen in opposite semi-finals. Van de Hoorn will face Evi Foulon of Belgium, while Canada's Wayne Chapman will provide Van Velzen's opposition.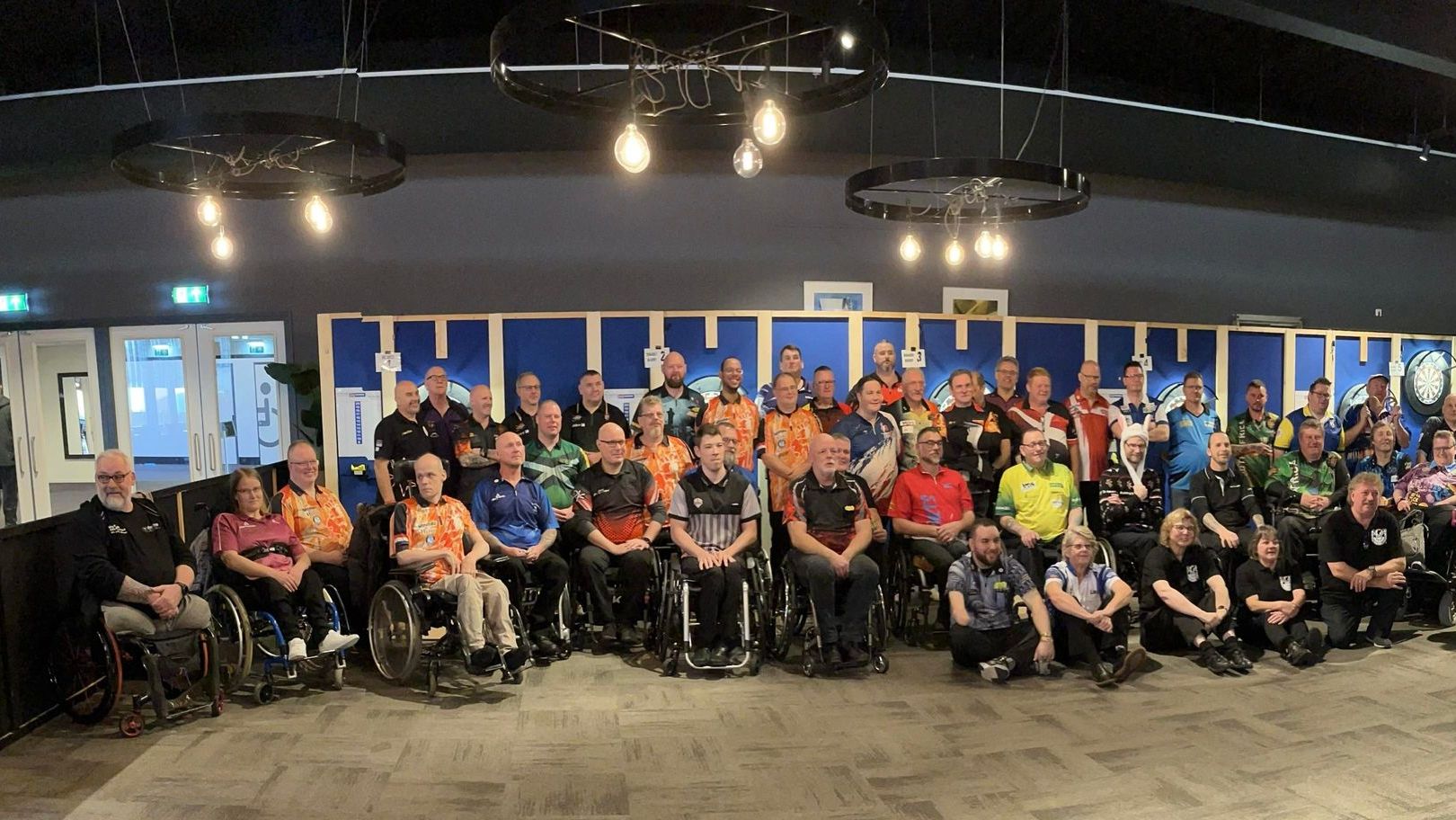 Participants in the World ParaDarts World Masters. Photo: World ParaDarts
English double in Boys and Girls World Open
The World Open also kicked off on Friday, with England celebrating a double triumph as the Boys and Girls competitions were played to a conclusion.
Kieran Thompson proved the pick of the 85 entrants in the Boys field, beating 2019 Boys World Champion Leighton Bennett in the final.
Thompson won the first two legs of the title decider, only for 'Boom Boom' to level the match with successive finishes of 58 and 66. Both players struggled to reach the heights they had in earlier rounds in the final but it was Thompson who proved more clinical, winning the next three legs to run out a 5-2 winner.
Paige Pauling starred to win the Girls World Open, her fourth Youth title of the season on the WDF circuit.
Having dropped just two legs in her first three wins against Chantal Tessin, Iyla Leightley and Rebecca Allen, England international Pauling faced Italy's Aurora Fochesato in the final.
Fochesato won the Europe Cup Youth Girls title earlier in the year but she struggled to get going in the final, Pauling winning 5-1 with a 73.26 average.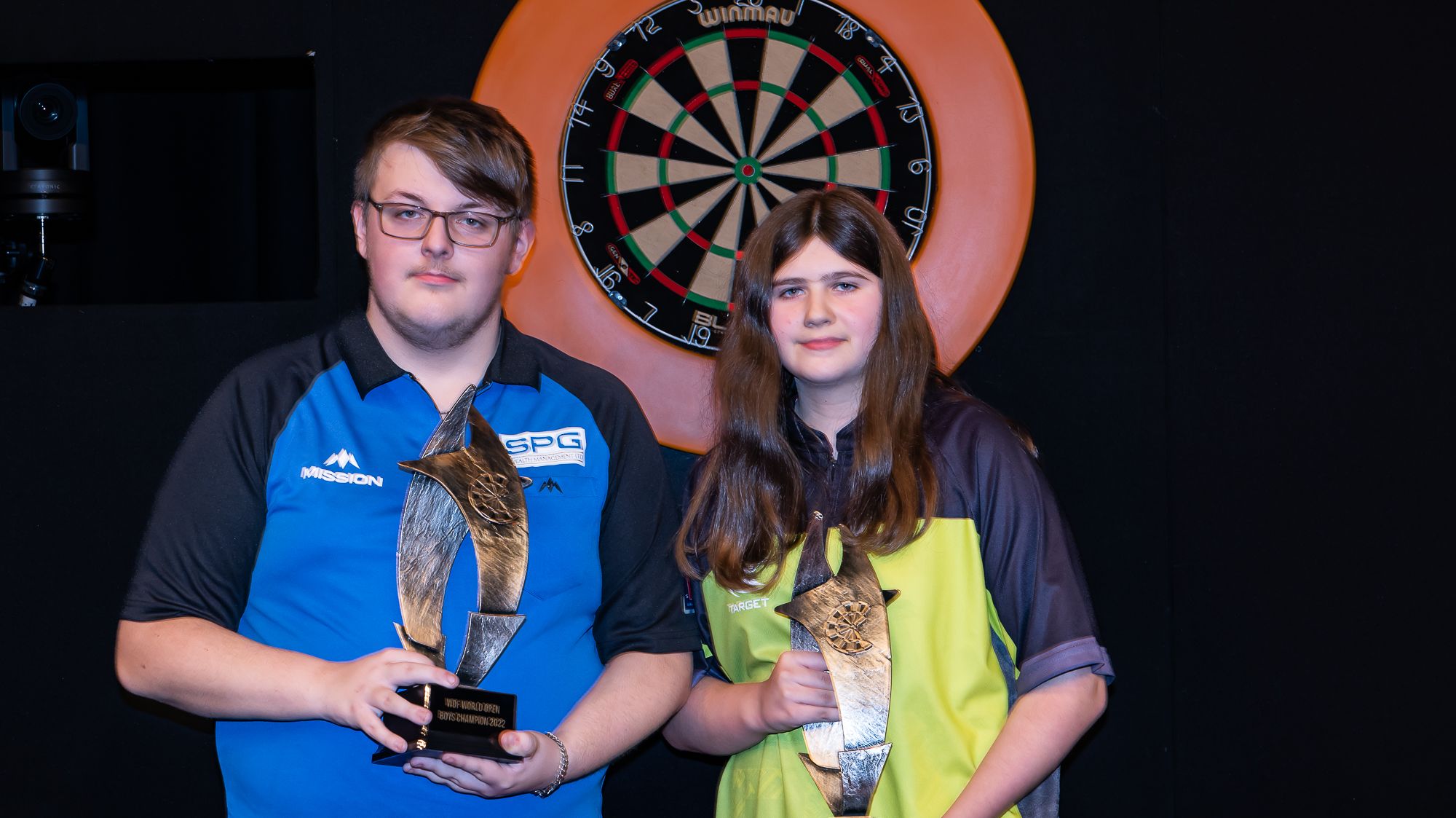 2022 WDF World Open Boys and Girls Champions Kieran Thompson and Paige Pauling. Photo: Jos Groen/NDB
Day 3 Schedule
Day 3 at De Bonte Wever will see the Men's and Women's World Open competition played all the way through to and including the finals.
The Boys and Girls World Masters will begin, with those tournaments being played down to and including the semi-finals.
Additionally, the titles will be decided in the World ParaDarts World Masters as both the Wheelchair and Standing competitions are played to a conclusion.
Keep up with all the action by following the WDF on social media, seeing every match play out on DartConnect's scoring system and watching live streamed matches via the WDF, NDB, Tungsten Tales and WinmauTV YouTube channels.
Tags:
WDF Majors
WDF World Masters