August review – Australia, Belgium, Sweden, New Zealand
August was another busy month on the WDF circuit, headlined by the hotly-anticipated Australian Darts Open, the third Platinum-graded event of the year. Australia played host to two other events during the month, the Pacific Masters and Murray Bridge Classic, while there were also important ranking titles decided in Belgium, Sweden and New Zealand. Andrew Sinclair recaps the action.
Smith and Greaves make splash Down Under at Australian Darts Open
Raymond Smith lived up to his billing as one of the pre-tournament favourites in the Men's Australian Darts Open with a 10-9 victory over New Zealand's Haupai Puha in a high-quality final but he had to survive multiple match darts to do so.
After dropping the opening leg, Smith recorded a 141 finish and a 13-darter to lead 2-1. Although Puha would draw level thanks to a 97 checkout of his own, two more impressive legs from 'The Guru' had him up 4-2.
Puha would again battle back and just after the halfway mark he led 6-5 after pinning a delightful 140 out. That spurred Smith into action, the Queenslander winning the next three legs in a total of 42 darts to go 8-6 up and within two of the title.
As had become the story of the final, Puha battled back once more, taking out 124 to halve Smith's advantage before also winning the next two legs to lead 9-8. With the finishing line in sight, the Kiwi, who was playing in his fifth WDF final of the year, missed multiple match darts. Smith punished those misses, levelling it up a nine-apiece before taking out 25 with the third dart in hand to seal victory.
Smith kicked off his tournament on Thursday with a 5-2 victory over his son Ky before sealing top spot in his group the following day with a more scrappy 5-3 triumph against Danny Porter.
That set him up for a quarter-final with the in-form Peter Machin, who'd come through a group with Justin Thompson and Leon Towns. The pair were level through four legs before Smith won four on the spin to take it 6-2, sealing victory with a sensational 150 finish.
In the semi-finals, Smith accounted for WDF World Champion Neil Duff, who'd previously seen off the challenges of Darren Carson, Yuya Higuchi and Sam Ballinger. Duff initially led 4-1 before Smith won seven of the next nine legs to emerge an 8-6 victor.
Puha, meanwhile, topped his group thanks to successive whitewash wins over Aaron Morrison and Michael Cassar before knocking out Mitchell Clegg in the quarter-finals. He then took on another pre-tournament qualifier in the semi-finals, this time Scott Hallett, producing finishes of 121 and 100 in an 8-6 win.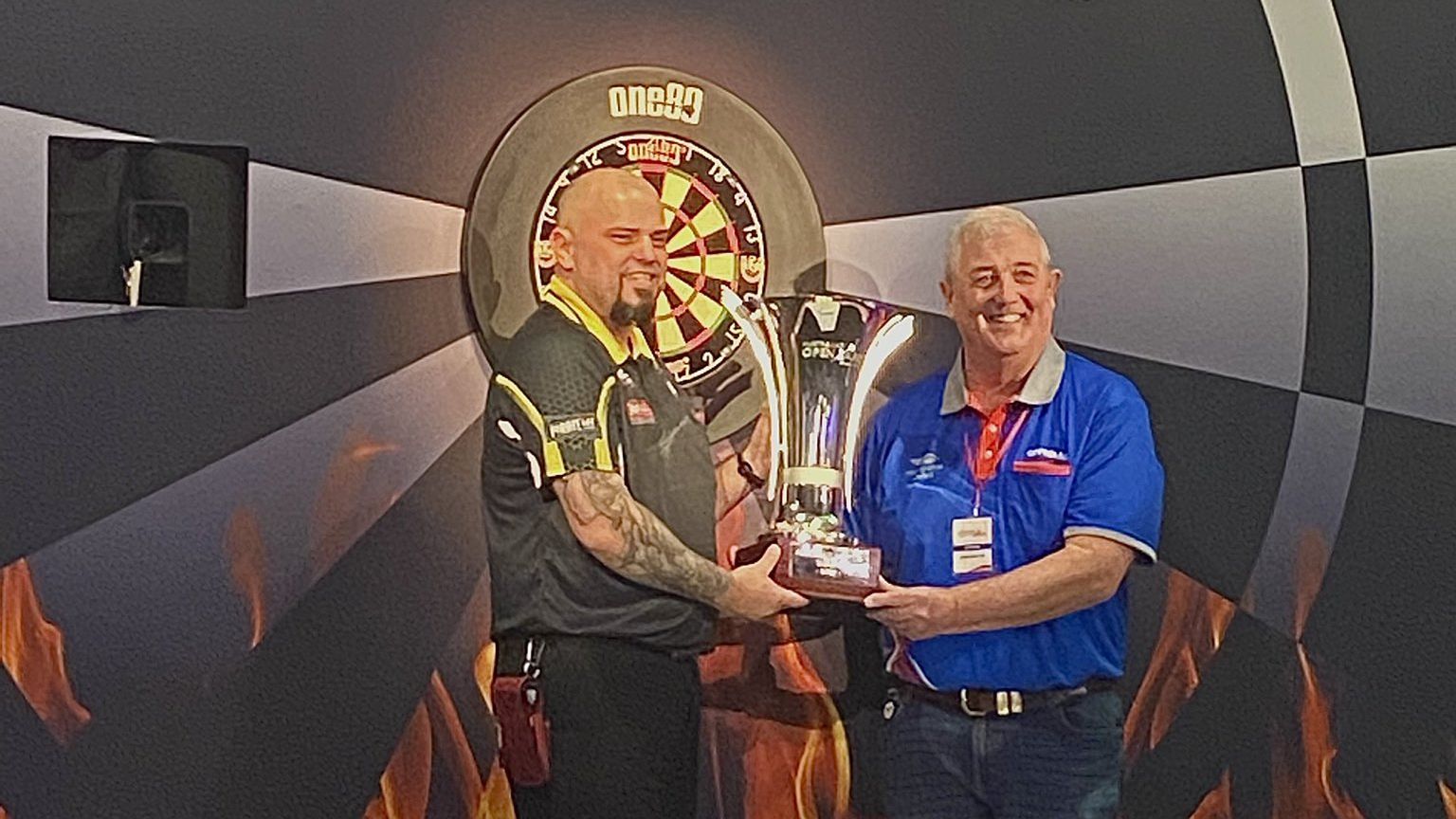 2022 Australian Darts Open Men's Champion Raymond Smith. Photo: Darts Australia.
World Champion Beau Greaves was at her dominant best as she picked up her eighth ranking title of the year in the Women's Australian Darts Open.
The Yorkshire teenager thrashed both Amanda Loch and Desi Mercer 4-0 to top her group and set up a semi-final clash with New Zealand's hugely promising Nicole Regnaud. Regnaud had caused a stir in the round-robin phase by beating Lisa Ashton 4-2, averaging more than 87 and pinning finishes of 140 and 134 in the process.
Greaves took an early lead and remained in control as she defeated the Kiwi up-and-comer 6-3, although Regnaud once again impressed and took out 144 in the penultimate leg of the match.
In the final, Greaves took on two-time World Champion Mikuru Suzuki. The Japanese had looked back to her best in the earlier rounds, averaging more than 70 in her wins over Tori Kewish, Yukie Sakaguchi and Wendy Harper, and she gave Greaves all she could handle in a sensational final.
Despite dropping the opening leg, an immediate break back and a 105 finish put Suzuki 2-1 up. She was never able to build on that lead though and the pair were tied 4-4 at the halfway mark. From there, Greaves went through the gears to win four of the next five legs in 15, 18, 14 and 15 darts to seal an 8-5 victory with a 91.27 average.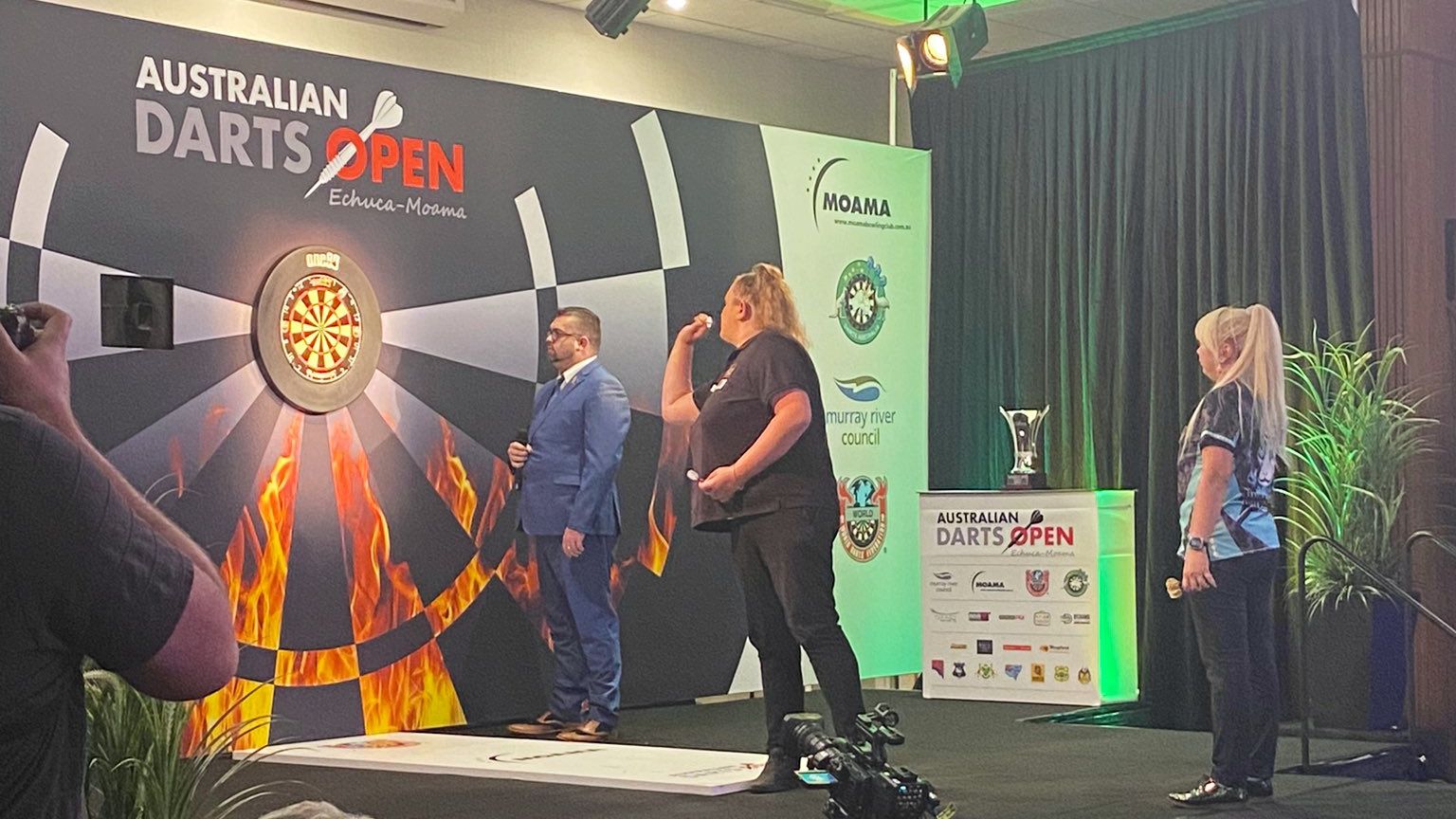 2022 Australian Darts Open Women's Champion Beau Greaves. Photo: Darts Australia.
Ashton and Duff return to winning ways in Pacific Masters
For the first time since the 2019 Czech Open, Lisa Ashton entered the winners' circle at a WDF ranking event after coming out on top at the Silver-graded Pacific Masters.
Ashton overcame the disappointment of exiting the Australian Darts Open in the group stage a couple of days earlier by kicking off her Masters campaign with a resounding 3-0 win over Abbey Morrison.
She followed up another whitewash win over Sarah Harrison by defeating Lavinia Hogg and Desi Mercer before coming back to deny Beau Greaves in a thrilling semi-final clash. Greaves, the World Champion, led 3-0 before Ashton roared back to win the last four legs, finishing the match with five 180s and an average of 89.23.
In the final, Ashton took on good friend and Australian No.1 Tori Kewish. The first two legs went with throw before Ashton stepped it up to win the next four and run out a comfortable 5-1 victor.
World Champion Neil Duff promised that "big darts were coming" before he headed out to Australia in early August and he delivered, winning his first title since Lakeside in the Men's Masters.
Northern Ireland international Duff dropped just one leg before the quarter-finals, where he came from behind and survived match darts to beat Justin Thompson 4-3.
With that scare out of the way, Duff beat Mal Cuming 5-2 in the semi-finals before going one better in the final to defeat Haupai Puha 6-2. In addition to being his fourth career ranking title, the Masters win took Duff back to top spot in the WDF rankings.
A couple of days earlier, the Junior Pacific Masters took place in Moama. Mitchell Galby won the Boys' event with a final victory over Zane Kilroy, while Faith Kainuku beat Janiya Finlay in the Girls' final.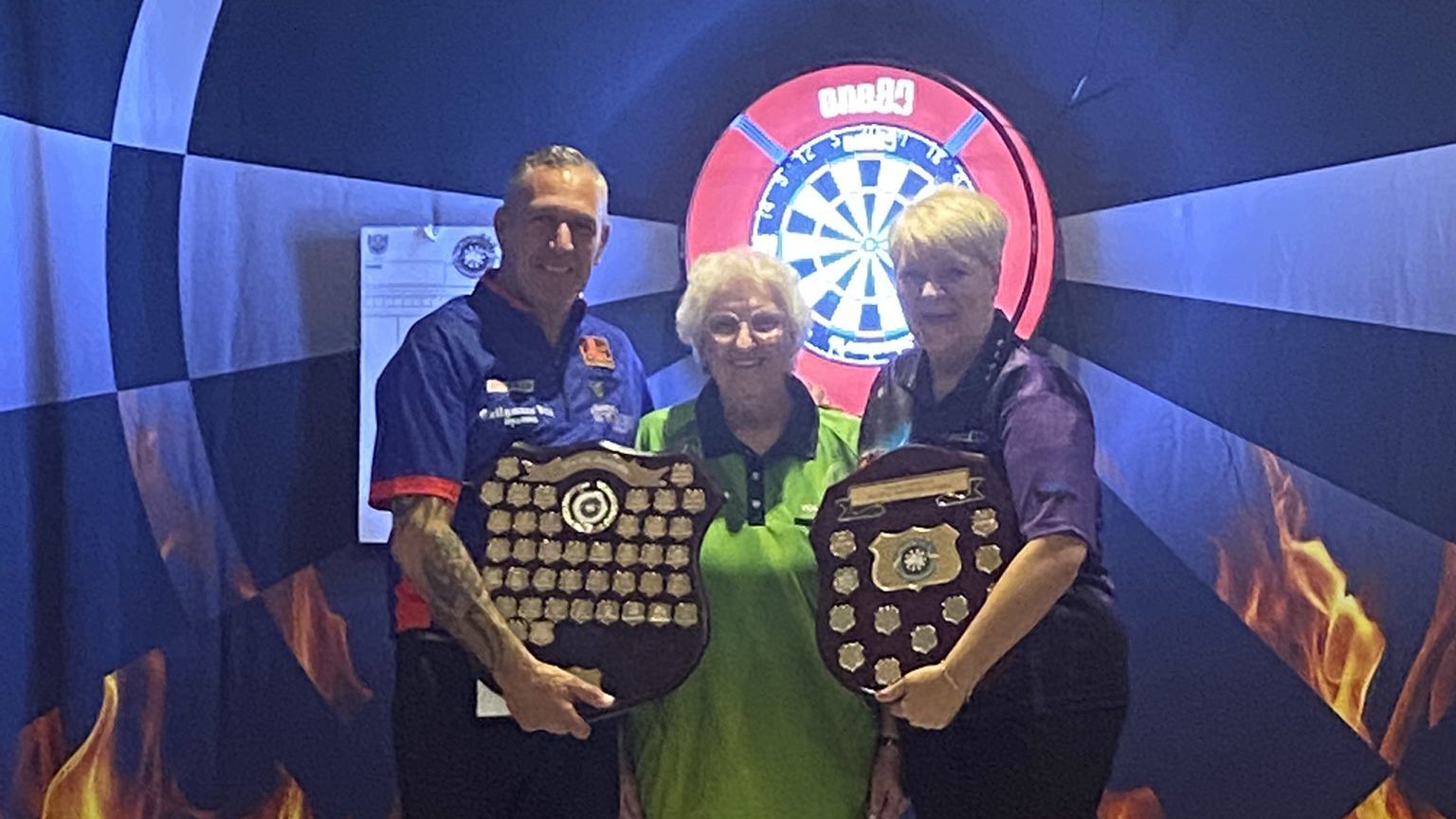 2022 Pacific Masters champions Neil Duff and Lisa Ashton. Photo: Darts Australia.
Weening on top in Murray Bridge
Brandon Weening secured his first career WDF ranking title in August's last event, the Murray Bridge Classic in South Australia.
Brandon, son of 1991 WDF World Cup Pairs winner Wayne, had lost in the final of the Victorian Easter Classic in April but was dominant here, defeating Shane Badcoe, Jeremy Fagg and Dwayne Wilson before averaging 88.08 in a 5-3 final victory over Aaron Morrison.
There was another first time ranking event winner in the Women's Classic as Melina van den Kieboom took home top honours. Having beaten Abbey Morrison in a last-leg decider in the semi-finals, Melina defeated Lyn Morrison in the final.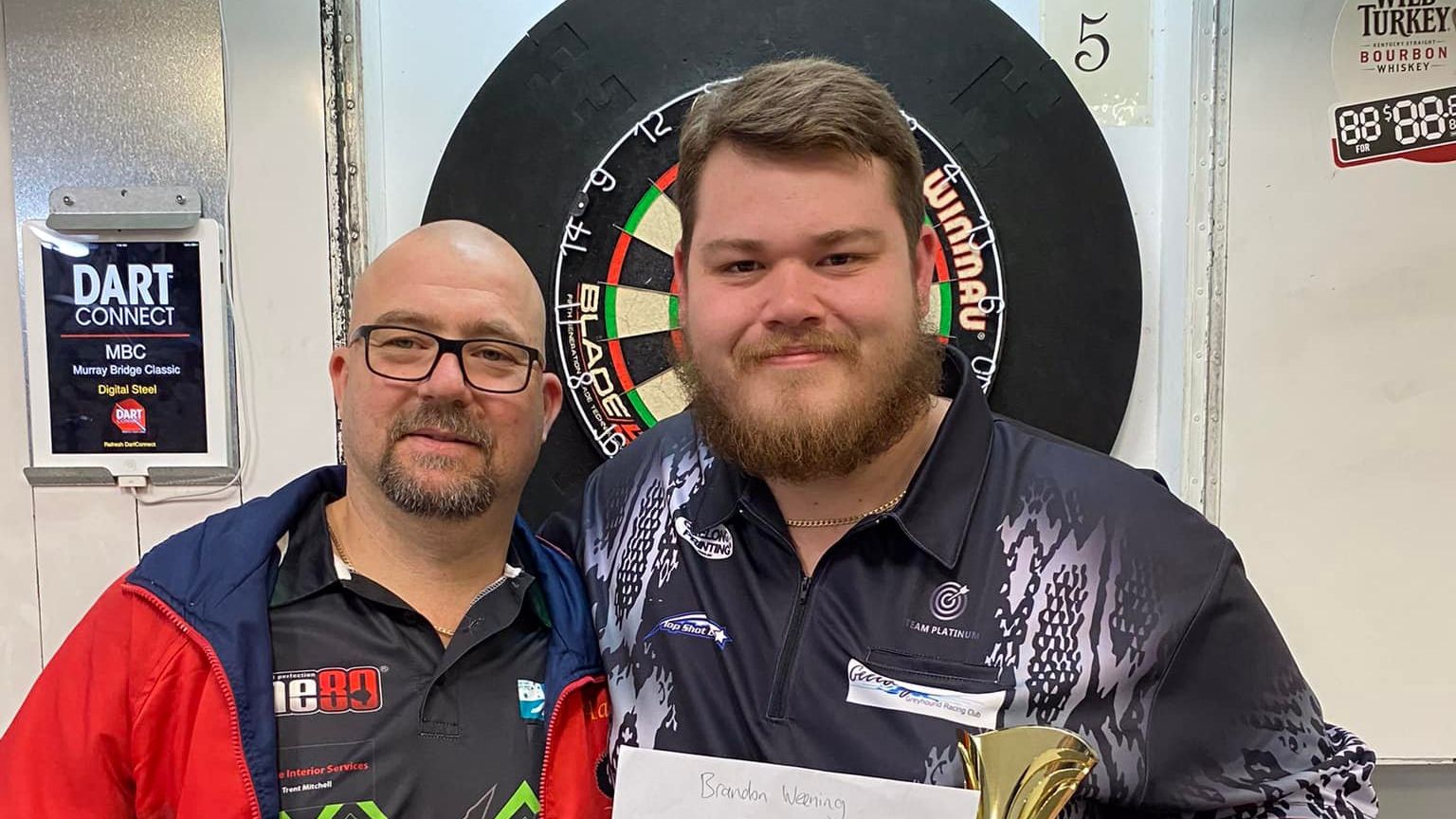 2022 Murray Bridge Classic champion Brandon Weening (right) and runner-up Aaron Morrison (left). Photo: Murray Bridge Darts Club
Lewis and Turner among winners in Belgium
More than 400 men were in action as the WDF tour return to Belgium for the first time in three years in early August.
In the Antwerp Open, Jamie Lewis continued his impressive comeback year by claiming his first WDF title since the 2010 Welsh Classic. In the final, Lewis averaged more than 101 in a 5-2 win over Dutch thrower Kay Smeets, who was looking to pick up his third career WDF title after seeing off the likes of Dennie Olde Kalter, Antony Allen and Nick Kenny in previous rounds.
Lewis proved too strong however, capping off a run that included wins over Ahmad Ahmaddy, Darren Johnson, Diogo Portela and Andy Baetens with a title, the €1,600 top prize and a spot at the WDF World Masters later this year.
Lewis was unable to make it a weekend double in the following day's Belgium Open, though, going out in the quarter-finals to eventual winner Wesley Plaisier.
Plaisier produced some exceptional darts to win his maiden WDF title, beating the likes of James Hurrell, Mark Graham, Lewis, Martyn Turner and then fellow Dutchman Johan van Velzen in the final.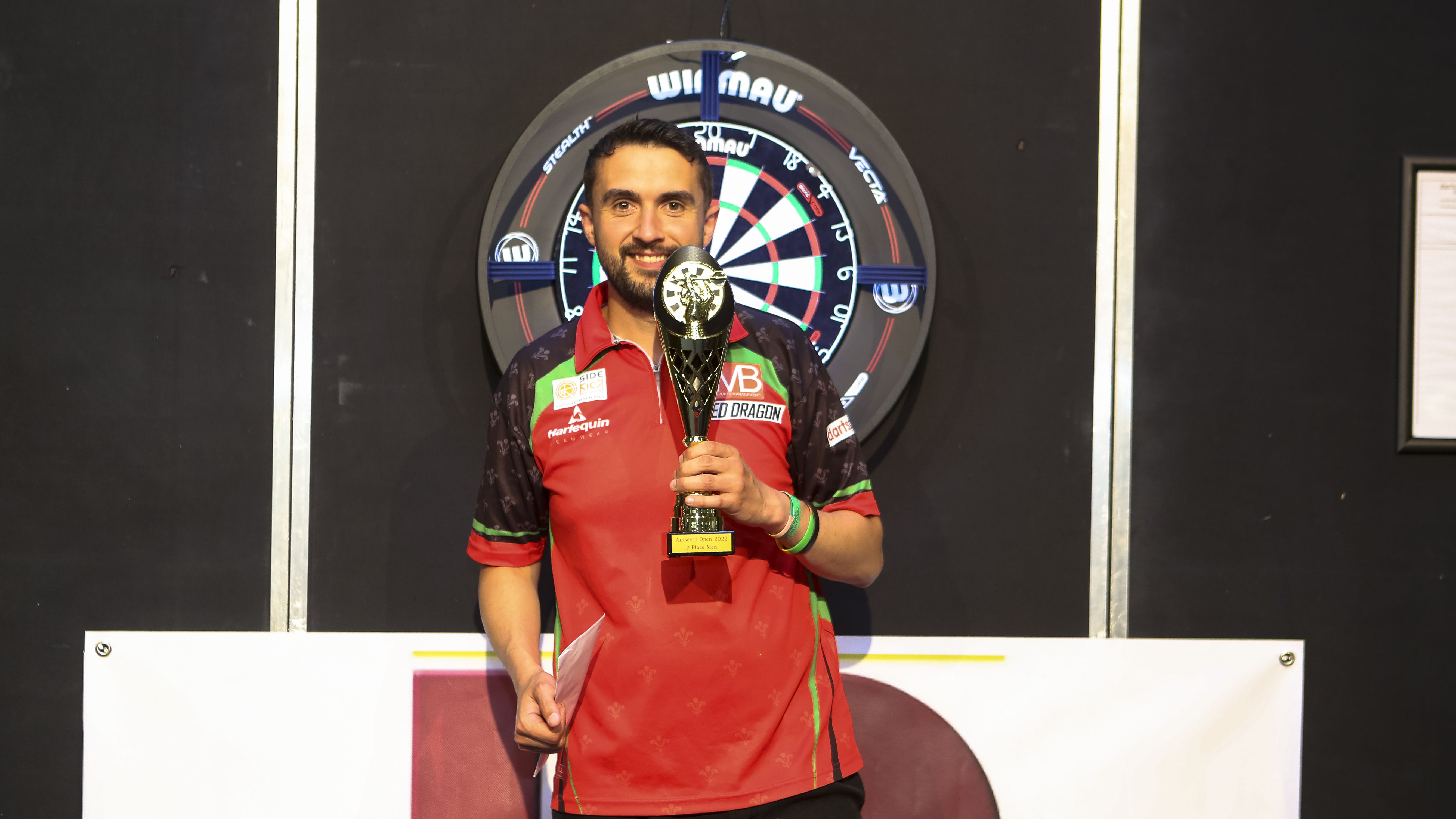 2022 Antwerp Open champion Jamie Lewis. Photo: Evert Zomer
Laura Turner reached the final of both women's events but was only able to convert one of those appearances into a title victory. That win came in the Belgium Open, where she beat Lorraine Winstanley 5-3 to win her second ranking event of the year.
She was on the end of that scoreline in the Antwerp Open, with 28-year-old Dutch thrower Aletta Wajer continuing her breakthrough year by winning her first career title.
Both the Antwerp and Belgium Opens included Youth competitions and the weekend saw two players pick up title doubles. In the Boys' it was Germany's Enrico Frank, while the Girls' crowns went to home thrower Jana Leys.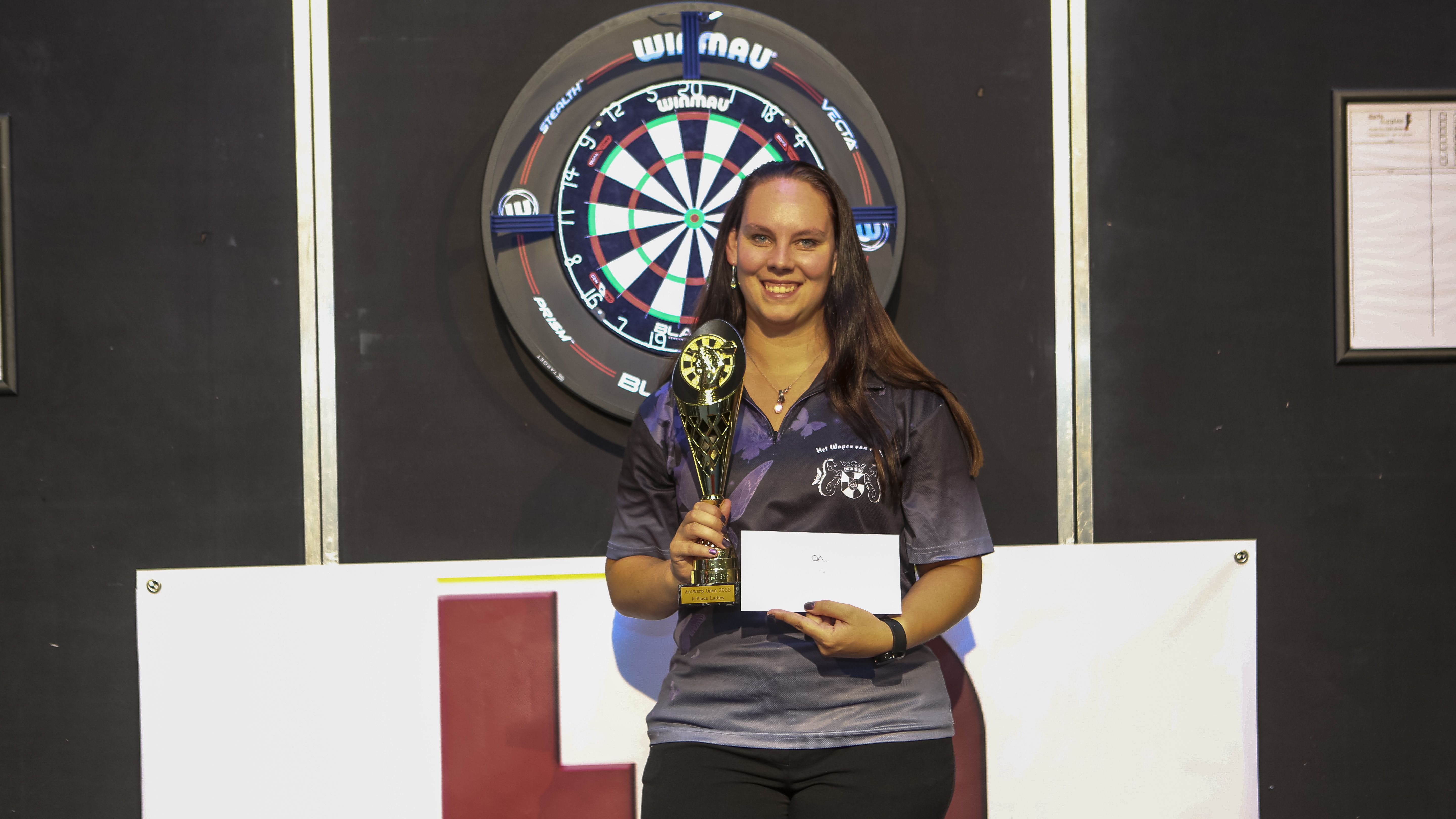 2022 Antwerp Open champion Aletta Wajer. Photo: Evert Zomer.
Titles for Leung, Winstanley, Olde Kalter and de Graaf in Sweden
Kai Fan Leung and Lorraine Winstanley ended lengthy title droughts as the Swedish Open weekend took place for the first time in three years.
Leung picked up his first WDF event win since the 2019 Hong Kong Open with a scrappy 5-1 Swedish Open final victory over Alexander Merkx.
Both players struggled for consistency in the title decider but it was Leung who proved slightly more effective, winning five legs on the spin after dropping the opener and sealing victory with a 96 out.
Hong Kong ace Leung began his day with three consecutive 4-0 wins but was pushed hard in the point-scoring rounds of the competition. He had to survive match darts against Jeffrey Bekema in the Last 32 and needed to produce an 11-darter to pip Sweden's Johan Engström 4-3 in the next round.
He saw off top seed Jelle Klaasen 4-2 in the quarter-finals before defeating his compatriot Chris Landman in the last four by the same scoreline to seal his place in the final.
A hugely impressive 5-3 final victory over Aletta Wajer saw Lorraine Winstanley win a first WDF title since February 2020 and the Swedish Open for the fifth time in her career.
The final began with a series of high-quality finishes, a 121 out for a Winstanley 12-darter sandwiched between checkouts of 86 and 164 for Wajer.
From there, however, Winstanley took the advantage. She won four of the next five legs in 17, 14, 17 and 16 darts to run out a 5-3 winner and finish with an 84.70 average.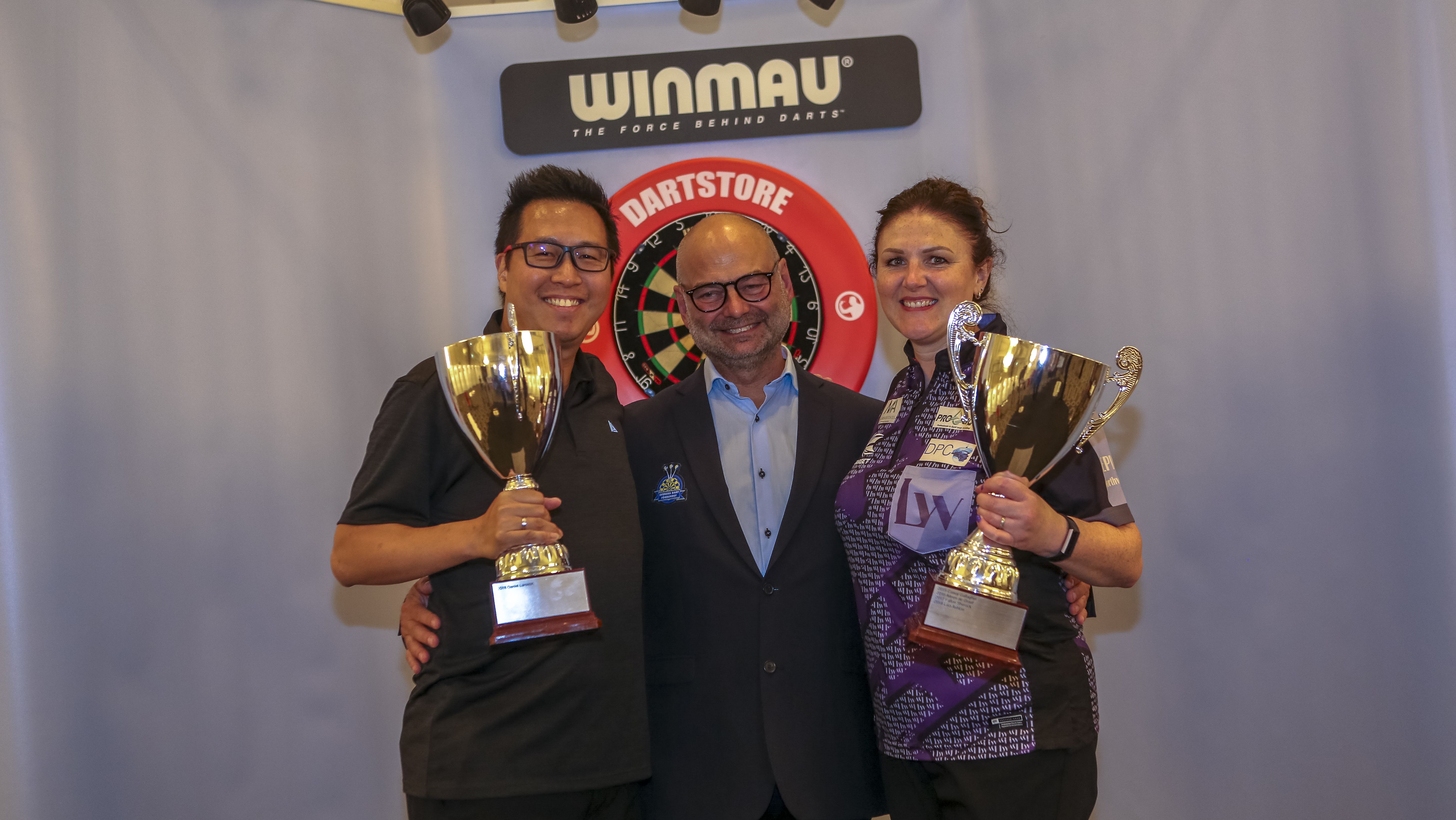 2022 Swedish Open champions Kai Fan Leung and Lorraine Winstanley. Photo: Evert Zomer
It was a case of double Dutch delight in the following day's Swedish Masters as Dennie Olde Kalter and Aileen de Graaf took top honours.
Olde Kalter picked up his first WDF title since the 2019 British Classic with a 5-2 final victory over England's Antony Allen.
The 30-year-old Dutchman opened the final with a super 13-darter, only for Allen to level the scores with a similarly impressive 14-darter in the next leg.
Olde Kalter responded by producing a three-leg burst to move within one of the title. Although Allen was able to reduce the deficit by holding throw in a scrappy sixth leg his comeback hopes were ended in the seventh as Olde Kalter pinned 32 at the first time of asking for a match-winning 16-darter.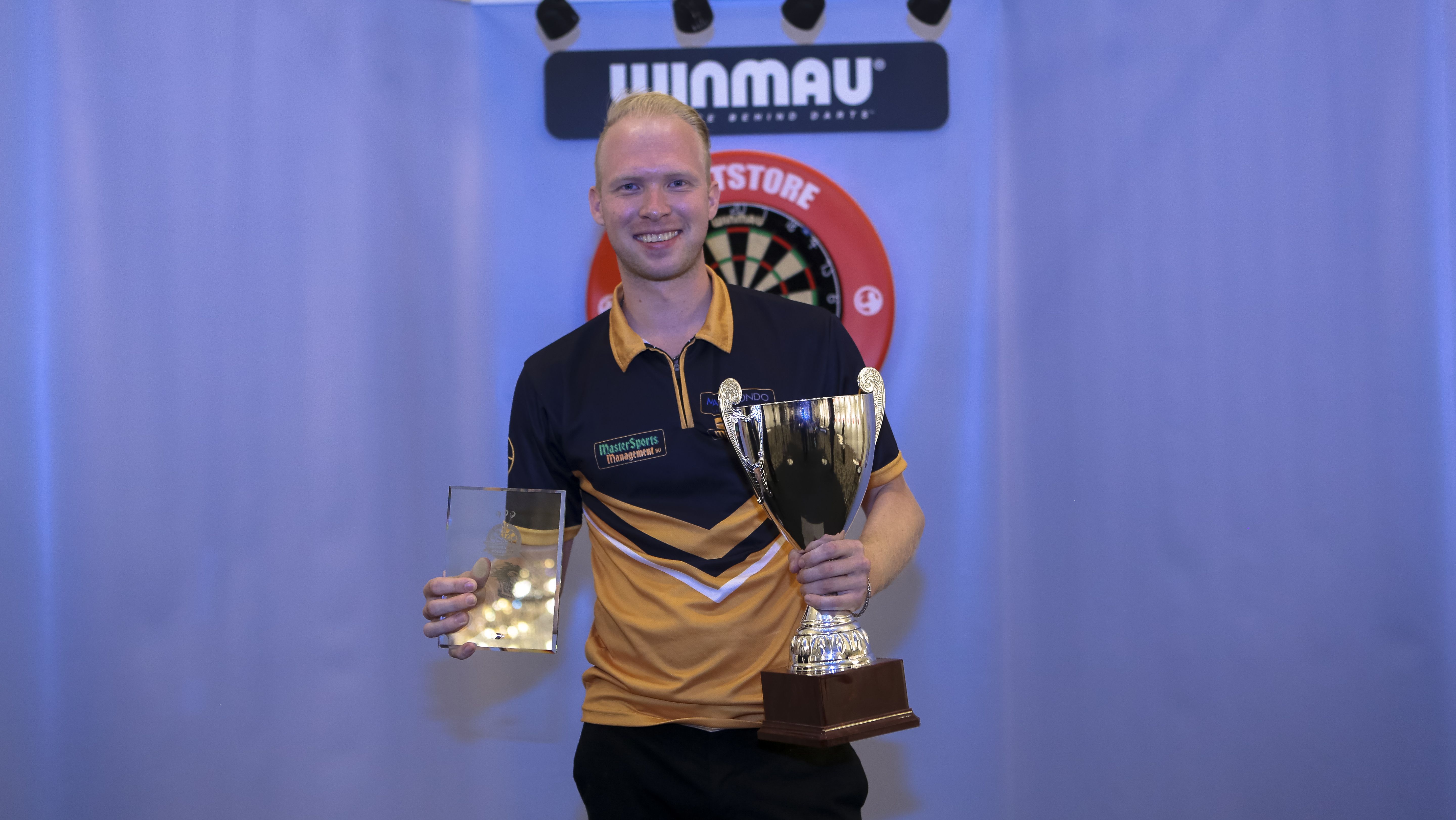 2022 Swedish Masters champion Dennie Olde Kalter. Photo: Evert Zomer.
Aileen de Graaf won the 62nd title of her illustrious career and her first in Sweden for six years in the Women's Swedish Masters.
Facing De Graaf in the final was Paula Jacklin, who'd beaten Kirsi Viinikainen and Laura Turner in last-leg deciders on the way to her second final of the year.
Jacklin started final strongly, holding throw with a 17-darter. That was as good as it got for her though, with De Graaf reeling off the next five legs to run out a 5-1 victor.
With just two events left before the end of the ranking season, the race for World Championship qualification through the North Europe regional tables is close to decided.
Dennis Nilsson leads a four-Swede race at the top of the table after making a semi-final and quarter-final on home soil, with Ricky Nauman second, Andreas Harrysson third and Henrik Sjoberg fourth. Anna Forsmark, meanwhile, now has a 42-point lead over Rachna David in the women's table.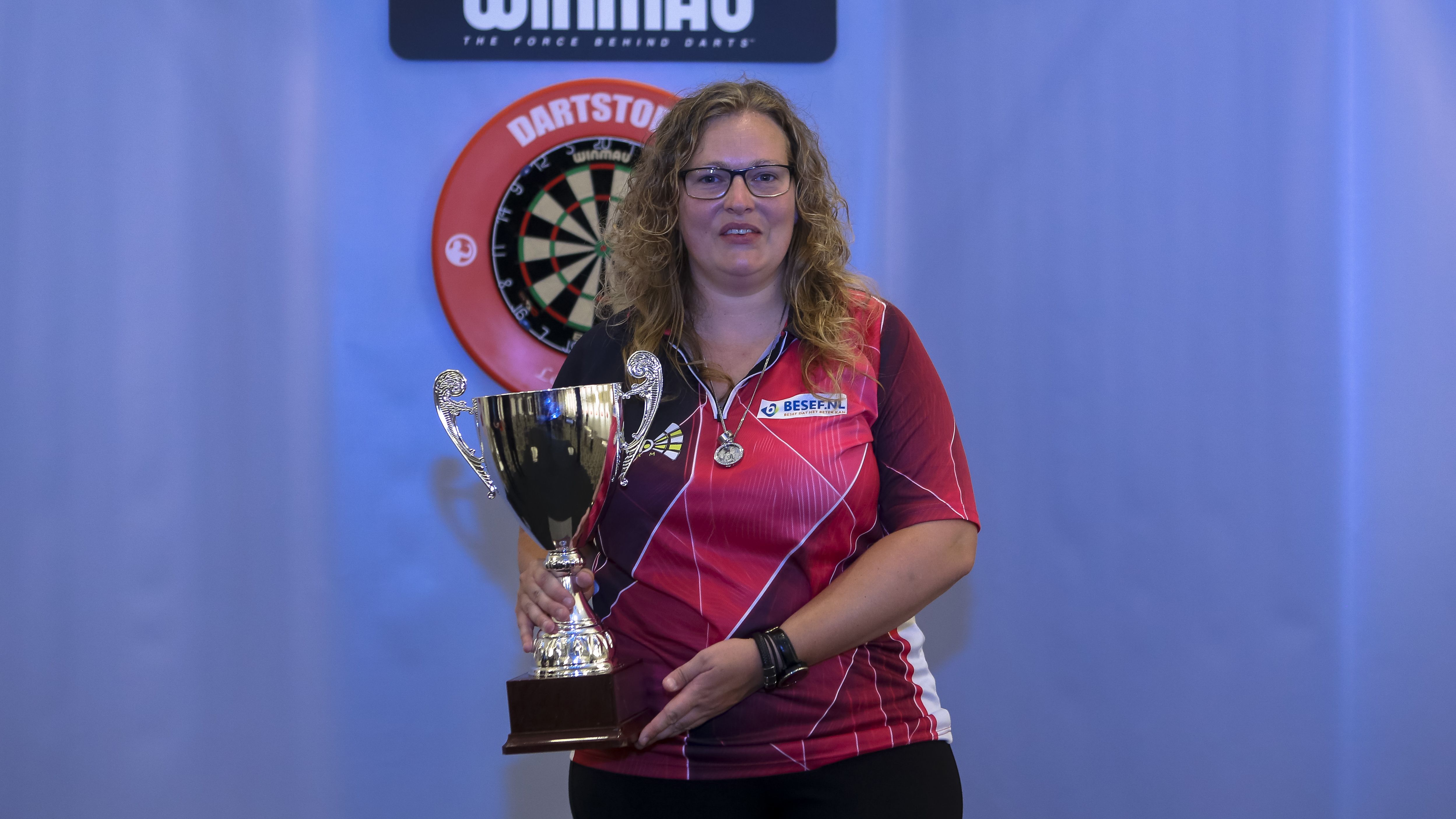 2022 Swedish Masters champion Aileen de Graaf. Photo: Evert Zomer.
Tata and Harper triumph in the John Wilkie Memorial
All four of New Zealand's men's ranking events prior to August's John Wilkie Memorial had seen Haupai Puha involved in the final. With 'Hopes' away playing in the PDC World Series, the door was open for someone new to contend. That person ended up being Jonathan Tata.
Tata displayed nerves of steel to come through four consecutive last-leg deciders against John Proctor, Brian Steed, Ben Robb and then Tahuna Irwin in the final to win his first career WDF title. Tata's win in the Silver event elevates him up to third in the regional ranking table behind the aforementioned Puha and Robb with five more events to go before the end of the season.
Wendy Harper and Nicole Regnaud met for the fourth time this year in the business end of a WDF competition in the Women's Memorial, with the veteran Harper going 3-1 up in the series to claim her second ranking title of the year and the tenth of her lengthy career.
Harper, fresh off a run to the semi-finals of the Australian Darts Open the previous weekend, recorded successive whitewashes over Michaela Mahika, Christine Hay and Victoria Monaghan before beating Regnaud 5-2 in the final.
Jack Sheppard won the Youth competition, defeating Bailey Day 5-2 in the final.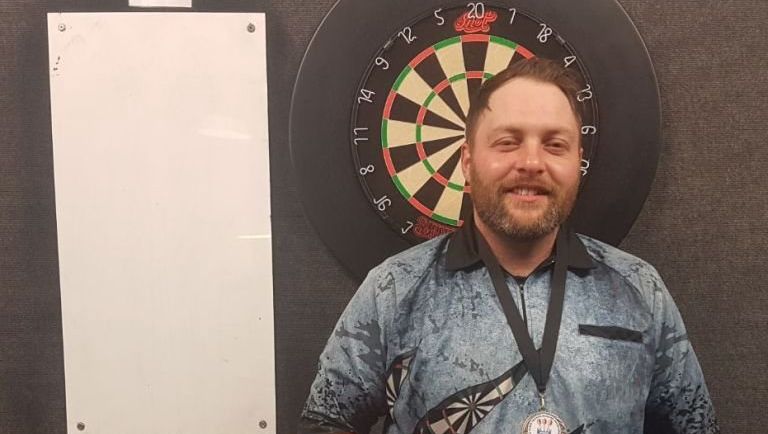 2022 John Wilkie Memorial champion Jonathan Tata. Photo: New Zealand Darts Council.
Europe Cup and two Gold events headline a packed September
As we begin to approach the end of the ranking season and the qualification cut-off for next year's World Championships, September's packed schedule of events is likely to be crucial in determining how the ranking tables end up looking in December.
Four more automatic places at the 2023 World Championships will be up for grabs with two important Gold events scheduled in England – the British Open in Bridlington and the England Classic in Devon.
September begins with a Bronze double-header in Catalonia and ends with a separate trip to Spain for the WDF Europe Cup. World Champions Neil Duff and Beau Greaves will be among those in action as one of our biggest events returns for the first time since 2018.
Attention will also turn to Australia and New Zealand during September, where there are a total of five events scheduled across the two nations. Australia plays host to the Van Diemen Classic, Tasmanian Darts Classic and North Queensland Classic, while New Zealand's best will be vying for points in the Taranaki Open and Auckland Open.