Baetens and Ashton star at third WDF Australian Darts Open
Andy Baetens and Lisa Ashton shared the top titles as the third Australian Darts Open wrapped up earlier today (August 19th) in Moama, New South Wales.
With action spread over six days, the second Platinum-ranked event on the 2023 WDF calendar saw players from Australia, New Zealand and Europe compete for guaranteed 2024 WDF World Championship spots and a prize fund of $50,000 AUD.
Baetens dazzles to win fifth title of the year
WDF World No. 1 Andy Baetens lived up to his billing as top seed by dominating the Men's Open, sealing his fifth ranking title of the year with a 10-2 win over Neil Duff.
A brace of 180s in the second leg helped Baetens secure an early break and move 2-0 up, only for Duff to halve the deficit by taking out 99 in the next leg.
The Belgian then kicked through the gears, producing a six-leg burst that included three 15-darters and finishes of 62, 64, 74 and 120.
Duff got his second leg on the board with a 17-dart hold but was unable to make any further inroads, Baetens taking the next two and wrapping up victory with a second 120 out.
Northern Ireland's Duff had chances in most legs but Baetens was ultimately too clinical, finishing with a 92.62 average as he won the $10,000 AUD top prize.
That final performance was Baetens' fifth 90-plus average in his five tournament games. He began with a 5-3 win over Rob Modra before defeating Laurie Loch 5-2 in his second group game.
'The Beast' then won five legs on the spin to come from behind and beat qualifier Ronald Nakata in the quarter-finals before producing his best performance in the semis against Raymond Smith.
Facing the 2022 Australian Darts Open winner in a rematch of this previous weekend's Pacific Masters final, Baetens romped to an 8-0 victory, throwing five 180s and averaging 98.56.
Duff, meanwhile, rallied from surviving multiple match darts in his opening game with Brandon Weening to reach his second ranking final of the year.
Having then defeated Scott Hallett to top his group, the reigning WDF World Champion beat Danny Porter 6-3 in the quarters before winning six of the last seven legs to defeat New Zealand's Jonny Tata in the semis.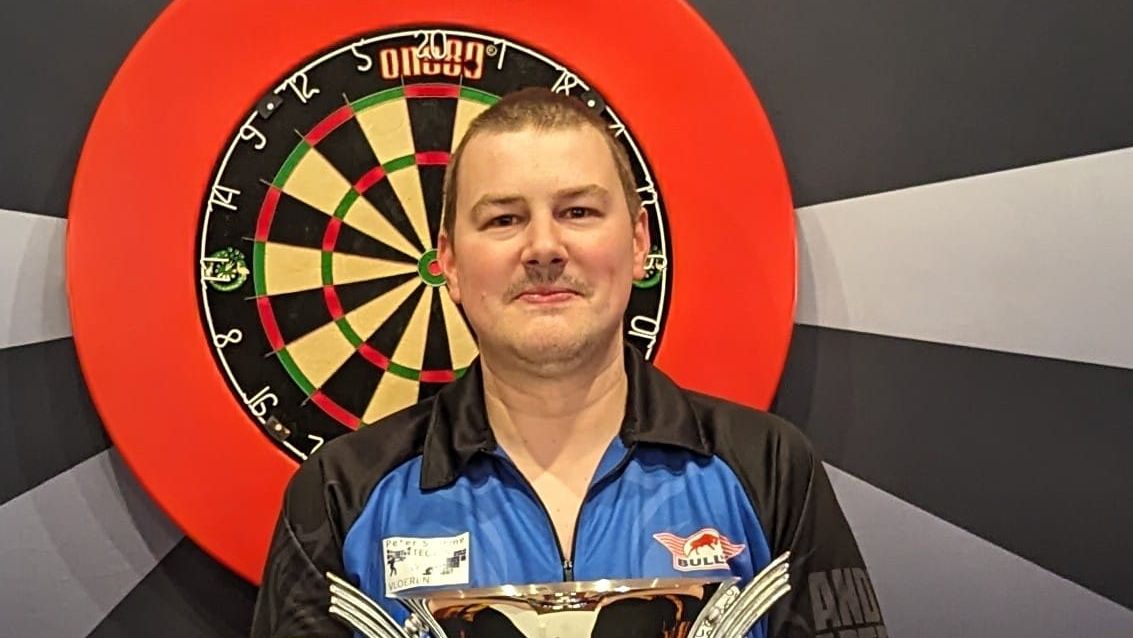 2023 Men's Australian Darts Open champion Andy Baetens. Photo: Darts Australia
Ashton reigns supreme in Moama for the second time
The inaugural Women's Australian Darts Open champion Lisa Ashton etched her name onto the trophy once more after a dominant string of performances in Moama.
Up-and-coming Kiwi talent Nicole Regnaud had beaten Ashton in last year's group stage but was unable to repeat the feat in 2023, although she was the only person to take a leg off the Bolton ace before the final.
Ashton followed up that 4-1 win with a 4-0 victory over Janine Cassar that included finishes of 102 and 106 and a 6-0 whitewash of Desi Mercer in the semi-finals.
Facing Ashton in the title decider was Aileen de Graaf, who'd beaten Melina van den Kieboom and Amanda Loch in the group stages before ending the challenge of Joanne Hadley in the semi-finals.
Ashton sprang out of the blocks in the final, throwing two 180s in the opening leg. That maximum count would eventually hit six as Ashton dominated the power scoring and won six of the opening seven legs.
De Graaf was able to cut the deficit with a pair of breaks but after busting 60, Ashton stepped up to take out 25 and seal an 8-4 victory with an 88.04 average.
2023 Women's Australian Darts Open champion Lisa Ashton. Photo: Darts Australia
Results
Men's Quarter-Finals
Andy Baetens (94.00) 6-2 (86.63) Ronald Nakata
Raymond Smith (89.43) 6-4 (85.35) Peter Machin
Jonny Tata (95.84) 6-4 (89.85) Haupai Puha
Neil Duff (87.54) 6-3 (81.31) Danny Porter
Semi-Finals
Andy Baetens (98.56) 8-0 (93.28) Raymond Smith
Neil Duff (84.93) 8-4 (82.77) Jonny Tata
Final
Andy Baetens (92.62) 10-2 (89.81) Neil Duff
Women's Semi-Finals
Aileen de Graaf (74.45) 6-1 (69.29) Joanne Hadley
Lisa Ashton (86.71) 6-0 (60.47) Desi Mercer
Final
Lisa Ashton (88.04) 8-4 (80.80) Aileen de Graaf
Tags:
Australia
WDF Tournaments