Białecki books World Championship debut as record-breaker Hedman wins again in Denmark
Polish teenager Sebastian Białecki became the fourth man to seal an automatic 2023 WDF World Championship place during a Denmark Open weekend that also saw Deta Hedman make more history as one of three English title winners. Andrew Sinclair recaps the action.
Brilliant Białecki books World Championship debut
Białecki had already achieved quite a bit in his young career prior to last weekend's Denmark Open but after defeating Darren Johnson 6-1 he can add WDF ranking event winner and WDF World Championship participant to his list of accolades.
With defending champion Thibault Tricole absent, we were guaranteed a new Men's winner in 2022 and the Open concluded with a title decider between two first-time finalists.
The first two legs of the final went with throw, the Pole kicking off with an 82 finish before Johnson responded with a 15-darter.
Białecki produced another good finish in the third leg, this time a 97, before going 3-1 up with a 15-dart break.
Johnson had chances to halve the deficit but couldn't convert, Białecki instead going out in 24 before firing in another 15-darter to lead 5-1 and move within a leg of the title.
Visits of 134, 140 and 136 left Białecki in a prime position and he made no mistake, wrapping up victory by taking out 32 with the second dart in hand. Białecki will, next year, become the fourth Polish man, after Krzysztof Ratajski, Krzysztof Kciuk and Sebastian Steyer, to compete in a World Championship.
2022 Denmark Open champion Sebastian Białecki
A UK Open quarter-finalist earlier this year, Białecki entered the weekend in Denmark as one of the most dangerous unseeded players and proved worthy of the tag with a series of impressive victories.
After starting the day with a whitewash of Brian Skov, the 18-year-old beat the likes of Davie Kirwan, Ben Hazel and Andy Baetens to reach the stage portion of the competition.
He averaged 91.05 in a 4-2 win over Sweden's Dennis Nilsson in the last eight to set up a semi-final with Shaun McDonald. The Scot produced big finishes of 124 and 148 but struggled to find his scoring range and Białecki capitalised, running out a 5-2 winner.
For his part, Johnson also impressed as he picked a hatful of vital ranking points that have taken him up to 15th in the latest WDF standings. Among those to come up short against 'Dynamite DJ' were Dutch up-and-comer Moreno Blom, home favourites Ivan Madsen and Steen Lysen, and James Richardson.
Hedman sets new record with sixth Denmark Open win
Going into the 2022 Denmark Open, Deta Hedman was tied with John Lowe and Francis Hoenselaar for the most wins in tournament history with five. She now stands in a class all of her own after defeating Anca Zijlstra 5-3 to win it for a sixth time.
Hedman, who also won the Gold-graded Scottish Open the previous weekend, reached the quarter-finals without dropping a leg. She had to work hard in the last eight though, producing finishes of 92 and 99 to come from 3-1 down against Sweden's Susianne Hägvall to win 4-3.
Normal service resumed for 'The Heart of Darts' in the semi-finals, where she beat Norway's Rachna David 4-0 to set up a final clash with close friend Zijlstra.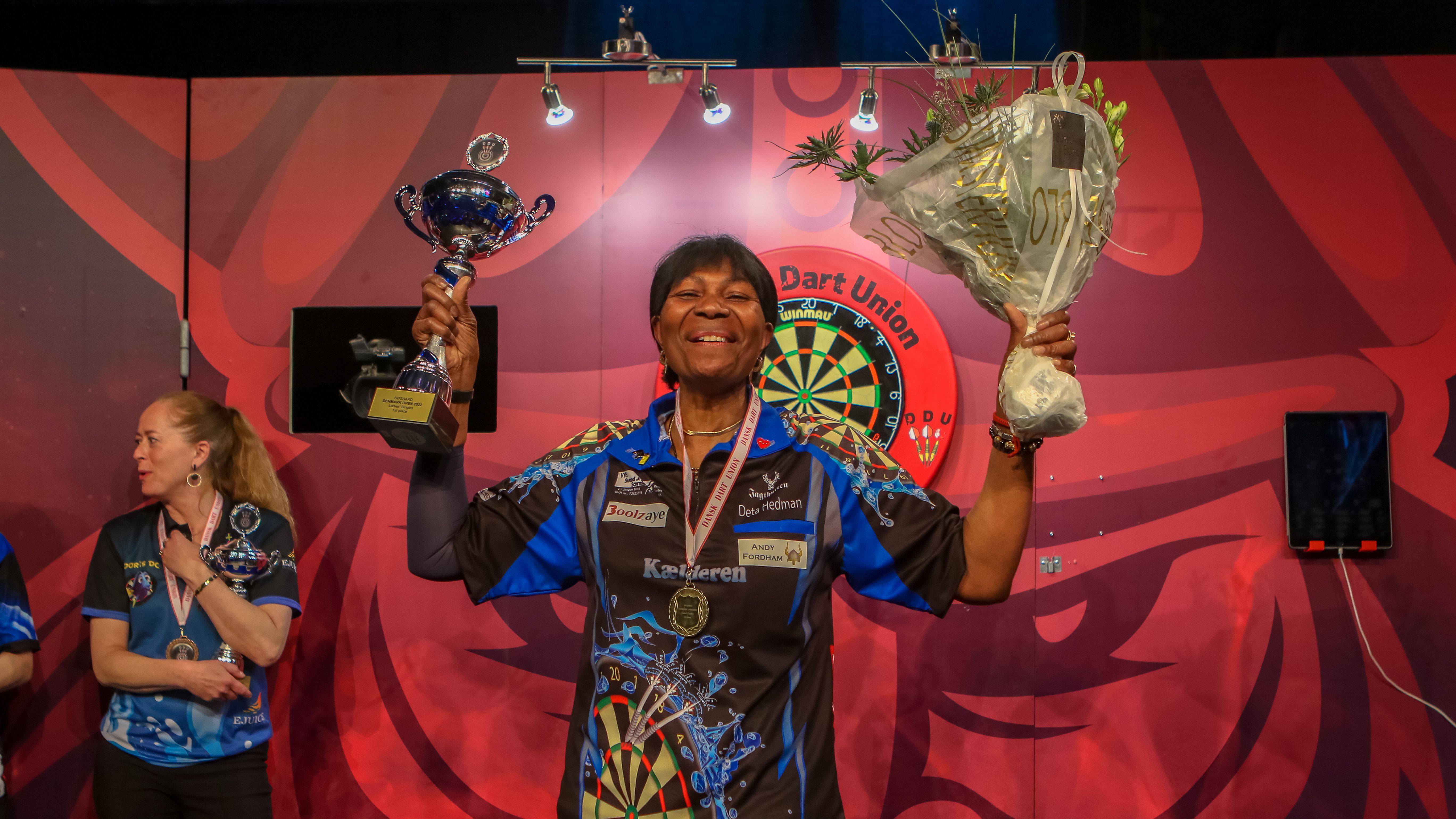 2022 Denmark Open champion Deta Hedman
Zijlstra, the defending champion, was forced to come through last-leg deciders against both Janni M. Larsen and Anna Forsmark during an altogether tougher route to the title decider.
Early advantage in the final went Hedman's way as she produced a 17-darter to break Zijlstra's throw in the fourth leg and establish a 3-1 lead.
From that point, Zijlstra needed two breaks to retain her title. She found one to level it up at 3-3 but couldn't pick up another, Hedman instead taking out 54 to seal victory.
Victory in Esbjerg takes Hedman to 229 career titles and leaves her in an incredibly strong position to qualify for the Platinum-graded Australian Darts Open later this year.
Title joy for Richardson and Smith in Denmark Masters
Much like in the Men's Open the day before, we were guaranteed a first-time WDF floor event winner in the Men's Masters as James Richardson took on the 2006 World Champion Jelle Klaasen.
The pair had actually met the previous day, the Dutchman losing in a deciding leg after missing match darts. Unsurprisingly, their Masters clash was equally tight and also went all the way, Richardson winning it 6-5.
A pair of 16-darters saw Klaasen, who'd beaten Nick Kenny and Mark Barilli earlier in the event, race into an early 2-0 lead before Richardson pegged him back with finishes of 64 and 121.
The next two legs went with throw to make it 3-3 before Richardson hit the front for the first time with a 15-dart break. His lead proved brief, Klaasen responding in kind with a 13-darter before going out in 16 to move 5-4 up and within a leg of the title.
With the finishing line in sight both players started to show a few nerves but it was Richardson who rode them better, taking out 44 in successive legs to seal an emotional title triumph.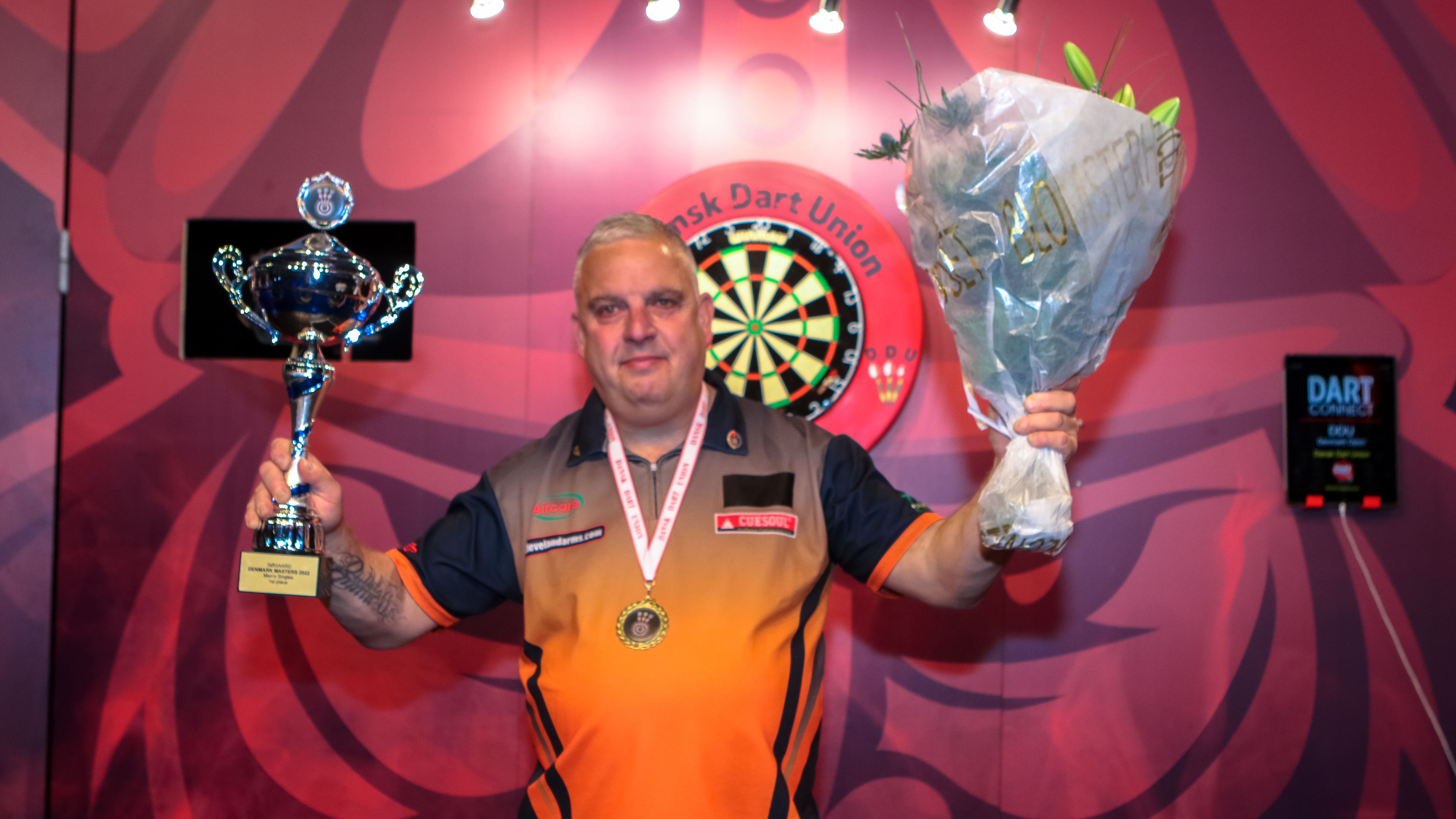 2022 Denmark Masters champion James Richardson
Richardson had impressed in reaching the semi-finals of the Open the previous day and carried that form through to the Masters, securing his final place with comfortable wins over Thomas Junghans, Martin Atkins and Martyn Turner. 'Ruthless', who featured in last month's WDF World Championships, now sits eighth in the Men's rankings.
Slowly but surely, Klaasen appears to be returning to a level somewhere near his best after dropping off the PDC Tour at the end of last year. He showed more encouraging signs with his performances in Denmark, particularly against Richardson and in his semi-final clash with WDF World No.1 James Hurrell.
Hurrell and Klaasen shared seven 180s and both averaged in the mid-90s in their nine-leg tussle, Klaasen racing into a 4-2 lead with all four legs coming in 15 darts or less before Hurrell rallied to force a decider. The England captain missed five match darts in that ninth leg before Klaasen pinned double 10 to win.
In the Women's Masters, Suzanne Smith defeated Rachna David 5-3 to win her second career ranking title and first in almost nine years.
Smith kicked off the day with a pair of 4-0 wins to set up a quarter-final meeting with Anna Forsmark. The Swedish international had beaten her 4-2 at the same stage of the Open the previous day and won the bull for their second meeting of the weekend, ensuring she always remained that little bit ahead as the first six legs all went with throw.
Smith got better as the game went on though and after hitting a 116 finish to level it up at 3-3, she got the first, and ultimately decisive, break of the match in the decider with an 89 checkout.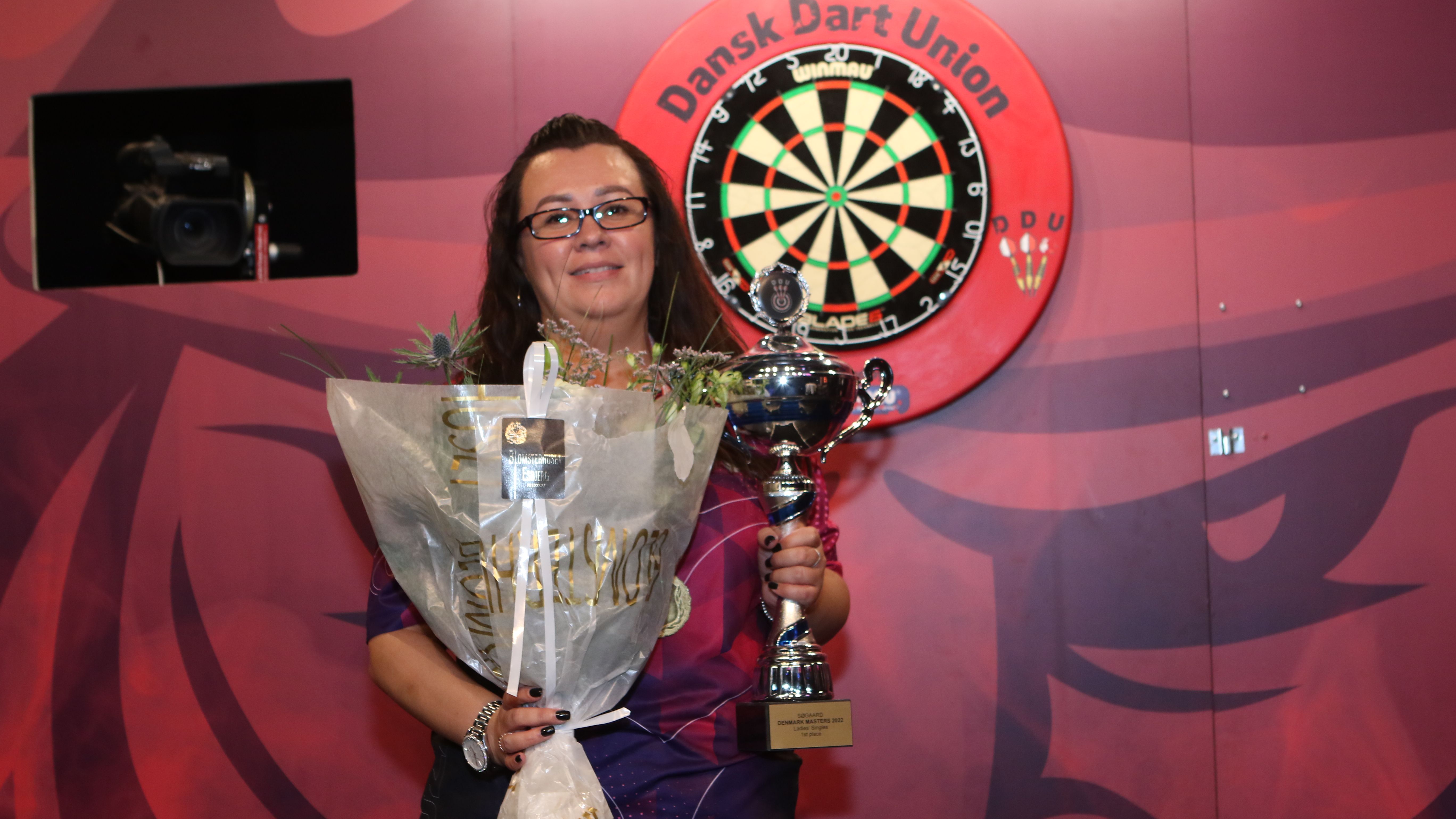 2022 Denmark Masters champion Suzanne Smith
With that win under her belt, she looked much more comfortable in the semi-finals, producing her highest average of the day, a 71.85, in a 4-2 win over Donna Gleed.
David, meanwhile, had impressed in reaching her first ranking final in four years. Starting as an unseeded player, the Norwegian dropped just one leg in her opening few games before coming from 2-0 down to defeat Slovak Open champion Jo Clements 4-3 in the last eight. She then denied Deta Hedman a weekend title double by winning their semi-final meeting.
In the final the first four legs went with throw as consistent scoring proved an issue for both players. The first break came in the fifth leg, David pinning 108 for a match-best 15-darter and a 3-2 lead.
She wouldn't win another leg though, Smith breaking back immediately before holding throw in 26 after David had missed a slew of darts to go in front once again. Those misses seemed to affect David in the eighth leg, Smith taking out 80 to break again and confirm a 5-3 victory.
Jørgensen does Youth double
During the 2021 Denmark Open weekend, both Youth finals were contested by the same two players: Nikolaj Jørgensen and Tinus van Tiel.
In 2022, the pair locked horns twice more in the Denmark Open and Masters Youth finals. Unlike 2021 though, when they split the titles between them, 2022 saw one player do the double. That player, much to the delight of the home crowd, was Jørgensen, who ran out a 4-1 winner in both finals.
2022 Denmark Open and Masters Youth champion Nikolaj Jørgensen
Two more World Championship spots on the line as WDF tour heads to Wales
This coming weekend is the third in a row headlined by a Gold-ranked event that carries with it two 2023 WDF World Championship places.
More than 440 men and 130 women have signed up for the always popular Welsh Open, with the weekend also including the Silver-graded Welsh Classic.
Photo Credit: Evert Zomer
Tags:
WDF Tournaments
Denmark