February Review – Scotland, Slovakia, USA, New Zealand
The 2023 WDF season picked up speed in February, with six senior ranking tournaments held across five different countries. The headline event was the Gold-ranked South Australian Classic, which saw Ky Smith and Amanda Loch emerge victorious to book early places at the 2024 WDF Lakeside World Championships. Andrew Sinclair recaps the rest of the action from Scotland, Slovakia, the USA and New Zealand.
Brooks and Hedman star at Scottish Open
Jordan Brooks claimed his maiden WDF ranking title as the circuit returned to Renfew for the ever-popular Scottish Open.
With 493 men in attendance, competition was fierce but it was Brooks, nicknamed 'The Sherriff', who came through the pack before defeating fellow Englishman Martin Atkins in the final.
Atkins (Wigan) had the throw in the final and looked strong early on with checkouts of 81 and 78. Brooks kept pace with successive holds of his own before claiming the advantage in the fifth leg, pinning 96 for a 14-dart break.
That would prove to be the only break of the match, with Brooks holding in the next to make it 4-2 before the next four all went with throw. Atkins was unable to find a breakthrough, eventually losing 6-4 as Brooks sealed victory by taking out 32 with his second dart in hand.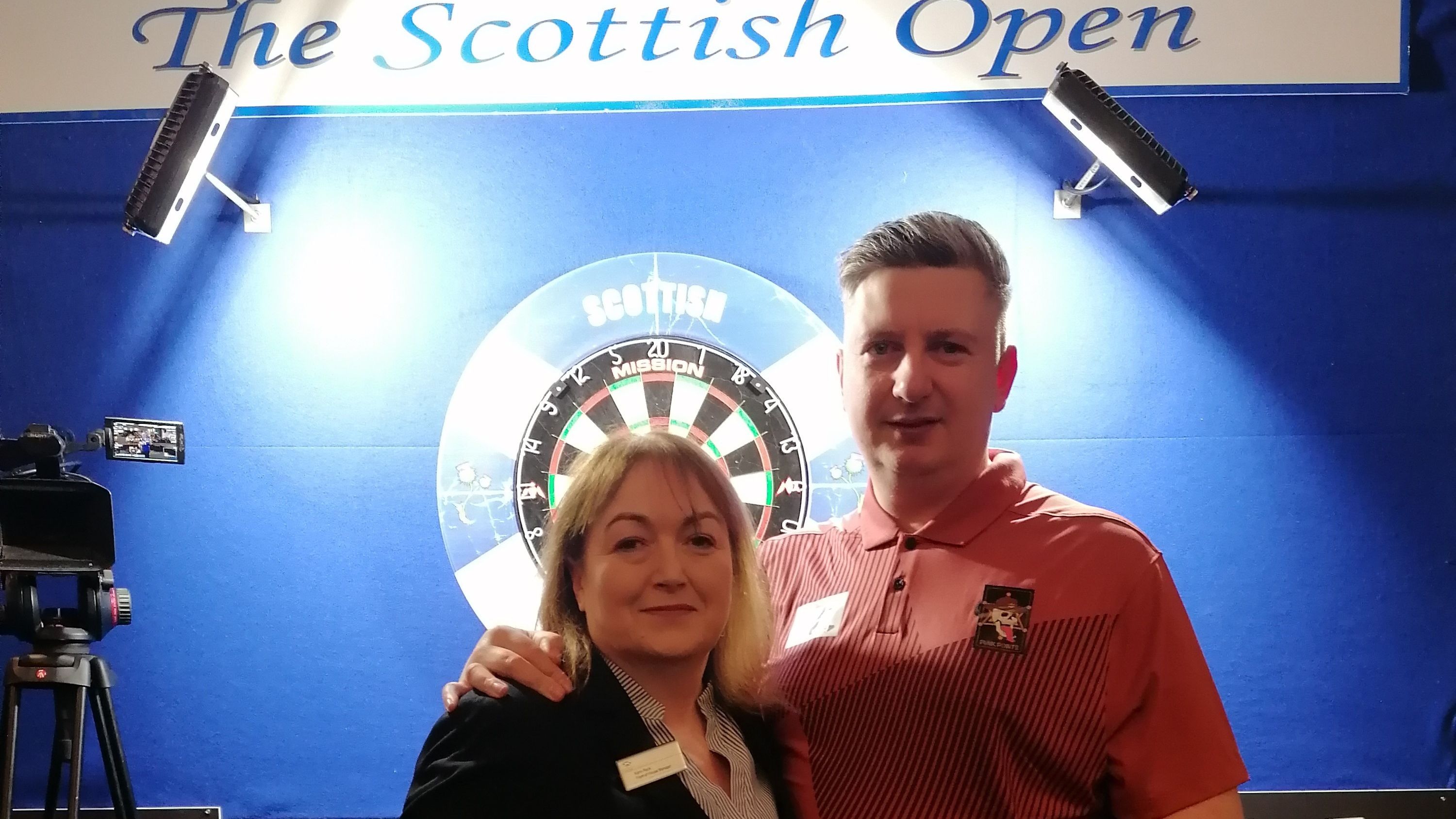 2023 Scottish Open Men's Champion Jordan Brooks. Photo: SDA
With no Beau Greaves in action, the field for the Women's Scottish Open was a lot more open and it was Deta Hedman who came through to win the event for the second successive year.
'The Heart of Darts' won her first Scottish Open all the way back in 1995 and 28 years on looked in good form as she beat Lisa Barnes, Chloe O'Brien and Sophie McKinlay for the loss of just one leg to reach the quarter-finals.
There she accounted for the experienced Julie Thompson 4-1 and she followed that victory up with another by the same scoreline against Kirsty Hutchinson to make the final.
Facing her in the title decider was Welsh captain Rhian O'Sullivan, who had looked in blistering form in the earlier rounds. She followed up 4-1 wins over Scotland captain Susanna McGimpsey and Natalie Gilbert by producing her highest-recorded average, a 98.56, in a dominant semi-final victory over Rebecca Brouse.
O'Sullivan led 1-0 and 4-3 in what was a very topsy-turvy final but she was undone by some real double trouble. After missing a handful of match darts in the eighth leg, she did the same in the ninth as Hedman snuck her way over the finish line with a title-winning 48 finish to win 5-4.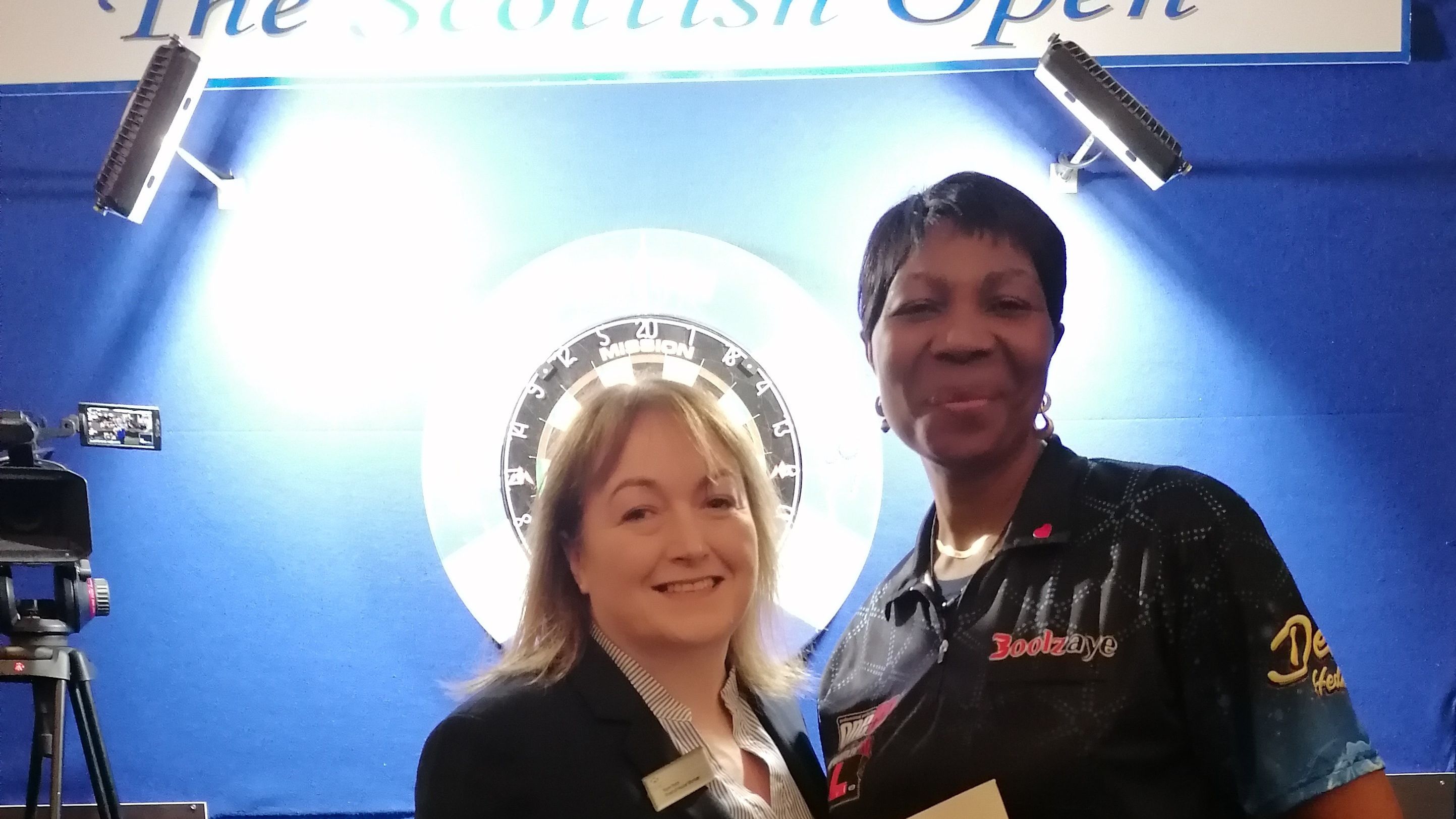 2023 Scottish Open Women's Champion Deta Hedman. Photo: SDA
Slovak Open success for German duo Maendl-Lawrence and Armstrong
Liam Maendl-Lawrence cemented himself as another up-and-comer to watch on the WDF circuit as he secured his maiden ranking title at the Slovak Open.
Samorin welcomed another bumper field of more than 400 players, with Maendl-Lawrence defeating Belgium's Andy Baetens 5-4 in the final.
The first four legs of what was a high-quality final went with throw, Baetens twice taking the lead only for his younger German opponent to respond with a pair of 13-darters.
Maendl-Lawrence seized the advantage by producing an 18-dart break in the fifth leg and holding in the next to lead 4-2 in a race to five.
Baetens struck back though, with successive finishes of 90 and 121 drawing him level. 'The Beast' also had a shot at double 16 in the decider but missed and Maendl-Lawrence punished him, pinning 39 in two darts to seal an impressive victory.
The German teenager finished the final with a 96.69 average and could count Spanish Open finalist Viteszlav Sedlak, reigning Swiss and Iceland Open champion Gábor Takács and Mark Barilli among his beaten opponents in the prior rounds.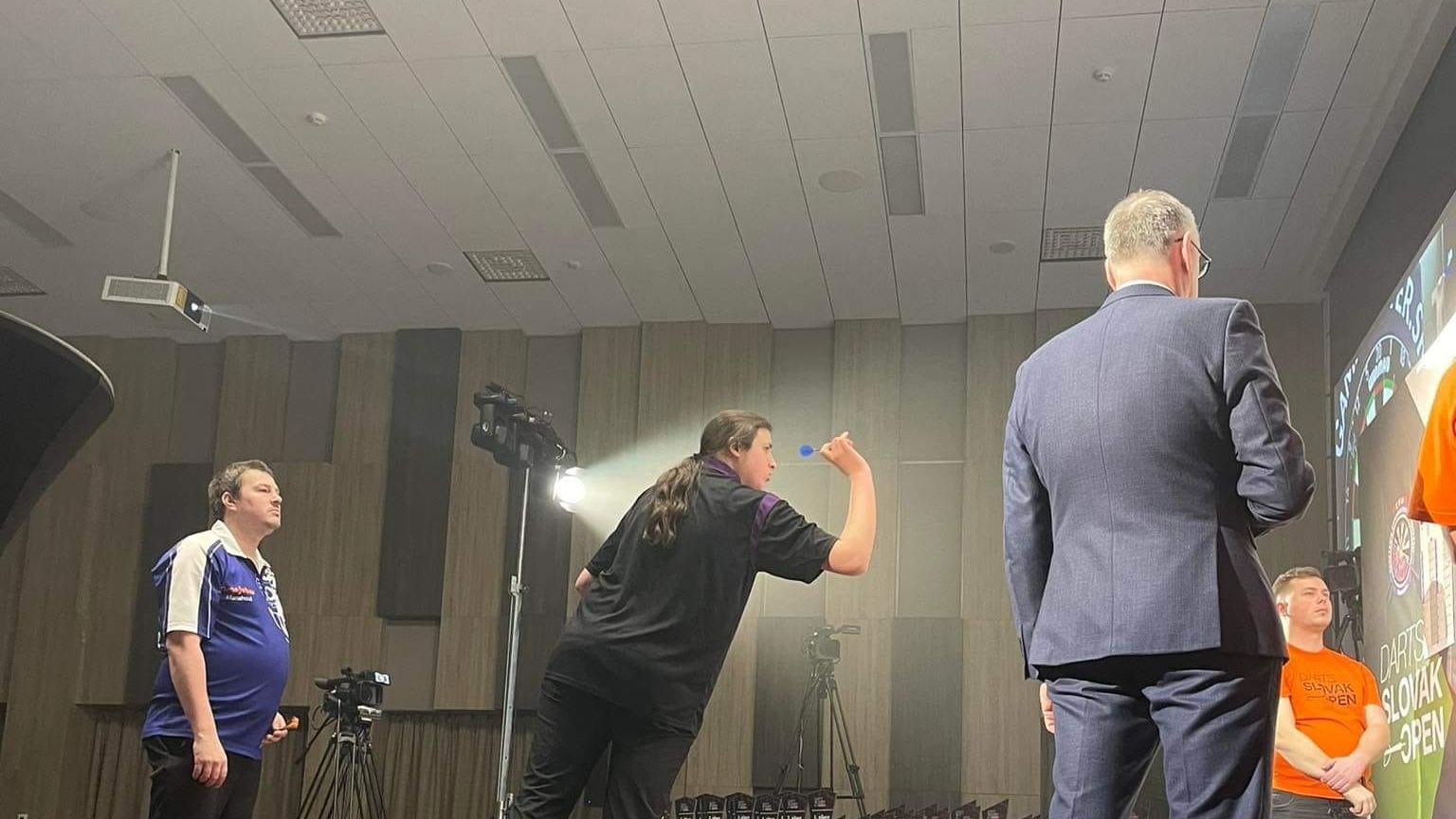 2023 Slovak Open Men's Champion Liam Maendl-Lawrence. Photo: Slovak Steel Darts
In the Women's Open, Irina Armstrong produced some quality darts to win her 36th career ranking title.
The Russian-born German made the quarter-finals without dropping a leg and in the last eight she accounted for the Hungarian number one Veronika Ihasz 4-1.
After that, she narrowly defeated home favourite Lucia Jankovska 4-3 to set up a final with Czechia ace Jitka Cisarova, who'd previously come through three successive last-leg deciders against Monique Lessmeister, Sophie McKinlay and top seed Suzanne Smith.
Armstrong drew first blood in the final with a 65 checkout against the darts, only for Cisarova to immediately respond with a 26-dart break of her own. That was as good as it got for her though, as Armstrong won the next four legs on the bounce to run out a 5-1 winner.
The Boys Open was won by András Borbély, who averaged 81.24 in a 4-0 final win over fellow Hungarian Zsombor Baranyi. The Girls competition saw Paige Pauling defeat Sophie McKinlay in the final.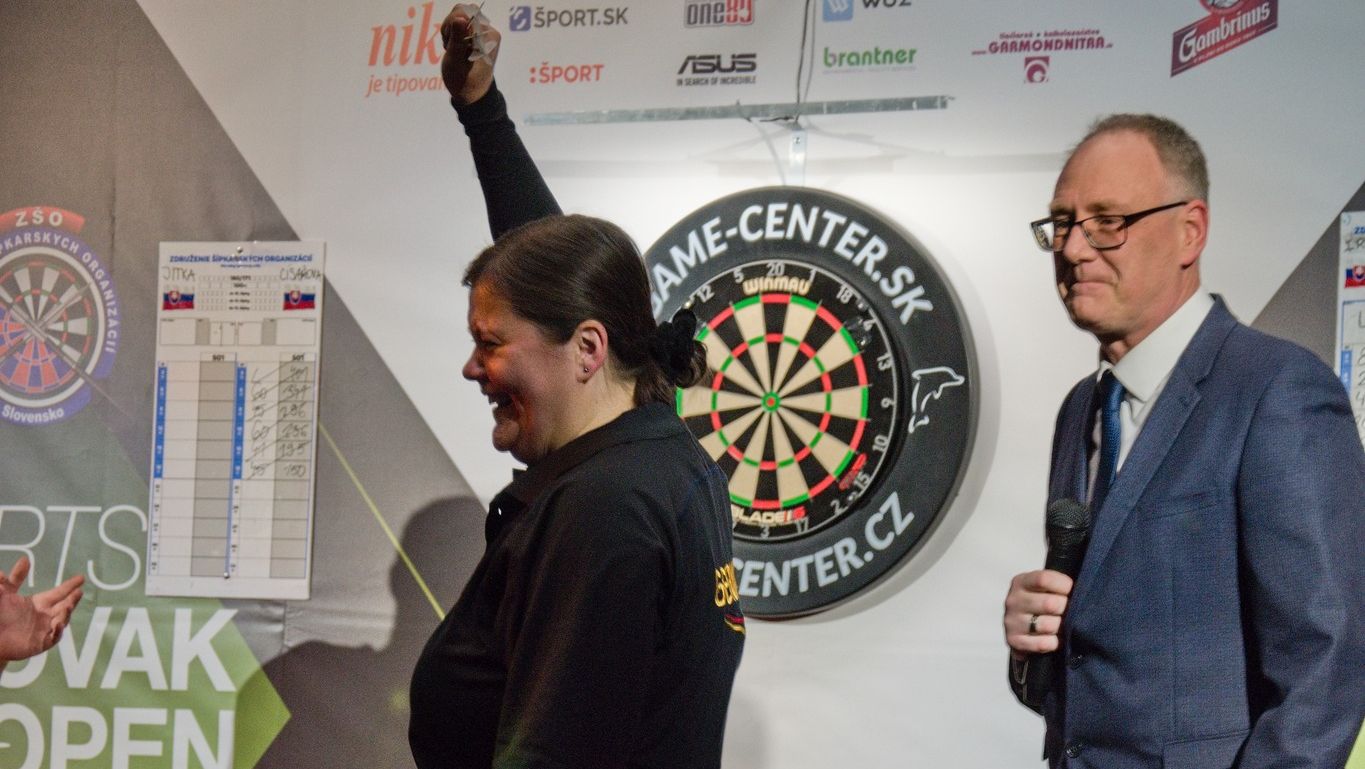 2023 Slovak Open Women's Champion Irina Armstrong. Photo: Slovak Steel Darts
Pratnemer and Jansson back among the titles at Slovak Masters
Benjamin Pratnemer continued his impressive recent form by claiming a sixth career ranking title at the Slovak Masters.
The big Slovenian won the World Open in December and breezed through the early rounds in Samorin to set-up a quarter-final clash with England captain James Hurrell. Pratnemer won that 4-2 before then coming from 3-1 down to beat Hungary's Levante Serai in the semi-finals.
Facing him in the final was Ole Holtkamp, the German international bidding to win his first WDF title after beating WDF World Champion Neil Duff in the semis.
Pratnemer raced into a 3-0 lead in the title decider, backing up a 16-dart opening leg with finishes of 161 and 105. Holtkamp got on the board with a 66 out of his own, only for Pratnemer to immediately re-establish his three-leg advantage.
As they got closer to the finish line, the Slovenian got a bit nervy and his younger opponent was able to nick the scrappier legs, winning three on the spin to level at 4-4 and force a decider. It was there that Pratnemer finally paid off his good start, taking out 60 in three darts to seal a 5-4 win with an 82.83 average.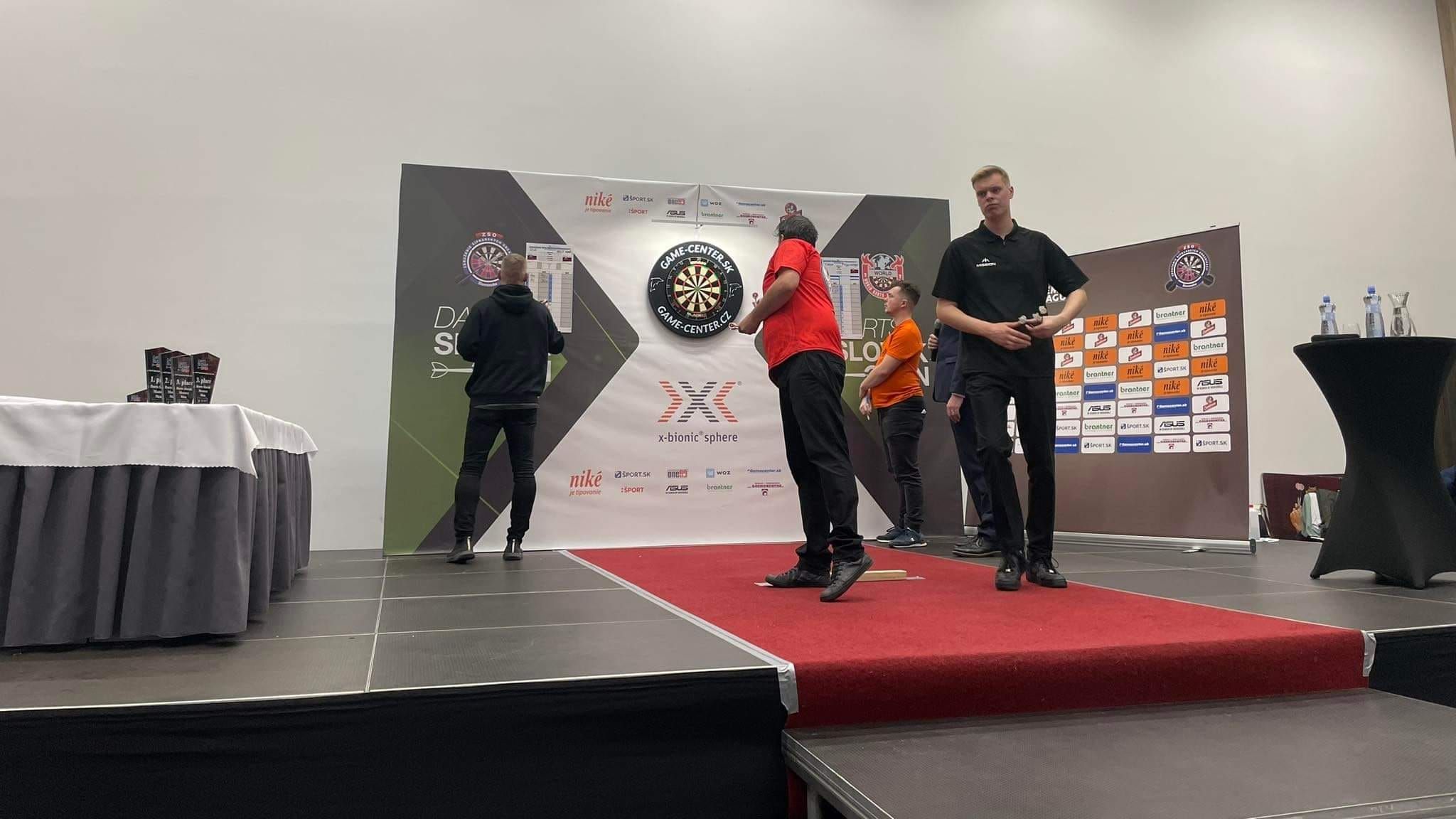 2023 Slovak Masters Men's Champion Benjamin Pratnemer. Photo: Slovak Steel Darts
The Women's Masters was won by Maud Jansson, who pipped Scottish teenager Sophie McKinlay in a dramatic final to claim a fourth ranking title in the last 12 months.
There was never more than a leg in it as the game went the distance. McKinlay scored more strongly in the decider, wiring a shot at a 118 finish and eventually missing six match darts before Jansson pinned double 12 to win it 5-4.
There was heartbreak for McKinlay in the Girls Masters as well as she went down 3-2 in the final to Paige Pauling. The Boys Masters was won by Andras Borbely, who beat fellow Hungarian Balazs Szotak 4-3.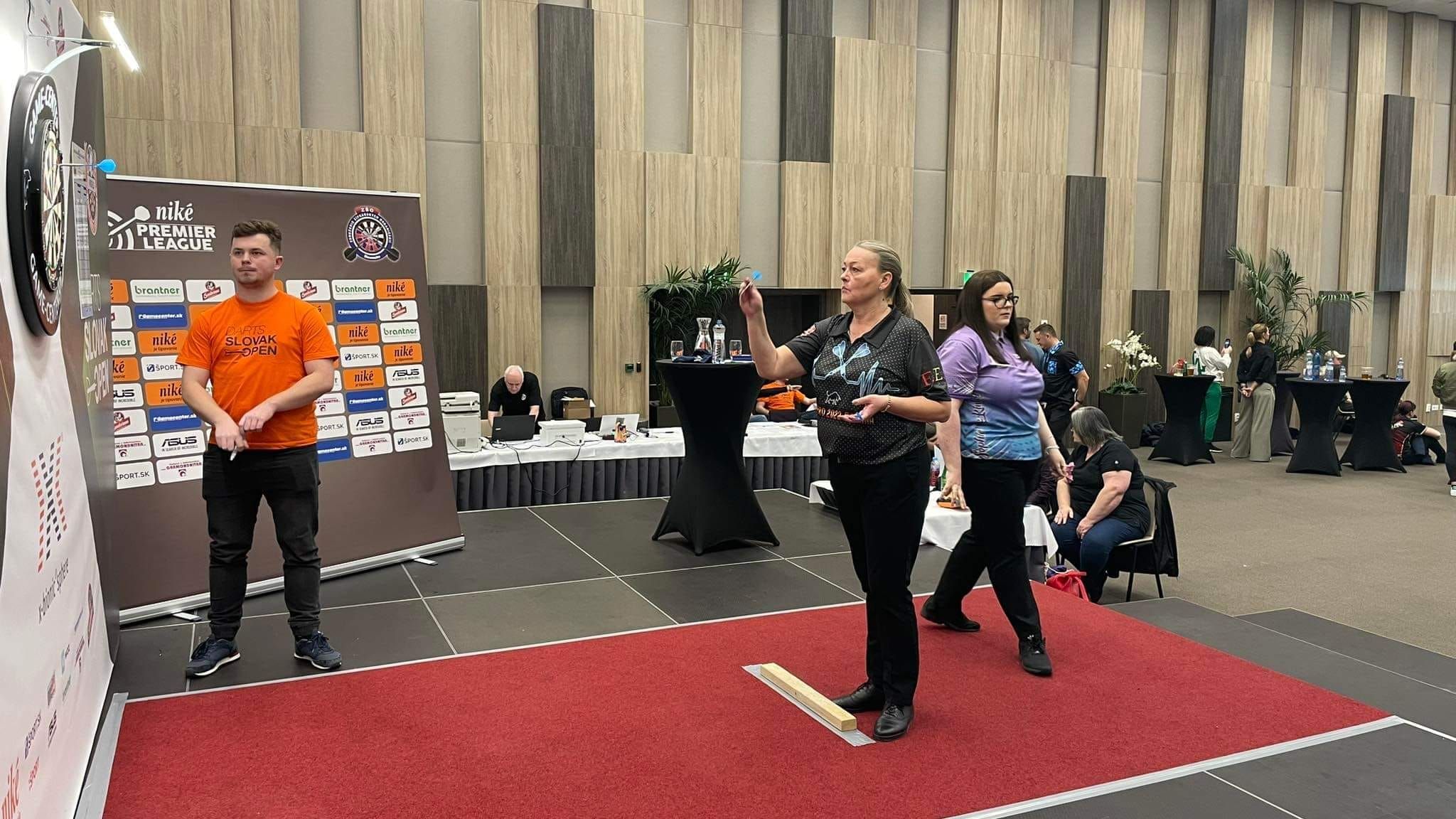 2023 Slovak Masters Women's Champion Maud Jansson. Photo: Slovak Steel Darts.
Brilliant Brandon and Murphy on top at Shoot for the Moon
After making a number of deep runs over the last couple of years, Jason Brandon was finally able to claim a WDF ranking title in early February as he won the Silver-graded Shoot for the Moon event in Alabama.
Wins over Jared Leedy, Ryan Friery and Matthew Arpin set up a semi-final clash with former PDC Tour Card holder Danny Baggish in the semi-finals. Brandon won that 4-2 and then maintained his composure to defeat the experienced Joe Chaney 5-2 in the final.
2023 Shoot for the Moon Men's Champion Jason Brandon. Photo: ADO
Paula Murphy continues to be the woman to beat in North America, following up her triumph in January's Las Vegas Open by also picking up the Women's Shoot for the Moon title.
Murphy, who's scheduled to make her Lakeside return at the end of this year, sealed a remarkable 45th career ranking title with a 5-2 final triumph over Sandy Haas.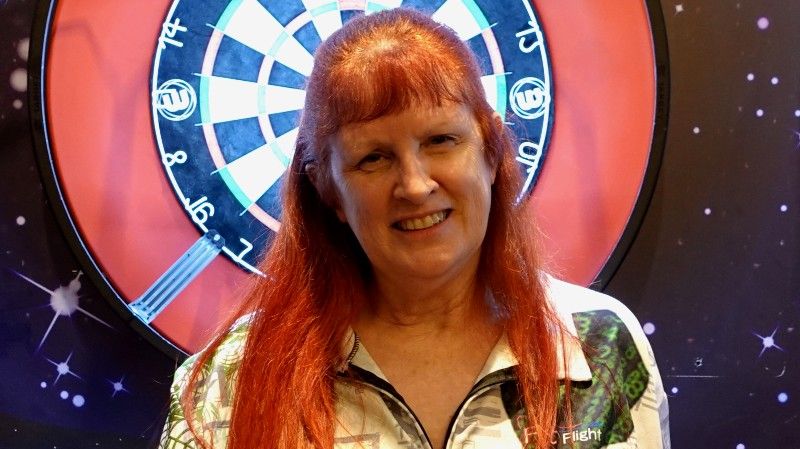 2023 Shoot for the Moon Women's Champion Paula Murphy. Photo: ADO
Port City Open glory for Patenaude and Farrell
There were two firsts in Portland, Maine as Seth Patenaude and Taylor Farrell won their first WDF Youth titles.
Patenaude triumphed in the Boys Port City Open with a 3-0 final win over Jimmy Fitzsimmons, while Farrell defeated Kassandra Griffin 3-1 in the Girls final.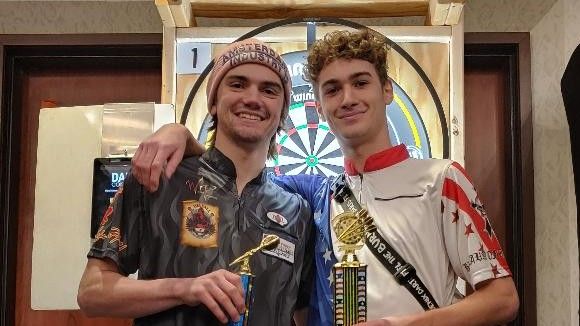 2023 Port City Open Boys Champion Seth Patenaude (right) and Runner-up Jim Fitzsimmons (left). Photo: ADO
Puha and Mitchell star as New Zealand season begins
Haupai Puha produced a string of impressive performances to take home the first New Zealand ranking title of the year, the Canterbury Classic, in early February.
Having come through his round-robin group unscathed, 'Hopes' breezed through to the final, dropping just one leg between in his four knockout games before the final.
That one lost leg came against Bernie Smith in the Last 16, with the Gisborne native then whitewashing Kayden Milne and Craig Ross to set up a meeting with Warren Parry, which Puha won 5-4.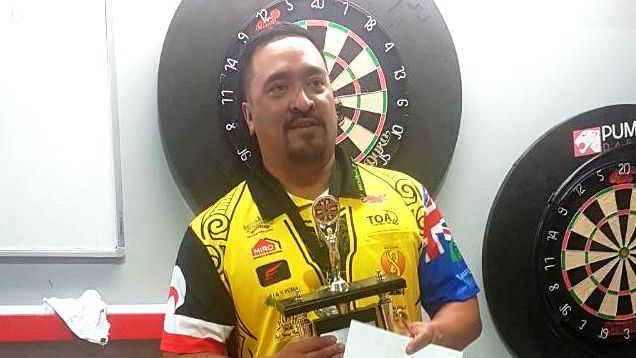 2023 Canterbury Classic Men's Champion Haupai Puha. Photo: NZDC
Kym Mitchell, who only returned to top level competitive darts last year after two decades away, sealed her sixth title in 10 months with a victory over Wendy Harper in the Women's Classic.
Mitchell, over in New Zealand for an international fixture between the Kiwis and her native Australia, actually had to beat their top two-ranked players to seal title victory.
After beating Mary-Anne Teinaki and Christine Hay for the loss of just one leg, Mitchell defeated Nicole Regnaud 4-3 in the semi-finals. That booked a meeting with Harper, with Mitchell running out a 4-2 victor.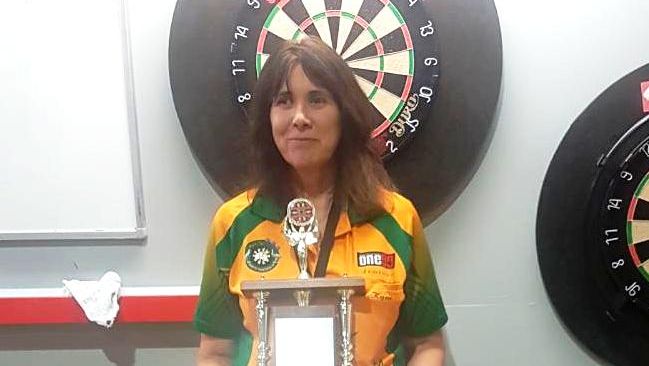 2023 Canterbury Classic Women's Champion Kym Mitchell. Photo: NZDC
Trips to the Isle of Man, Egypt and Hungary headline a busy March
Two months into the 2023 season, Jordan Brooks, Aaron Turner and Berry van Peer occupy the three vacant spots in the 2023 Men's WDF Lakeside World Championship field.
That race, as well as that for Australian Darts Open qualification, is likely to heat up in a busy March that features eight senior ranking events. There are double-headers in the Isle of Man and Hungary, two trips to the USA and a first trip to Egypt for a ranking event in four years.
Sat, Mar 4th: Missouri St. Patrick's Open, USA (Bronze)
Sun, Mar 5th: NSW Great Lakes Open, Australia (Bronze)
Thurs, Mar 9th: Isle of Man Masters, Isle of Man (Bronze)
Fri, Mar 10th: Isle of Man Classic, Isle of Man (Silver)
Sat, Mar 11th: Budapest Classic, Hungary (Bronze)
Sat, Mar 11th: West Coast Classic (Youth), Australia (Bronze)
Sun, Mar 12th: Budapest Masters, Hungary (Bronze)
Sat, Mar 18th: International Youth Challenge, Austria (Gold)
Sat, Mar 18th – Mon, Mar 20th: Egypt Darts Open, Egypt (Silver)
Sat, Mar 25th: Virginia Beach Classic, USA (Silver)
Tags:
2023
WDF Tournaments