Lakeside 2022 - Day 8 Afternoon Session report
Hutchinson denies O'Sullivan to reach WDF World Championship final on debut as Large stuns Bennett
Kirsty Hutchinson produced an outstanding performance to beat Rhian O'Sullivan 3-2 and reach the final of the 2022 WDF Women's Championship as the Boys' final was also determined at Lakeside.
Hutchinson admitted that doubles were her biggest weakness following her scrappy quarter-final win over Priscilla Steenbergen but she was almost picture perfect in a high-quality first set, taking it 3-2.
The accuracy on the outer ring dipped for both players in the second set, Hutchinson missing darts to break the O'Sullivan throw in the first and third legs before capitalising in the fifth to take a 2-0 lead after the Welsh captain had missed four set darts herself.
O'Sullivan, a Lakeside finalist in her own right in 2010 and 2011, boasted the highest tournament average of any of the Women's semi-finalists coming into the game and she found her rhythm in the next two sets, hitting her first 180 of the match in the third as she took it 3-1 before producing finishes of 75 and 58 to win the fourth by the same margin and level the tie.
The first three legs of the deciding set went with throw, Hutchinson eking out a 2-1 lead after O'Sullivan missed a dart at tops to break her in the third. The fourth saw Hutchinson throw her first 180 of the week before missing the bull for a 135 finish in her next visit that would probably have ranked as the best of the tournament. O'Sullivan held her nerve, cleaning up 60 with a double-double finish to force a sudden death leg.
Hutchinson missed another match dart, this time at tops for a 105, but O'Sullivan could only score 40 after leaving herself on 96. The reigning Welsh Open champion made sure of victory with her third match dart though, hitting double 10 to seal a final appearance on her Lakeside debut.
2022 Kirsty Hutchinson
Having won it in 2019 and been runner-up in 2020, Leighton Bennett was the hot favourite for this year's Boys' World Championship. He found Charlie Large too much to handle, though, missing two match darts before losing 2-1 in the first semi-final.
Bennett started the game in typically confident fashion, giving a big celebration to the crowd after his first of four 180s during the game. It was Large, who was making his TV debut, that drew first blood though, taking out finishes of 112 and 127 before surviving a set dart at the bull to win the opener 3-2.
'Boom Boom' showed more of what he can do in the second set, winning it 3-0, before opening the decider with a sensational 148 checkout. Both players struggled with double trouble in the third set, Large taking a pair of scrappy legs to go 2-1 up before Bennett broke back with a 16-darter to take it all the way.
It was in that sudden death leg that Bennett had two match darts, first at the bull and the second at double three, before Large stepped in to take out 39 in two to seal an impressive victory.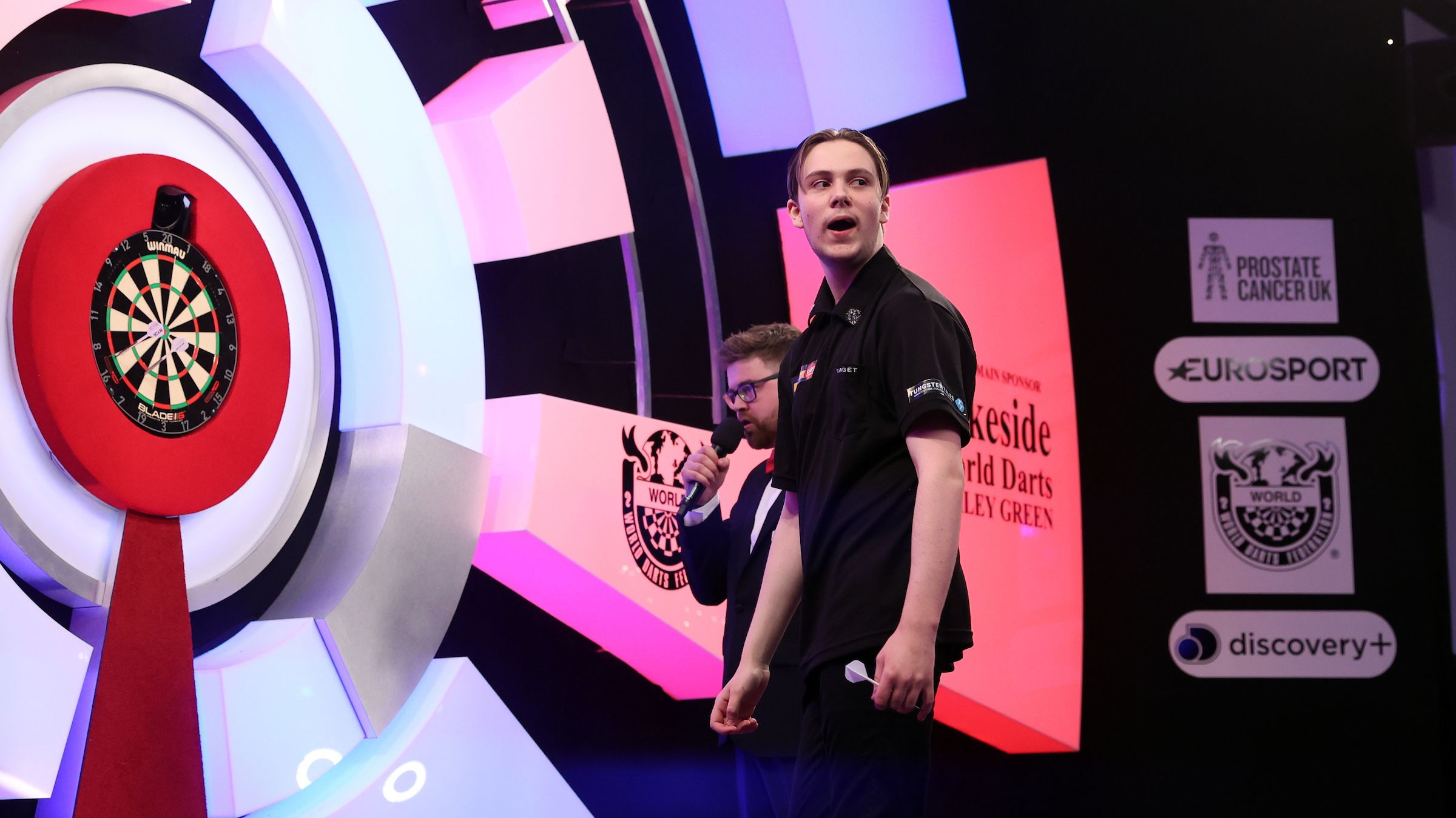 2022 Charlie Large
Facing Large in tomorrow's final will be Dutch thrower Bradly Roes, who was far from his best but had more than enough in the tank to record a routine 2-0 victory over Luis Liptow.
Germany's Liptow, who doesn't turn 16 until Monday, took the opening leg of both sets before Roes produced a pair of three leg bursts to seal victory.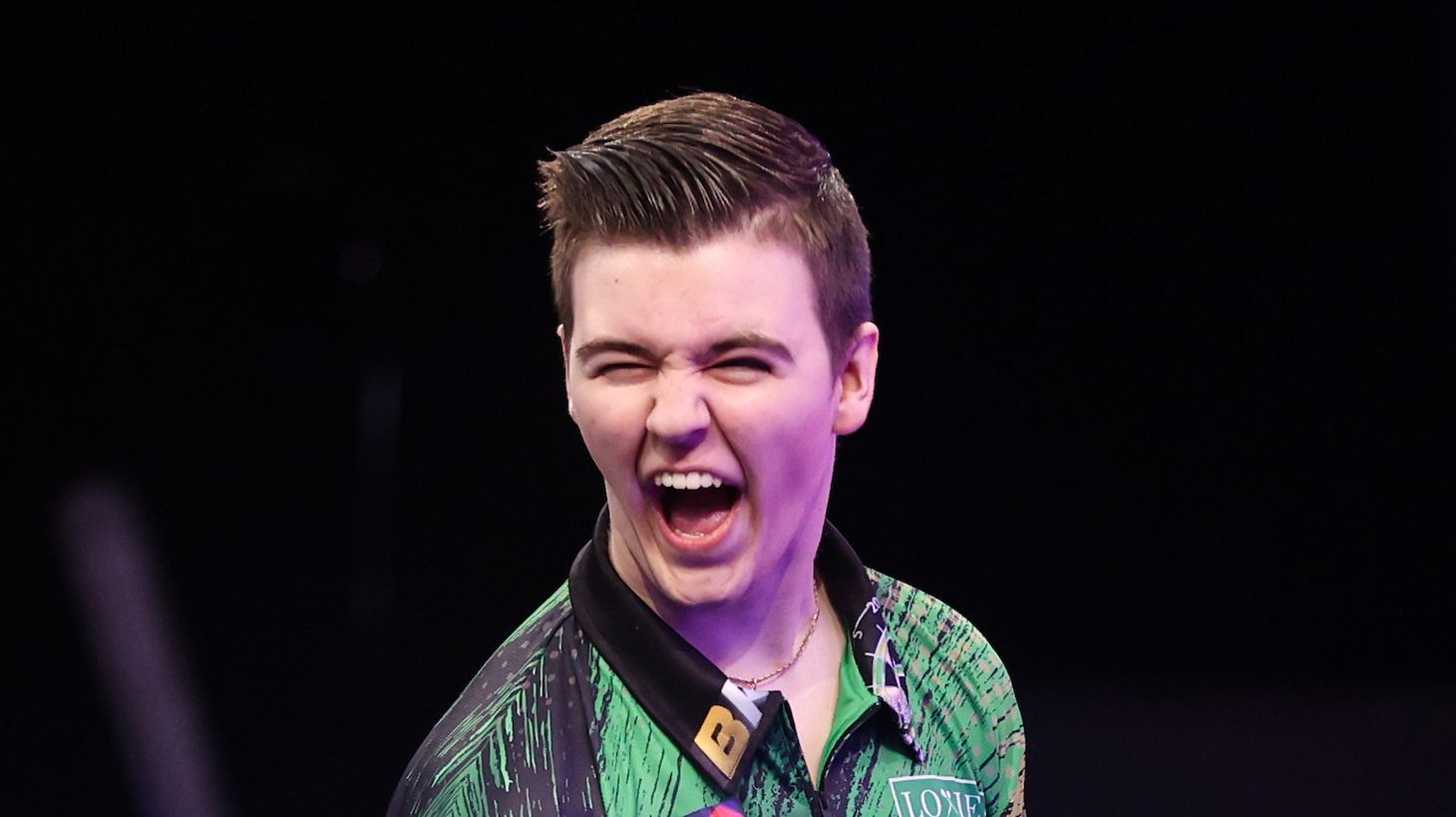 2022 Bradly Roes
9th April Afternoon Session results
Charlie Large 2-1 Leighton Bennett
Bradly Roes 2-0 Luis Liptow
Kirsty Hutchinson 3-2 Rhian O'Sullivan
Photo Credit: Chris Sargeant / Tip Top Pics
Tags:
WDF Majors
Lakeside
WDF World Championships