Lakeside WDF World Championships Tickets - January 2022
Brought to you by the World Darts Federation, the new year will see a welcome return of televised darts to the Lakeside Country Club. Broadcast live across the Eurosport and Discovery+ network from Saturday 1st to Sunday 9th January, we invite you to be part of the WDF World Championships and it's unique atmosphere at "the Home of World Darts, the Lakeside!"
Having already hosted 34 World Championships (1986-2019), the iconic Lakeside stage will see 48 men and 24 women compete for the title of 2022 WDF World Champions. In addition, both boys and girls will have the opportunity to lift trophies aloft on a finals day that will see all four WDF World Champions crowned on Sunday 9th January.
The tournament gets underway on New Years Day, with a quick fire opening weekend featuring 24 first round matches. Drama is guaranteed (not to mention plenty of walk ons!) as qualifiers from all over the world battle it out, on Saturday 1st and Sunday 2nd January. Japan's reigning women's World Champion "Miracle" Mikuru Suzuki will be one of the stars of the show in the first round, with Lakeside legend "Wolfie" Martin Adams well placed to appear in the early stages.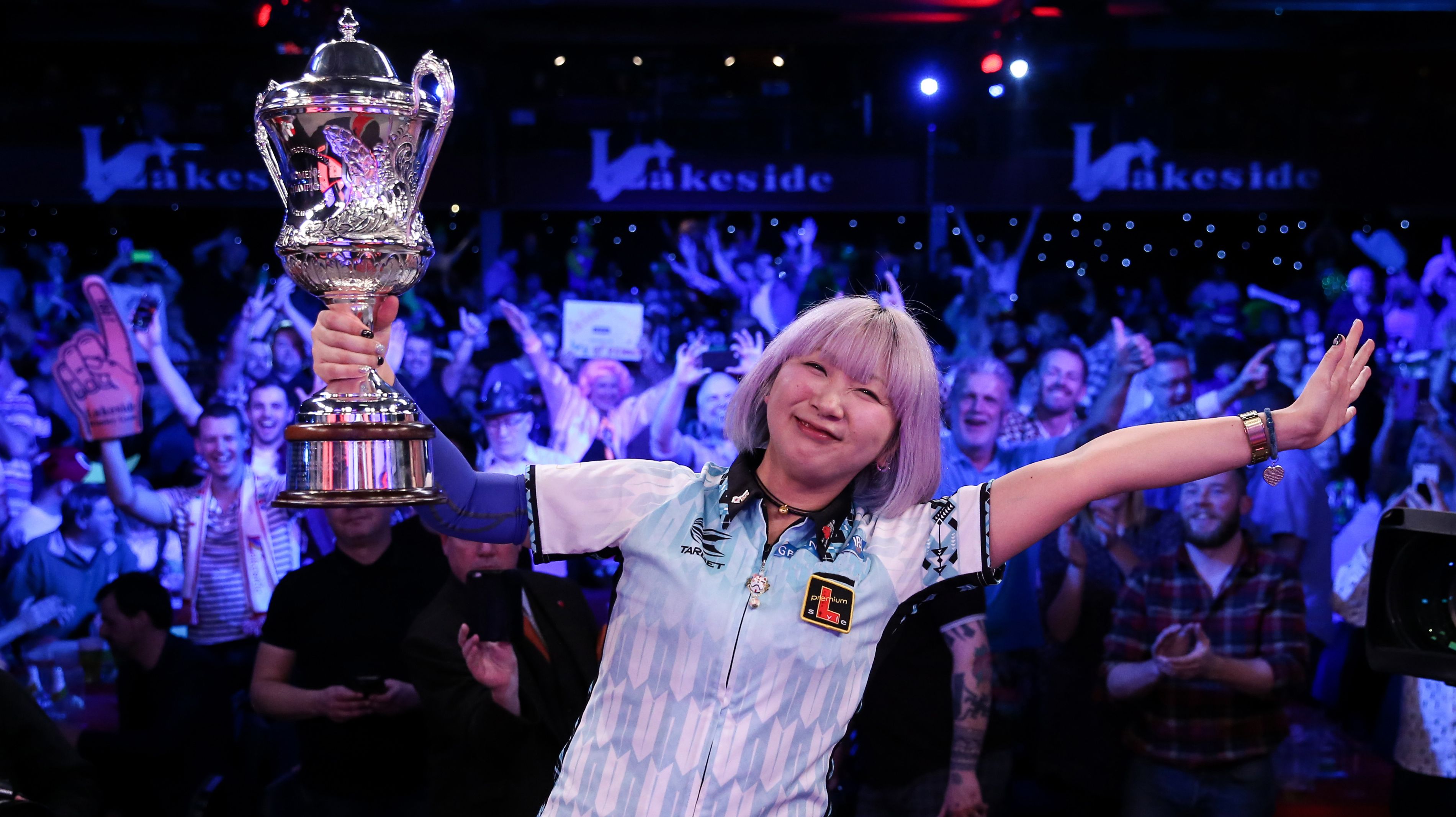 2019 Mikuru Suzuki
The second round begins on 3rd January with an all-day ticket for Bank Holiday. Monday through to Thursday is set to see the top ranked WDF players in action, including 3-time ladies champion Anastasia Dobromyslova and reigning men's World Champion from Wales, Wayne Warren. Many Lakeside favourites are set to return, with Ross Montgomery, Richard Veenstra, Paul Hogan, Aileen de Graaf and Lorraine Winstanley among the list of players currently in qualifying positions.
England superstars Deta Hedman and Fallon Sherrock top the women's invitation list, whilst leading international players Brian Raman (Belgium) and Thibault Tricole (France) head the men's WDF world rankings.
Quarter Finals day is always special atmosphere and Friday 7th now features an all-day ticket where all 8 matches can be enjoyed. Saturday 8th see the Boys semi finals added to the Lakeside stage schedule for the first time and both women's and men's semi finals played on what is sure to be a Super Saturday.
Sunday 9th January will see a historic day played out upon the Lakeside stage, where all four WDF World Championship finals will be contested. A fitting finale to what is sure to be an exciting nine days of darts. We hope you can be part of it!
Tickets are on sale via the Eventbrite website. Hotel/ticket packages are also available and links to purchase tickets for every session are listed below. Should you have any ticket or hotel queries, please contact the Lakeside Country Club box office directly.
Sat 1st
1pm - 2x Women (R1), 4x Men (R1)
7pm - 2x Women (R1), 4x Men (R1)
Sun 2nd
1pm - 2x Women (R1), 4x Men (R1)
7pm - 2x Women (R1), 4x Men (R1)
Mon 3rd
1pm - 1x Women (R2), 3x Men (R2)
7pm - 1x Women (R2), 3x Men (R2)
Tue 4th
1pm - 1x Women (R2), 3x Men (R2)
7pm - 1x Women (R2), 3x Men (R2)
Wed 5th
1pm - 1x Women (R2), 3x Men (R2)
7pm - 1x Women (R2), 3x Men (R2/R3)
Thu 6th
1pm - 1x Women (R2), 3x Men (R3)
7pm - 1x Women (R2), 3x Men (R3)
Fri 7th
1pm - 2x Women (QF), 2x Men (QF)
7pm - 2x Women (QF), 2x Men (QF)
Sat 8th
2pm - 1x Boys (SF), 1x Women (SF), 1x Men (SF)
7pm - 1x Boys (SF), 1x Women (SF), 1x Men (SF)
Sun 9th
4pm - Girls final, Boys final, Women's final, Men's final
Tags:
WDF Majors
Lakeside
WDF Tournaments