Marsh and Sherrock seal Lakeside 'Golden Tickets' at 46th British Open
Organised by Tri-Nations Darts for the very first time, the 46th British Open took place in Bridlington this past weekend and provided the latest chance for two players to secure their 'Golden Ticket' for the 2022 WDF World Championships. When all was said and done, it was Scott Marsh and Fallon Sherrock who seized the opportunity to qualify directly for Lakeside. Earlier on, Scotland internationals Jim McEwan and Lorraine Hyde both won their maiden ranking titles in the Silver-graded British Classic. Andrew Sinclair recaps the action.
Marsh books Lakeside debut with remarkable comeback
In addition to battling it out for their first-ever WDF titles in the British Open final, Scott Marsh and Connor Scutt were also vying to determine which won would seal their Lakeside debut next January. In the end it was Marsh who came out on top, battling back from three legs down to win 6-5 and claim the title.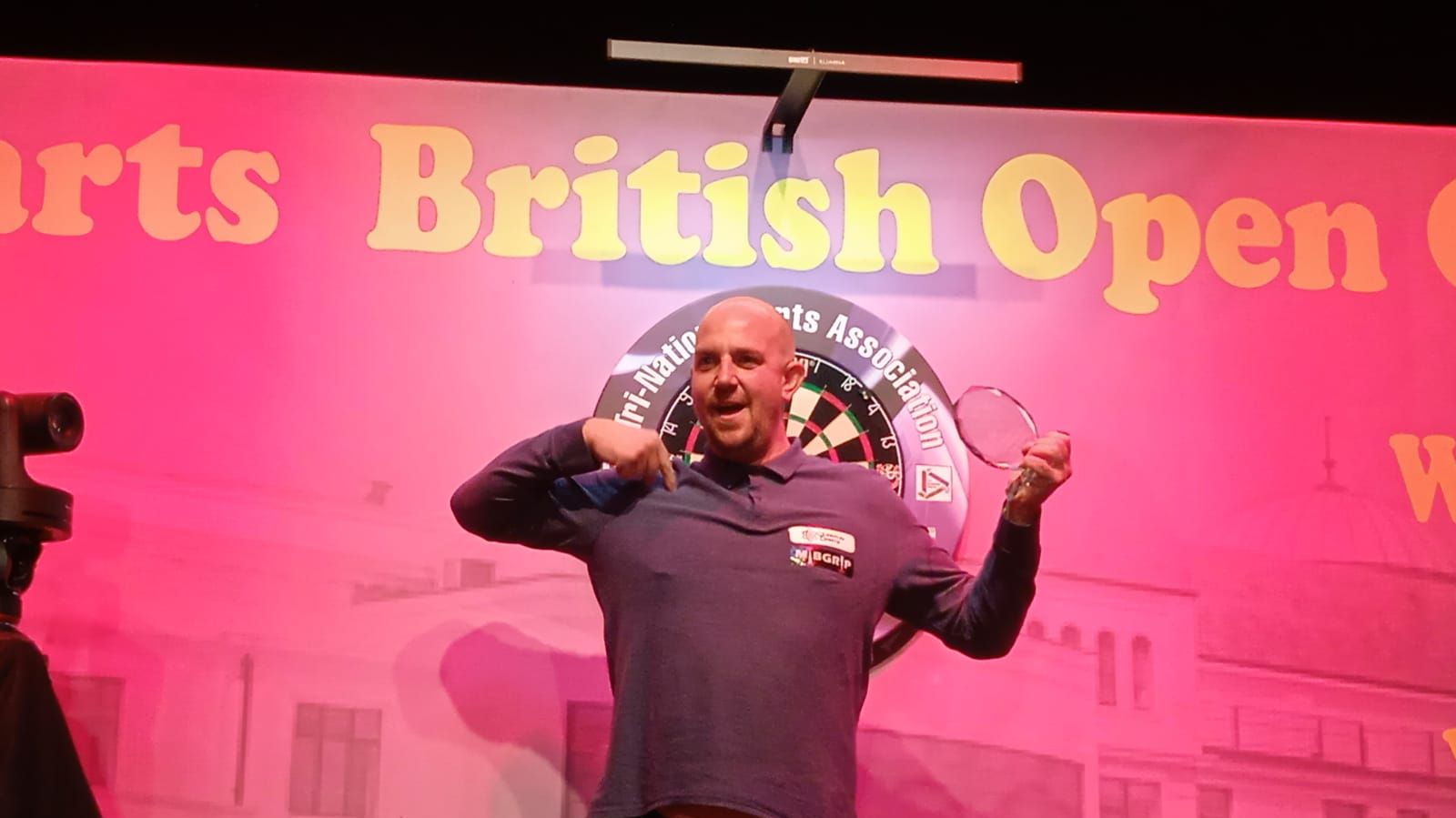 Marsh took the initiative in the final by breaking Scutt's throw in the opening leg but his 25-year-old opponent immediately returned the favour and three successive legs in 53 darts gave him a 5-2 advantage.
Needing two breaks and two holds to turn the match in his favour, Marsh dug deep and found another gear, a 15-dart break sandwiched between holds in 16 and 18 to level things up at 5-5 and force a last-leg shootout.
In that decider, Marsh showed his quality, recording three consecutive 140 visits before pinning 81 in two for a spectacular, title-clinching 11-darter.
The British Open weekend was the first in WDF history to use the DartConnect system for every game and a cursory look on there demonstrates the remarkable consistency displayed by both Marsh and Scutt throughout.
Marsh averaged above 86 in all his games, peaking with a 100.2 in the Last 128 against Jack Vincent, while Scutt produced five 90+ averages in his eight matches.
Aside from his opening game with Kyle Richardson, in which he had to come from 2-0 down to edge it 3-2, Marsh looked comfortable, dropping just five legs in wins over experienced players Carl Hamilton, England National Singles champion Neil Duff, Mike Gillet and Yorkshire's Martin Atkins to reach the semis.
In the last four he was pushed to his limits by Welshman Mike Warburton. An early break helped 'Warby' open out a 2-0 lead before three legs on the spin put Marsh ahead. A ton out for Warburton levelled the scores before the pair exchanged 15-darters to force things to a deciding ninth leg. With Warburton sat on 63, Marsh took out 86 to edge it 5-4.
Much like Marsh, Scutt needed a comeback in his opening game with Jim Russell Jnr but was otherwise relatively untroubled in making his first ever WDF ranking final, dropping no more than two legs in any game.
Marsh, who averaged 92.83 in the final, now sits fifth in the WDF rankings and joins Wayne Warren, Ross Montgomery, Jim Williams, Brian Raman and Thibault Tricole in booking direct entry to Lakeside in January.
Sherrock's steps up bid for maiden World title
Joining Marsh at Lakeside will be Fallon Sherrock, who secured the 31st open ranking title of her career with a 5-2 final victory over good friend and pairs partner Corrine Hammond.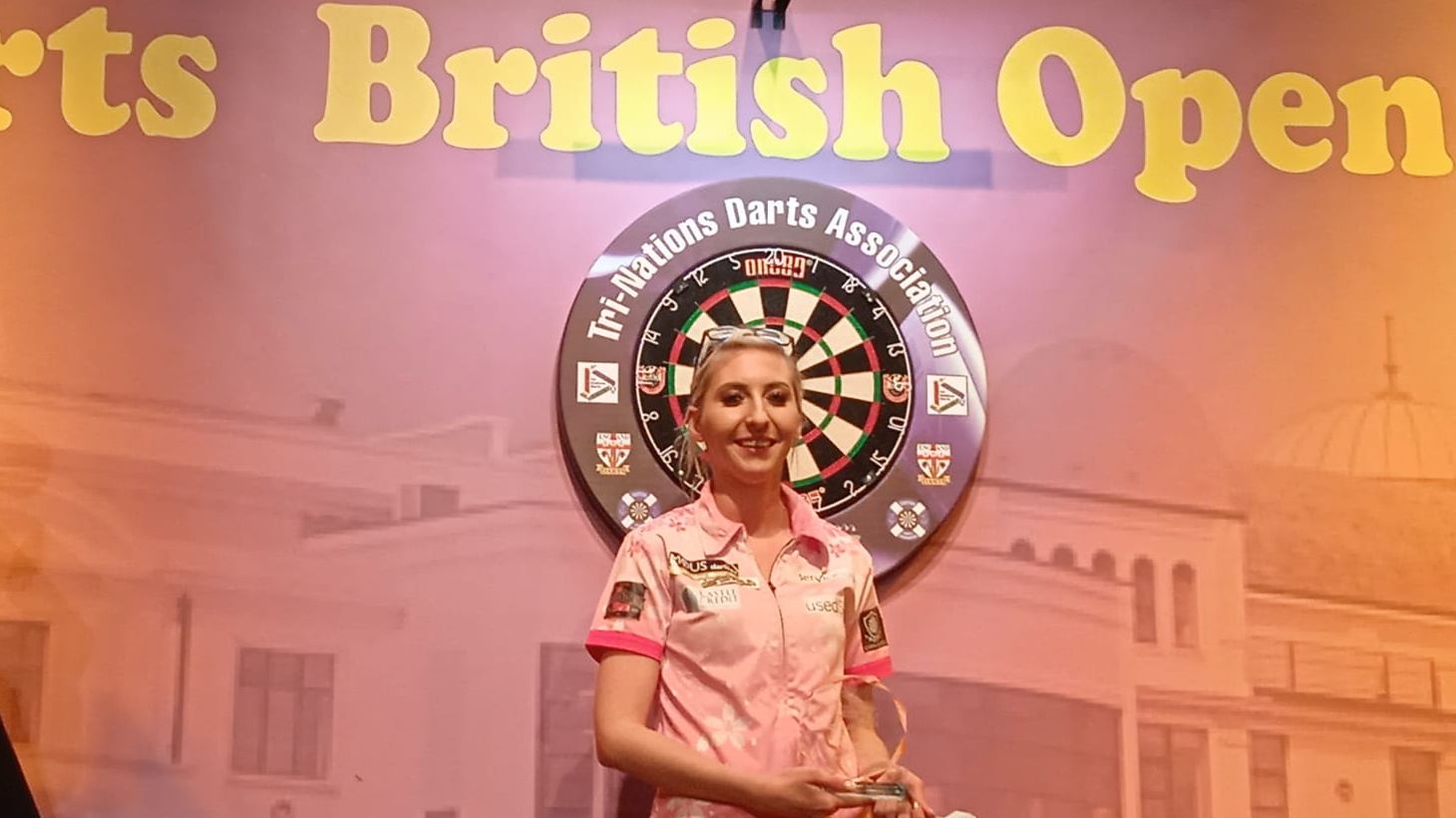 Australia's Hammond had beaten Sherrock in the British Classic quarter-finals the previous day and led 2-1 in the Open finale before the Buckinghamshire ace turned the tide with successive finishes of 91 and 119. From there 'The Queen of the Palace' never looked back, wrapping up the win with legs in 16 and 21 darts.
Sherrock, who continued her rich vein of form, was the class of the field despite never really hitting top gear. Her best performance came in the semi-finals when she averaged 87.13 in a 4-0 whitewash over Laura Turner, who'd pipped top seed and WDF World Number 1 Deta Hedman in the previous round.
Her biggest scare came in the last eight, when she found herself 3-2 down to Roz Bulmer in a race to four before rallying to win with legs in 23 and 15 darts.
A former Lakeside finalist, the 27-year-old will be among the favourites to go one better in her seventh appearance at the iconic Frimley Green venue in January.
Maiden success for Scotland internationals McEwan and Hyde in British Classic
In the Silver-graded British Classic Scotland internationals Jim McEwan and Lorraine Hyde ended their long waits for a first WDF ranking title.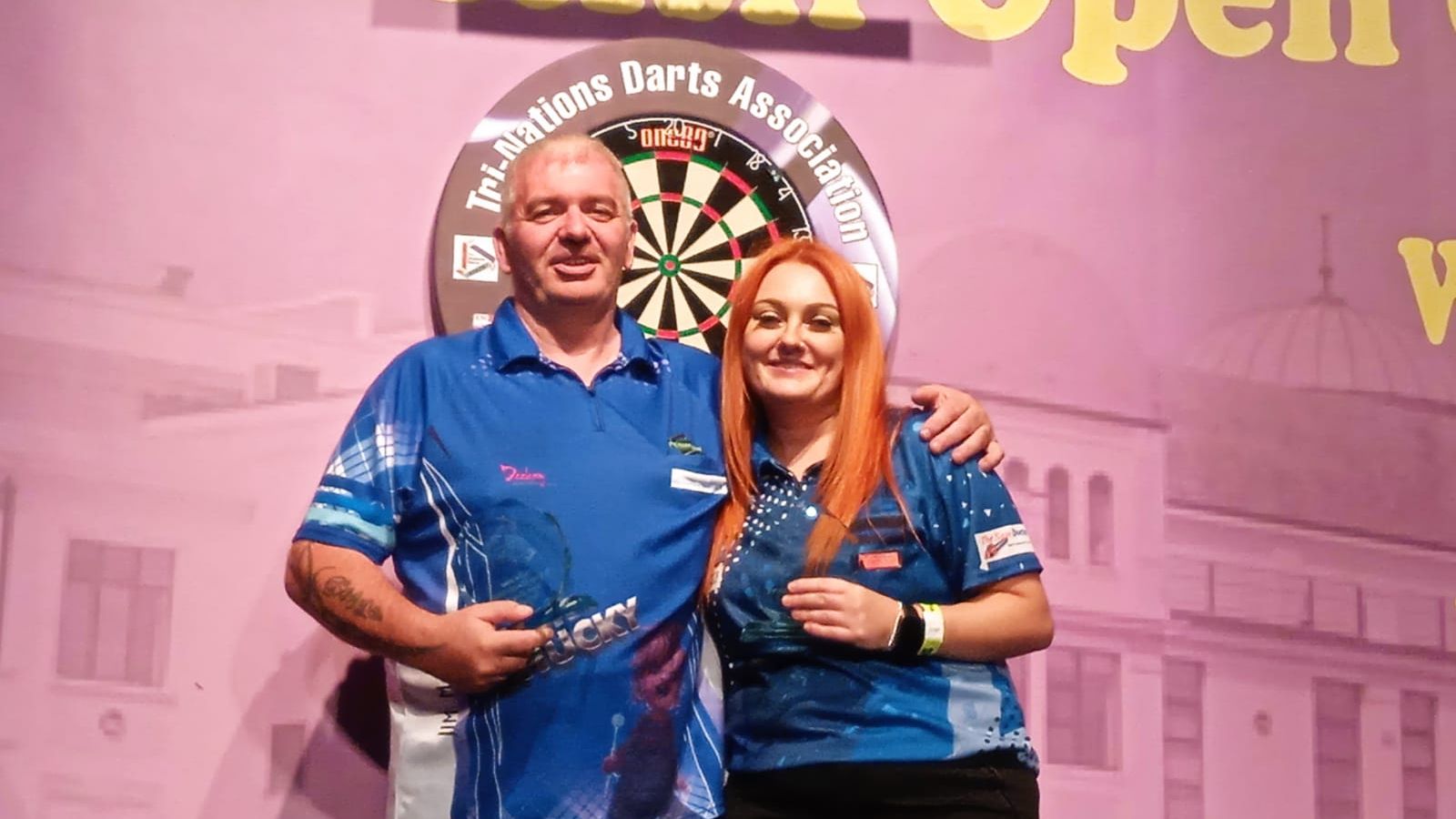 As in the Men's Open final, the Classic title decider was between two players in search of their maiden crowns with Rhys Hayden providing McEwan's opposition. The first ten legs went with throw before McEwan found the decisive break in the decider.
With both players feeling the pressure of the situation, their scoring was a less consistent than in earlier legs but two visits of 140 gave McEwan a shot at 160 that he made no mistake with to win in spectacular style.
Known as 'Chucky', McEwan took a while to hit his stride in the Classic but had more than enough to account for Carl Small, Stevie Adams, Martin East and Shaun Wilkinson before the point-scoring rounds.
Once there, he defeated England Open finalist Ian Jones 4-0 and then averaged 96.12 in a great display against Reece Colley. Steve Hine was accounted for 4-2 in the quarter-finals before he battled past Darren Johnson in a high quality, back-and-forth last four clash.
Johnson pinned a 111 finish to secure an early advantage and led 3-2 but Ayrshire man McEwan turned it round, sealing the 5-4 victory with a 19-darter.
In the Women's Classic, Lorraine Hyde and Denise Cassidy's impressive performances were rewarded with their first finals of the year. While neither was at their best in the decider, Scotland's Hyde took it 5-1.
A 60 checkout in the opener gave Hyde her first break and although her Northern Irish opponent, who was aiming for her first ranking title in 11 years, got on the board in the third, another break in the fifth put Hyde within one of the title. She made no mistake, hitting tops at the second time of asking.
Aberdeenshire's Hyde had shown her class in the earlier rounds, averaging over 70 in all but one of her games and dropping just one leg in her wins over Denmark Open champion Anca Zijlstra and Anastasia Dobromyslova. Her maiden career title takes her into the top 16 of the women's rankings.
Cassidy, meanwhile, accounted for Sherrock conqueror Hammond in the semi-finals and the list of her beaten opponents also included Laura Turner and the always dangerous Rhian O'Sullivan.
Cairns and Littler claim Youth titles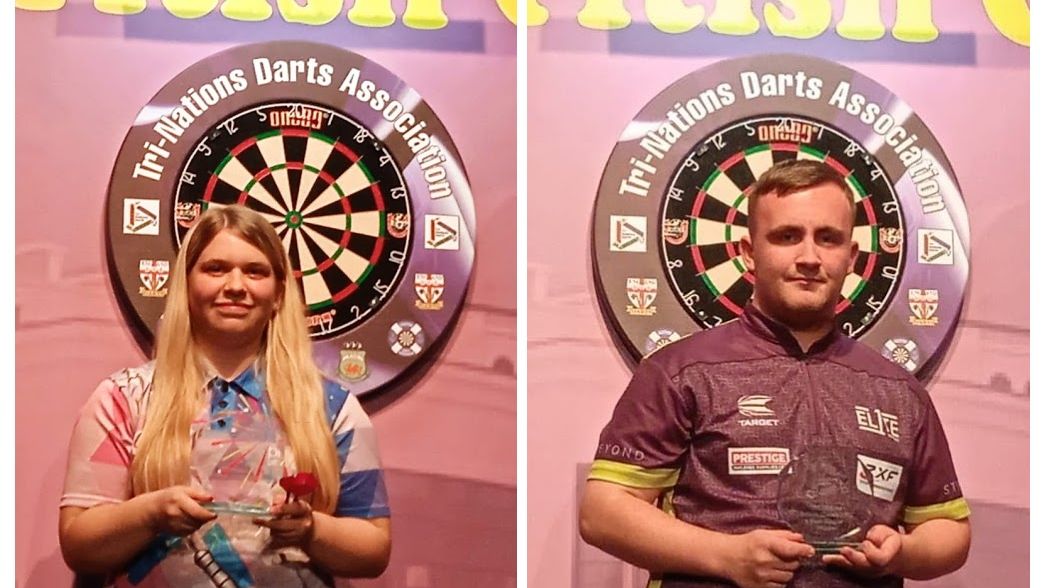 Lancashire's Luke 'The Nuke' Littler once again demonstrated his prodigious talent in Bridlington but this time the 14-year-old did it across all the competitions he played in. In addition to recording runs to the last eight of the Open and 16 of the Classic, he won the Men's Pairs alongside John Crossley and the Youth tournament after a final win over Tavis Dudeney.
After easing through the round robin portion, Littler averaged over a ton against Lewis Barratt in the last 16 before overcoming a stirring performance from Leighton Bennett, which saw 'Boom Boom' hit three 180s in just five legs, to reach the semi-finals. It was there that he defeated Yorkshire's Charlie Manby to set up a meeting with Dudeney, a rematch of their England Open Youth final.
Littler won that clash 5-3 and it was a similar story here as he denied Dudeney's bid for revenge, taking it 5-2 despite the Sussex ace opening the match with a brilliant 129 finish.
The Girls' competition was won by Lancashire's 'Miss Dynamite', Eleanor Cairns. A 17-darter sealed her final 3-1 victory over Amy Evans.
Four more 'Golden' opportunities remain
The WDF tour rolls on next weekend with another 'Golden Ticket' on offer at the prestigious Red Dragon Welsh Open (October 24th) in Prestatyn. The weekend also includes the Silver-graded Welsh Classic.
Three further Gold-graded events are scheduled for November and December, including the Seacoast Open, which will give North American players their first opportunity to book direct entry to Lakeside.
Photos by Tri-Nations Darts