May and early June review - Switzerland, Japan, New Zealand and beyond
In addition to seeing talented teenagers Sebastian Białecki and Luke Littler book their places at the 2023 WDF World Championships, May was also a notable month on the WDF calendar as it featured long-awaited returns to Japan, Lithuania and Sweden as well as stops in Australia and the USA. Ahead of this weekend's Dutch Open, the second Platinum-graded event of the year, Andrew Sinclair recaps the action from May and the opening weekend of June.
Suzuki and Matsuda on song as WDF darts returns to Asia
Although players were still expected to wear masks to compete, it was fantastic to see the West Japan Cup, the first Asian WDF ranking event since November 2019, take place in early May.
Two-time World Champion Mikuru Suzuki proved the star of the show in the Women's competition, wrapping up the 11th ranking title of her career with a 4-1 final win over Yukie Sakaguchi.
There wasn't much between the two players in terms of their scoring during the final but it was the slightly better finishing of 'Miracle' that saw her race into a 3-0 lead before sealing victory on double four.
Jun Matsuda was impressive in winning his maiden WDF title in the Men's singles, throwing two maximums and averaging 81.59 in a 5-1 win over Mitsuhiko Tatsunami.
Both Suzuki and Matsuda will be aiming for further success when the WDF tour returns to The Land of the Rising Sun in late July for a Silver-graded double-header.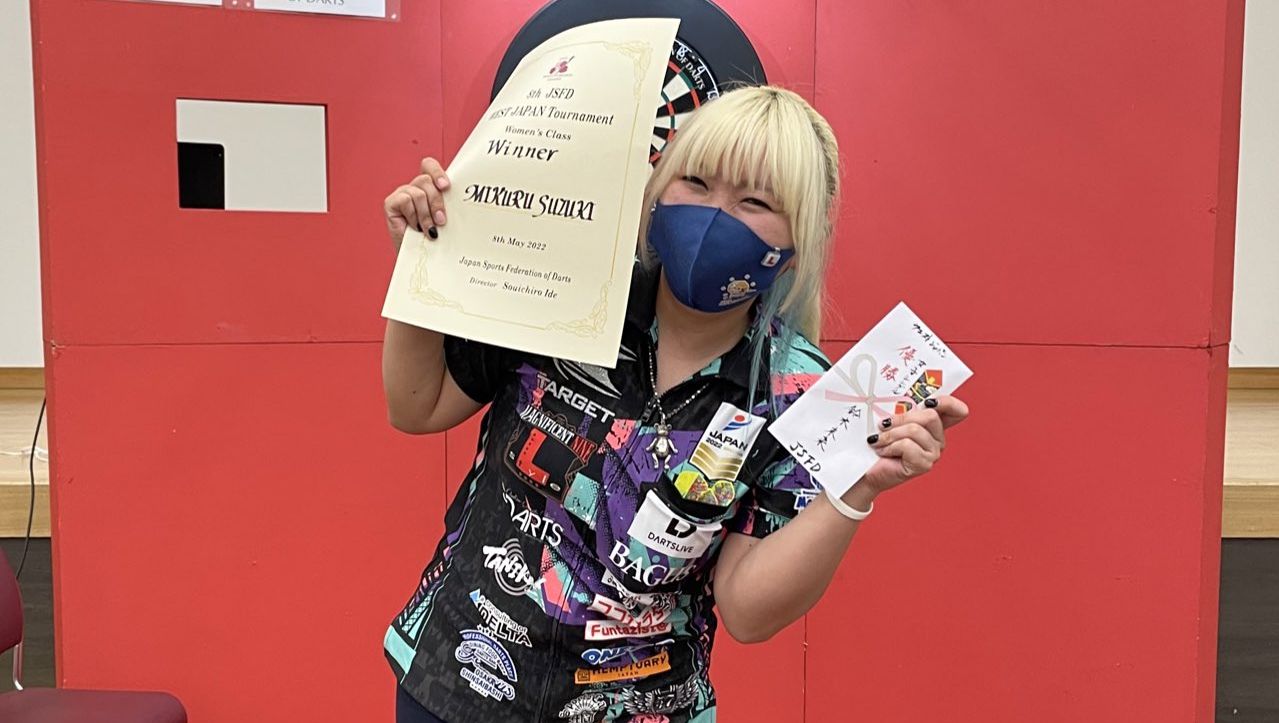 2022 West Japan Cup Women's Champion Mikuru Suzuki. Photo: JSFD
Merkx and Scott star during Lithuanian double-header
Japan weren't the only nation to hold their first ranking events of the WDF's new era in May, with the tour returning to Lithuania for the first time in three years for a Bronze double-header.
Alexander Merkx became the first Dutch winner of a WDF ranking event in the Lithuania Open, a tournament that also saw Margaret Sutton win her second title of the year.
Merkx had reached the Lithuania Open final in 2019 and while the venue had changed from Vilnius to Kaunas in the meantime, he repeated the feat in 2022 and actually went one better, defeating Aaron Turner 5-1 in the title decider.
It looked as though the final would be a whitewash, Merkx starting the match with a 101 out before pinning a 120 finish a couple of legs later as he raced into a 4-0 lead. Turner broke the Dutchman's throw with a 100 finish of his own to keep the game alive but he couldn't capitalise on the opportunity, missing darts to make it 4-2 before Merkx sealed victory by taking out 60.
Margaret Sutton and Egle Galdikaite both struggled with double trouble in the Women's final but it was the English who came out on top, running out a 4-1 winner and sealing her second title of 2022 in the process.
Sutton, who had gone almost 15 years without a WDF title before claiming the Reykjavik International Games crown back in February, looked set to make it a weekend double when she eased into the Kaunas Open final the following day. She was denied, however, as Latvia's Kristine Mickus pipped her 4-3 to claim her maiden ranking title and seal a spot at the World Masters later this year.
Middlesex did produce a second champion in Lithuania's second city, though, as Sutton's county teammate John Scott breezed through the field to win his fourth career ranking title.
After coming through the round-robin portion of the tournament, 'Gnasher' won all of his knockout round games without dropping a leg. That run included impressive wins over Denmark's Brian Løkken and the previous day's finalist Turner, as well as a 5-0 final whitewash over Dennis Nilsson.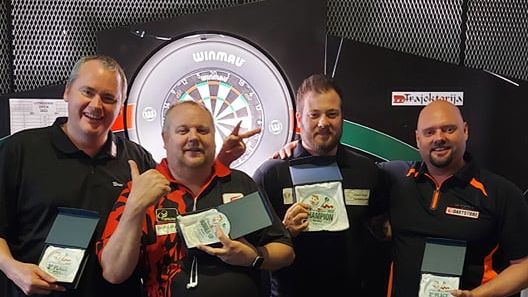 2022 Lithuania Open semi-finalists: Brian Løkken, Aaron Turner, Alexander Merkx, Dennis Nilsson.
Smith and Kewish back to winning ways in Queensland
Raymond Smith and Tori Kewish won their first WDF titles of 2022 at the Sunshine State Classic in Brisbane.
It was a third title in a row for Smith, who followed on from last year's wins in the North Queensland Classic and Challenger Classic by defeating Anthony Shreeve in the final.
The first two legs of the final both went against the throw, Smith opening proceedings with an 81 out before Shreeve battled back to take a 2-1 lead. That was as good as it got for the first-time finalist though, 'The Guru' motoring through the gears to win the next five legs in 14, 20, 18, 16 and 17 darts to run out a comfortable 6-2 winner with an 86.84 average.
Smith, a winner of this event previously in 2016, picked up $1,000 AUD for his title-winning efforts and now sits in a three-way tie for second in the Australian rankings alongside fellow event winners Sam Ballinger and Brendan Porter. Peter Machin, meanwhile, sits top after his run to the last four.
WDF World Championship quarter-finalist Tori Kewish breezed through the Women's field to win her first competition on Australia soil this year and the 24th senior ranking title of her career.
'Torza' didn't drop a leg until the semi-finals, where she denied Kathleen Martin, who'd rallied from 3-0 down to tie the game at 3-3, with a 5-3 win.
Kewish started strongly in the final against Lyn Morrison, pinning 20 for a 3-1 lead after the first three legs had all gone against the darts. It was fairly nip and tuck from there, the next four legs going with throw before Kewish picked up her third break of the final with a 40 checkout to wrap up a 6-3 victory.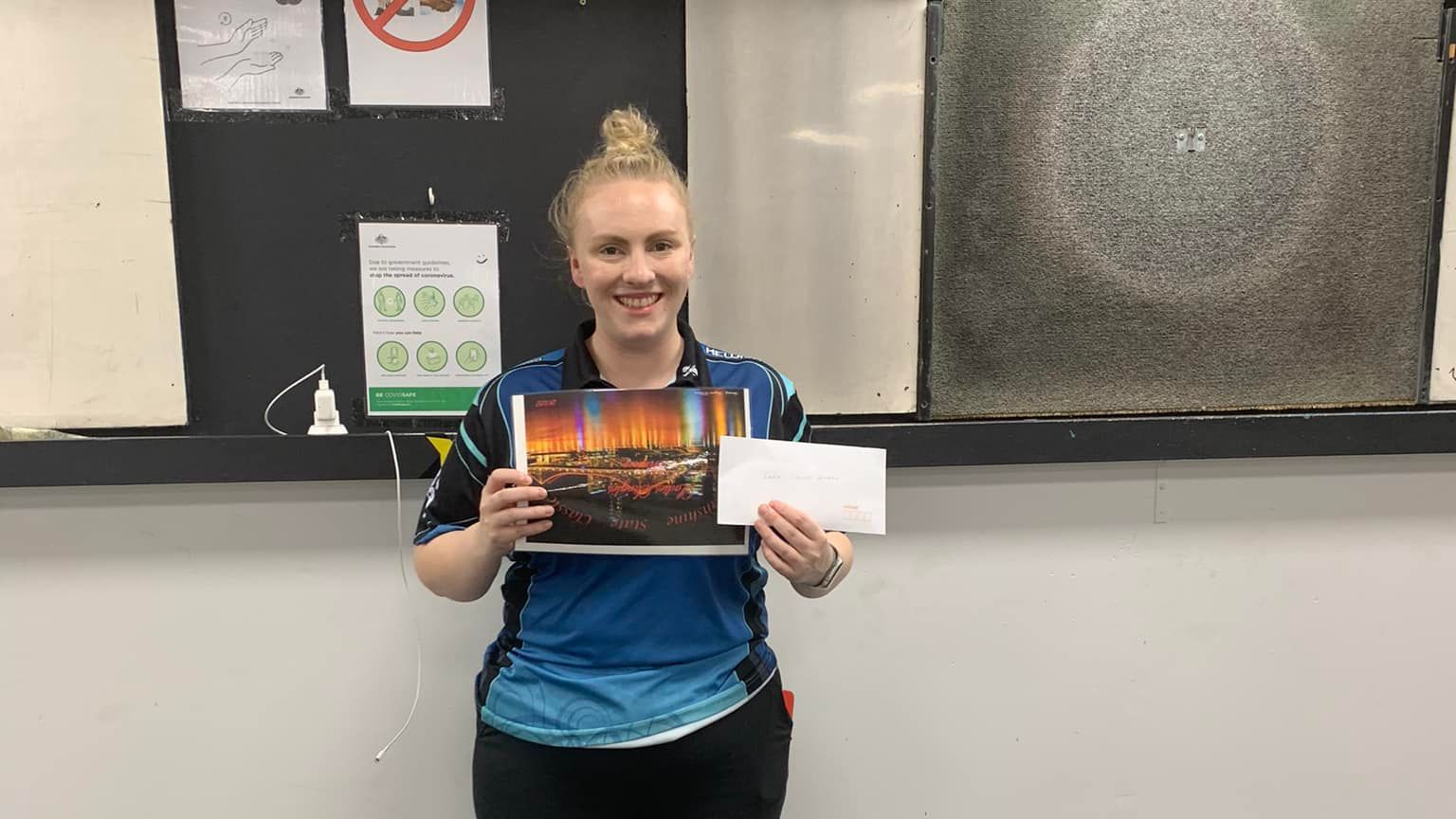 2022 Sunshine State Classic champion Tori Kewish
Lauby on song as he wins Oregon Open
Danny Lauby now sits atop the USA regional rankings after winning the Oregon Open, his second WDF title of the year.
The Indiana native and 2022 WDF World Championship participant Rory Hansen met in a high-quality final packed with impressive combination finishes.
Canada's Hansen, making his first trip to the US for a ranking event, won the opener in 19 darts before Lauby produced a three-leg burst, including finishes of 80 and 119, to take a comfortable lead.
'Relentless' was able to reduce the deficit to 3-2 and 4-3 but couldn't find the all-important break needed to draw level. Instead it was Lauby, who finished the final with three maximums, who picked up another break, this time pinning 87 for a 12-darter to seal a 6-3 win.
In the Women's Open, Cassy Scantlen came from behind to beat Corrine Davis and seal the maiden ranking title of her career.
Having overcome Carole Herriott, a winner of the Oregon Open on three previous occasions, in the semi-finals, Scantlen started the final strongly and opened out an initial 2-0 lead.
Davis eroded that advantage and established one of her own by winning four of the next five legs to go 4-3 up and move within one of the title. She couldn't convert, though, Scantlen instead producing 58 and 60 finishes to win 5-4.
Harrysson and Simonsen on top in Nordic Cup Open
Andreas Harrysson came through a tight final with compatriot Ricky Nauman to win the Men's Nordic Cup Open in Malmö, although Norway's Veronica Simonsen prevented a Swedish title double as she surprised Anna Forsmark in the Women's final.
The Open served as the finale to a Nordic Cup weekend that had seen Sweden dominate on home soil, winning almost half of the available medals.
Nauman, who had won the Nordic Cup Men's Singles earlier in the weekend, looked set to defend the Nordic Cup Open title he won back in 2018 after whitewashing Teemu Harju and Vitor Charrua to reach the 2022 final. That seemed an even more likely outcome considering that he'd beaten Harrysson 5-2 in their last meeting in a WDF event.
However, it was 'Dirty Harry' who seized the initiative in the final, breaking Nauman's throw in the sixth leg to establish a 4-2 lead. Nauman fought back immediately, taking out a sensational 161 finish in the next leg to make it 4-3 before holding in the eighth to force a last-leg decider. That decider proved just as tight as the previous eight legs, with both players missing match darts before Harrysson hit tops to secure the second ranking title of his career.
Thanks to victories over Kaisu Rekinen, Anja Springborg Larsen and Iceland Open champion Ingibjörg Magnúsdóttir, Anna Forsmark reached her fourth ranking final of the year. She'd won the previous three and the stats suggested she was a solid favourite against maiden WDF finalist Veronica Simonsen.
The Norwegian ripped up the form book, though, capitalising on some Forsmark double trouble early on to establish a lead before wrapping up a 4-0 victory with finishes of 86 and 72.
Sweden's successful Nordic Cup squad. Photo: Svenska Dartförbundet
Merkx, Takács and Smith win second titles of 2022 in Switzerland
Gábor Takács, Alexander Merkx and Suzanne Smith all won their second WDF titles of 2022 during a Swiss Open weekend that also saw Anca Zijlstra re-enter the winners' circle.
Takács added to the Iceland Open crown he won back in April by defeating England's Martyn Turner 5-2 in the Men's Swiss Open final.
The experienced Hungarian, who'd beaten Patrick Rey, Antony Allen, Davie Kirwan and Moreno Blom in the earlier point-scoring rounds, raced into a 4-0 lead against Turner before the Yorkshireman got on the board with a 102 out. He halved the deficit to 4-2 with a 22-darter but his comeback stopped there, Takács going out in 17 in the next leg to assure victory.
Takács was joined on the Swiss Open roll of honour by Anca Zijlstra, who came from behind to beat Suzanne Smith to win her first title of 2022.
England's Smith, playing in her third final of the year and first of the weekend, started like a house on fire, going 2-0 up with a 14-darter. She also led 3-1 and 4-3 but was unable to convert those leads in title success, with 'The Phoenix' hanging in there and instead coming back to win the last two legs and emerge a 5-4 victor.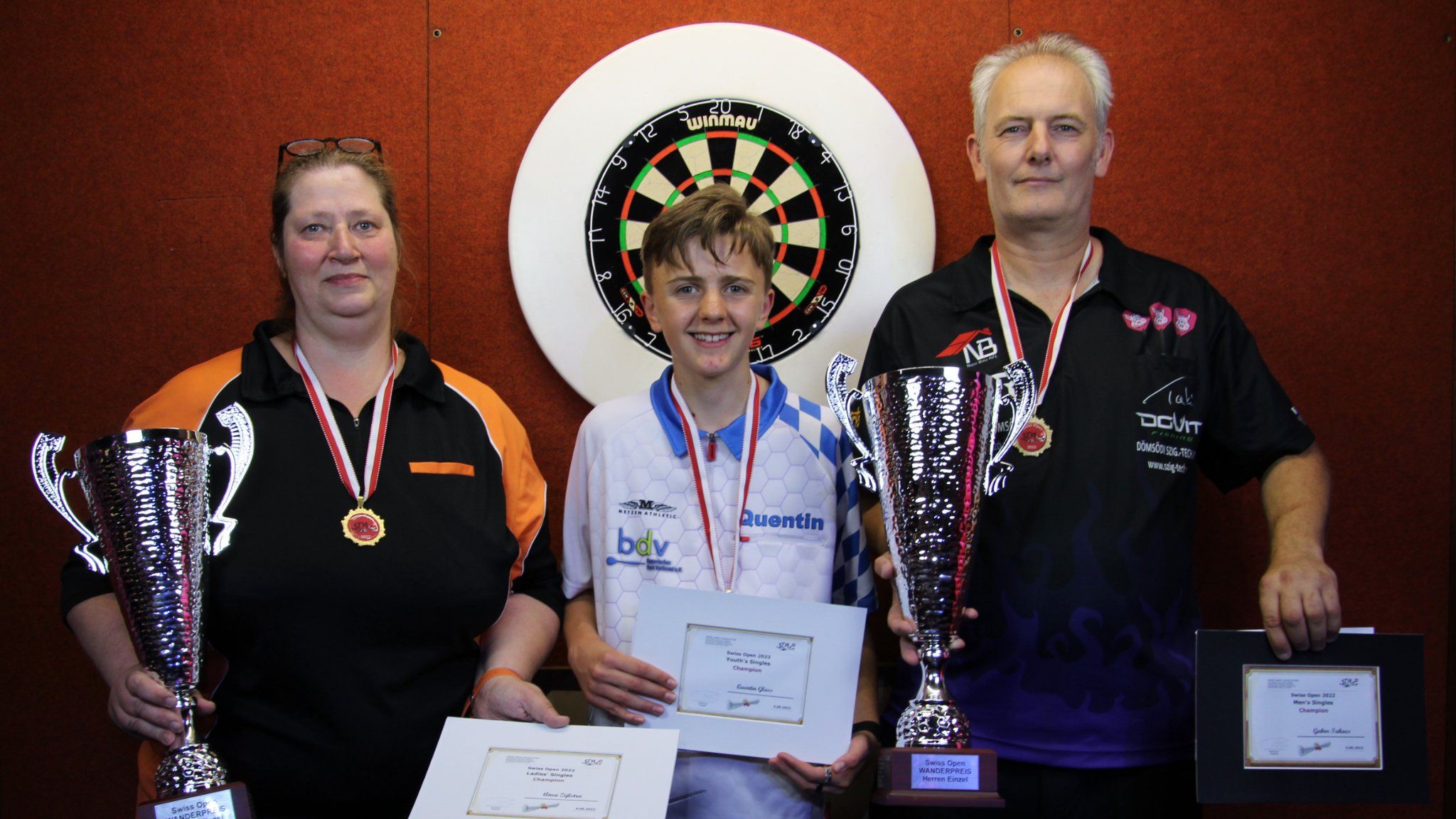 2022 Swiss Open champions Anca Zijlstra, Quentin Glass and Gábor Takács. Photo: Deborah Speck/darts.ch
Zijlstra's compatriot Alexander Merkx had had to wait a few years for a first WDF event win but by winning the Helvetia Open had a second trophy in three weekends under his belt.
After dispatching Gareth Syverson and Markus Burger, Merkx came through successive last-leg deciders against Ben Hazel and Greg Ritchie to set up a final meeting with Andy Baetens.
Two-time World Championship quarter-finalist Baetens had breezed past Mike Gillet, Diogo Portela, Chris Landman and Ryan Murray to make his first final of 2022. He couldn't find an answer to Merkx in the title decider, though, going down 5-3.
Suzanne Smith made up for the disappointment of losing the Swiss Open final by picking up her third career title the following day in the Women's Helvetia Open.
For the second successive day she faced Dutch opposition in the final and for the second successive day her final went all the way. This time she emerged victorious, beating Adriana van Wijgerden-Vermaat 5-4.
The weekend's youth titles were won by two German players, Quentin Glass and Luis Breuer, both of whom had to beat Swiss thrower Loris Schaub in the final.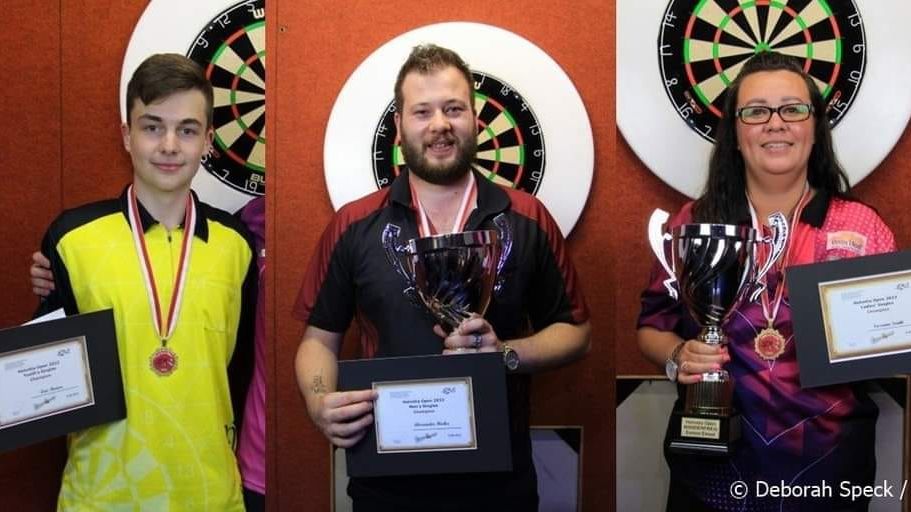 2022 Helvetia Open champions Luis Breuer, Alexander Merkx and Suzanne Smith. Photo: Deborah Speck/darts.ch
WDF darts returns to New Zealand after 10-month hiatus
Haupai Puha and Nicole Regnaud took top honours at the Canterbury Open as WDF darts returned to New Zealand after a 10-month Covid-enforced hiatus.
'Hopes', who made his Lakeside debut back in April, strengthened his chances of qualifying for August's Australian Open by winning the Men's event. After defeating defending champion Landon Gardiner 4-1 in the last four, he beat Ben Robb 5-3 in the final.
Having been a name to watch on New Zealand's youth circuit for years, Regnaud is beginning to establish herself in the Women's game. She won her first ranking title in 2021 with a final win over Wendy Harper and she repeated the trick almost a year later to pick up her second.
Harper remains in a provisional qualification spot for the Australian Open alongside Desi Mercer, with Puha and Robb currently occupying the Men's spots.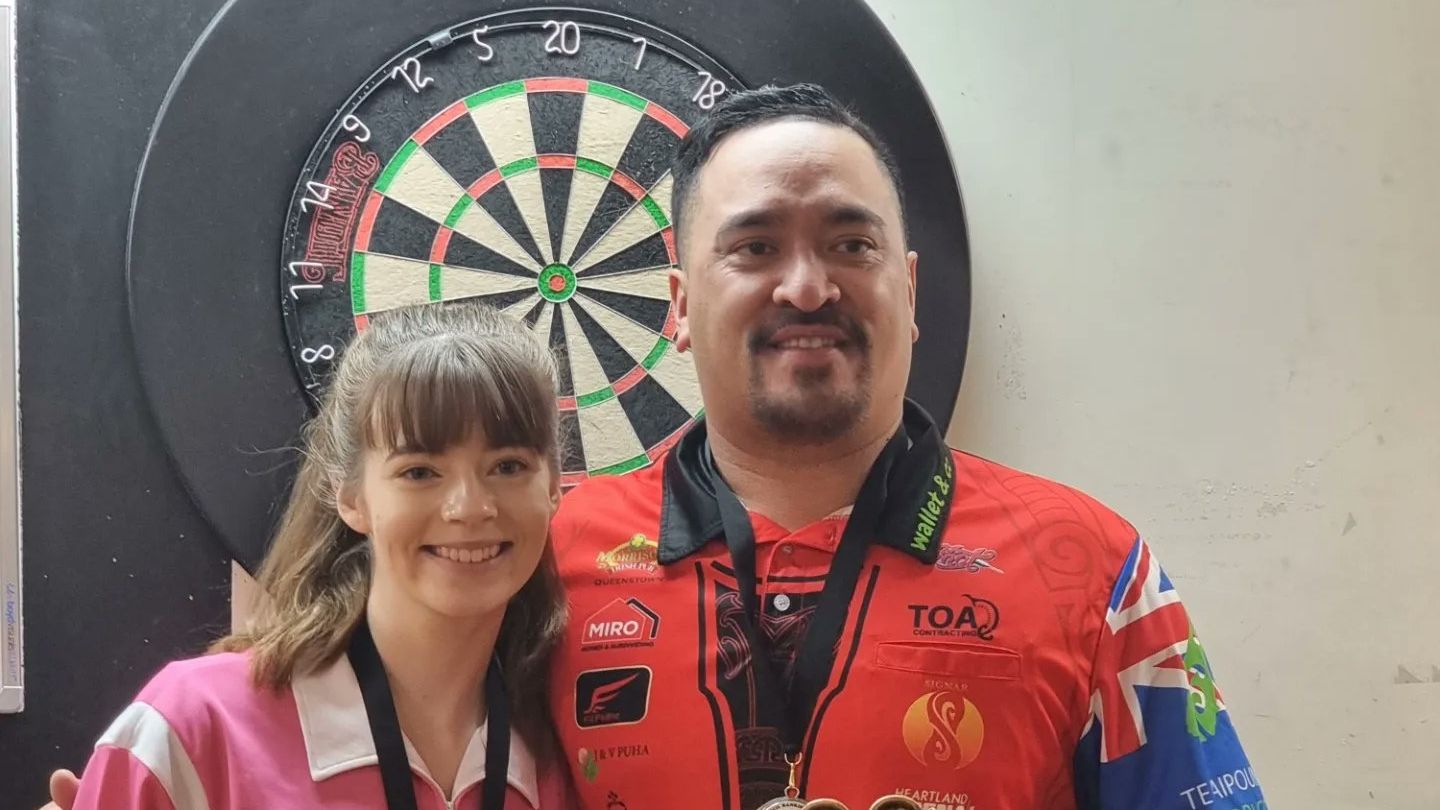 2022 Canterbury Open champions Nicole Regnaud and Haupai Puha. Photo: New Zealand Darts Council
Dutch Open headlines busy June
2022's second Platinum-graded event, the Dutch Open, will take place this coming weekend at De Bonte Wever with over 3,100 players set to be in action. The Dutch Open finals mark the cut-off point for automatic Australian Open qualification from the main ranking tables; will anyone be able to catch James Hurrell, Luke Littler and Deta Hedman with strong weekends in Assen?
Eastern Europe plays host to two double-headers before the end of June. The tour returns to Hungary next weekend for the Bronze-graded Balaton Darts Classic and Masters before heading to Romania for the Silver-graded Romanian Open and Bronze Romanian Classic.
The ranking races in the USA and Canada will continue to take shape during June with the Cherry Bomb International taking place in Florida during the Dutch Open weekend and the Silver-graded Canadian Open set for the following weekend in Ontario.
The automatic Australian Open qualifiers from Australia and New Zealand will also be determined in the coming fortnight. New Zealand have two events, the Silver New Zealand Masters and Bronze South Island Masters, as their ranking season begins to ramp up, while Australia will hold the Silver Victorian Classic on June 26th.
Australia also plays host to one of June's two Youth-specific events, the Kyle Anderson Memorial. The other competition is in Hungary and is 2022's second International Youth Challenge.
Tags:
WDF
WDF Tournaments