May review – Wales, Australia, Lithuania, Cyprus, Mongolia, New Zealand
May was another busy month on the WDF calendar, with our first trip of the year to Asia part of a schedule that featured one youth and 10 senior ranking events. Andrew Sinclair recaps everything from action in Australia and New Zealand that influenced the race for Australian Darts Open qualification to tournaments in Wales, Lithuania and Cyprus.
Record-Breaker Greaves stars at WDF Welsh Open as Turner wins maiden title
Beau Greaves produced the highest average ever recorded by a woman as she won the 2023 Welsh Open, her sixth WDF ranking title of the year.
Greaves stunning 113.43 average came in a rampant 4-0 semi-final victory over Lisa Ashton. Lasting a little over seven minutes, the match saw Greaves throw four 180s and win legs in 14, 11, 15 and 13 darts.
It wasn't the only impressive average from the 19-year-old in Prestatyn – in the Last 16, she recorded a 107.36 (equal to her previous best) against Denmark Open winner Noa-Lynn van Leuven.
Greaves ended the day by defeating rival Rhian O'Sullivan to win the Welsh Open for the third time in her career. O'Sullivan opened the final strongly and within short order found herself 2-0 up. She hit just one more double in the final though as Greaves eventually found her rhythm, winning five of the next six legs to emerge a 5-3 victor.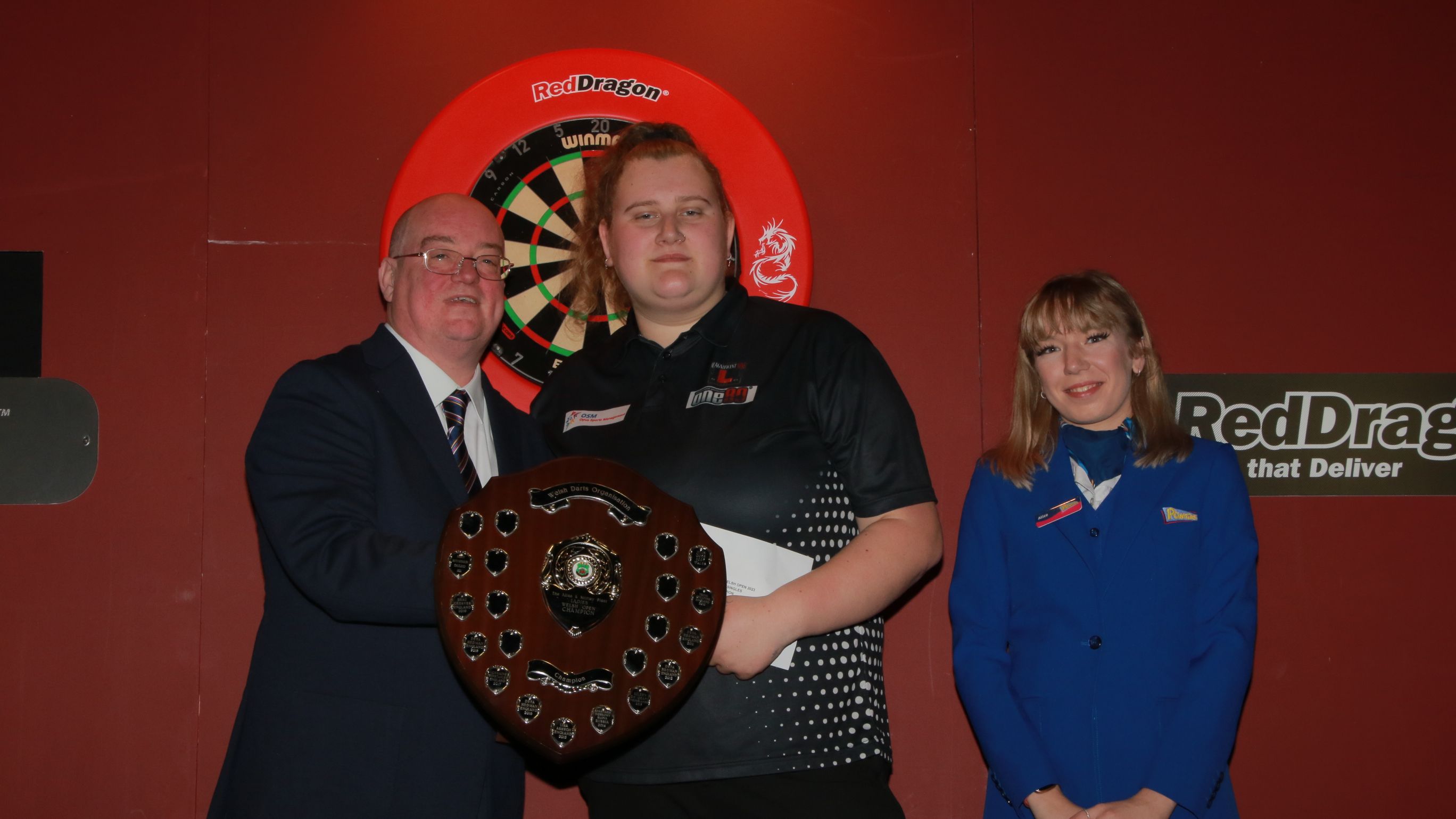 2023 Welsh Open Women's Champion, Beau Greaves
Greaves' fellow Yorkshire native Martyn Turner was the last man standing in the Men's Welsh Open, winning a maiden WDF ranking title as a result.
'The Mutts Nutts' was runner-up in the previous weekend's Denmark Masters and continued his good form in Prestatyn, producing three 90+ averages in four games to race into the Last 16. There he accounted for Keenan Thomas 4-1 and subsequent victories over Trevor Brennan and Thomas Banks put the 53-year-old into the final.
Facing him in the title decider was WDF circuit newcomer Cliff Prior, who was into his first final on the tour courtesy of wins over the likes of Neil Duff and Dan Perry. In what was a nervy final, there was just one break and it proved decisive. Trailing 4-3 after the first seven legs had gone with throw, Prior's scoring power deserted him in the eighth. That allowed Turner to step in and capitalise, eventually going out in 18 to record a long overdue first WDF title.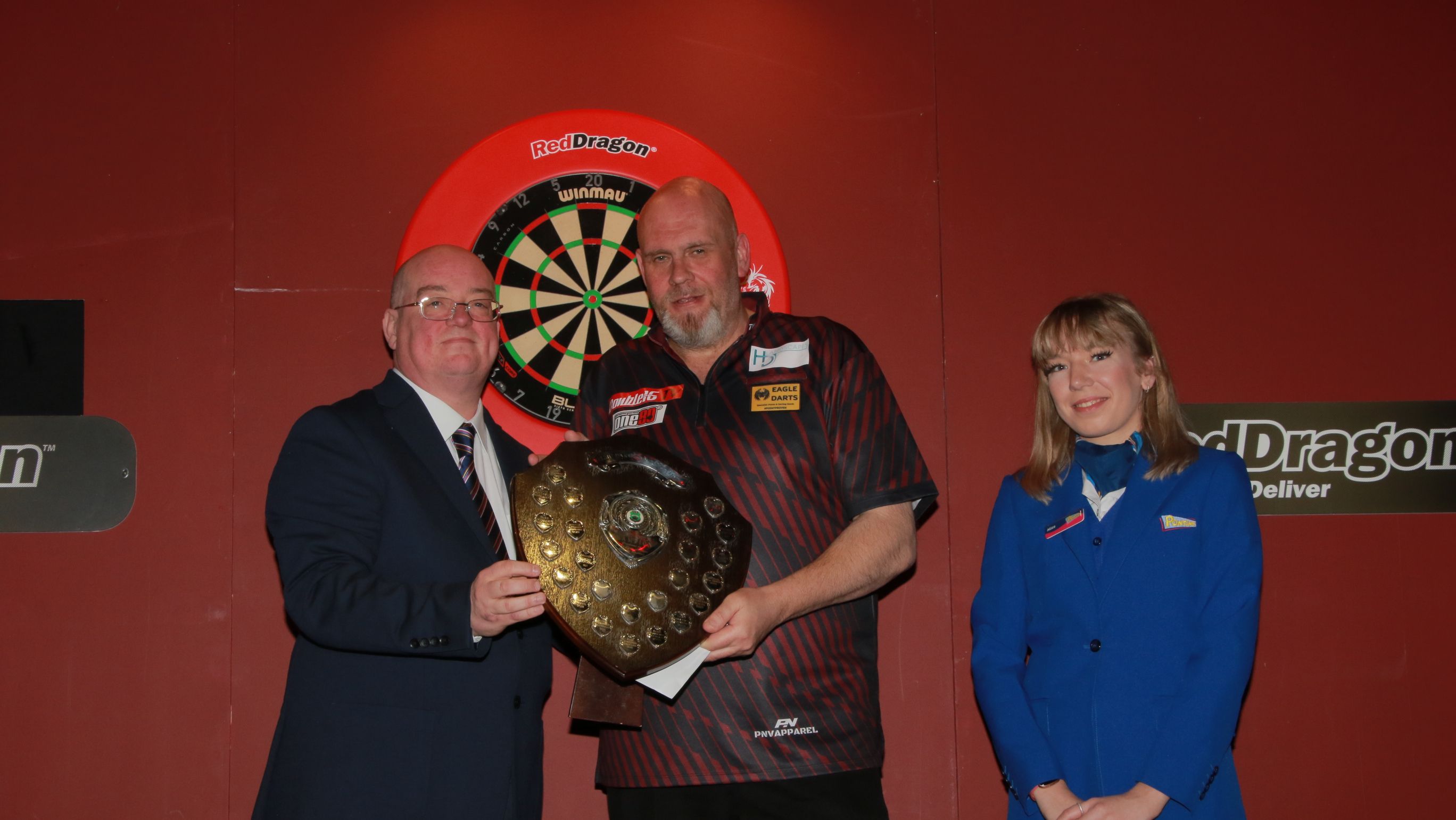 2023 Welsh Open Men's Champion, Martyn Turner
The Welsh Open Boys title was won by Men's Open semi-finalist Thomas Banks, who followed up a semi-final victory over Leighton Bennett with a resounding 4-0 triumph over home favourite Fabian Tapner.
The Girls Welsh Open was won by the reigning Girls World Masters Paige Pauling after she recorded a 4-2 victory over Scotland's Sophie McKinlay.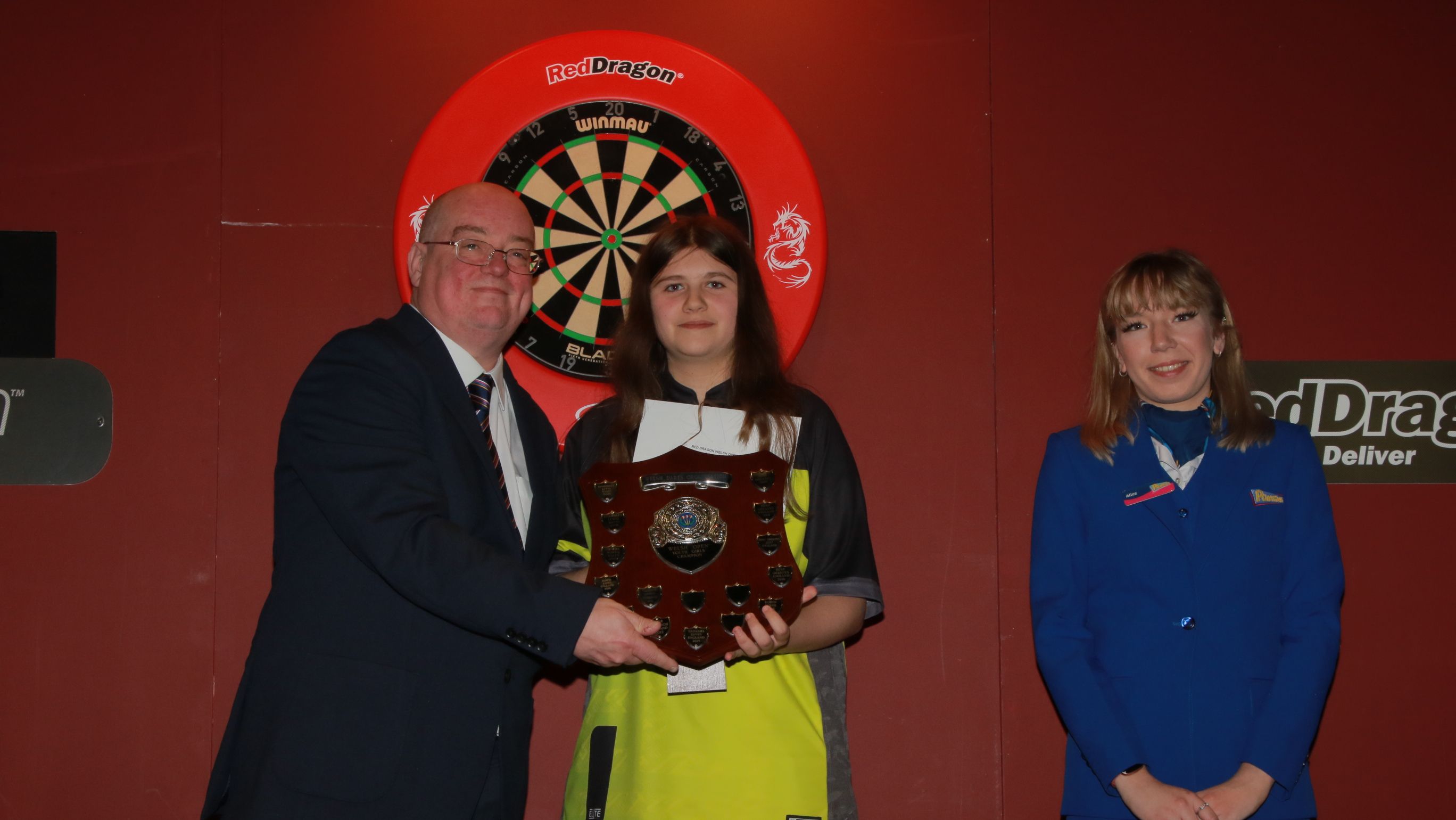 2023 Welsh Open Girls Champion, Paige Pauling
Greaves and Levett triumph at WDF Welsh Classic
Only an hour or so before winning the Welsh Open, Beau Greaves completed an almost untouchable run through the competition in the Welsh Classic.
The 19-year-old dropped just two legs in the entire tournament, one against Joanne Locke in the last eight and then one in the final against Noa-Lynn van Leuven.
In taking her WDF title tally for the year to five, Greaves recorded a tournament average of 85.87 – more than five points higher than anyone else in the field.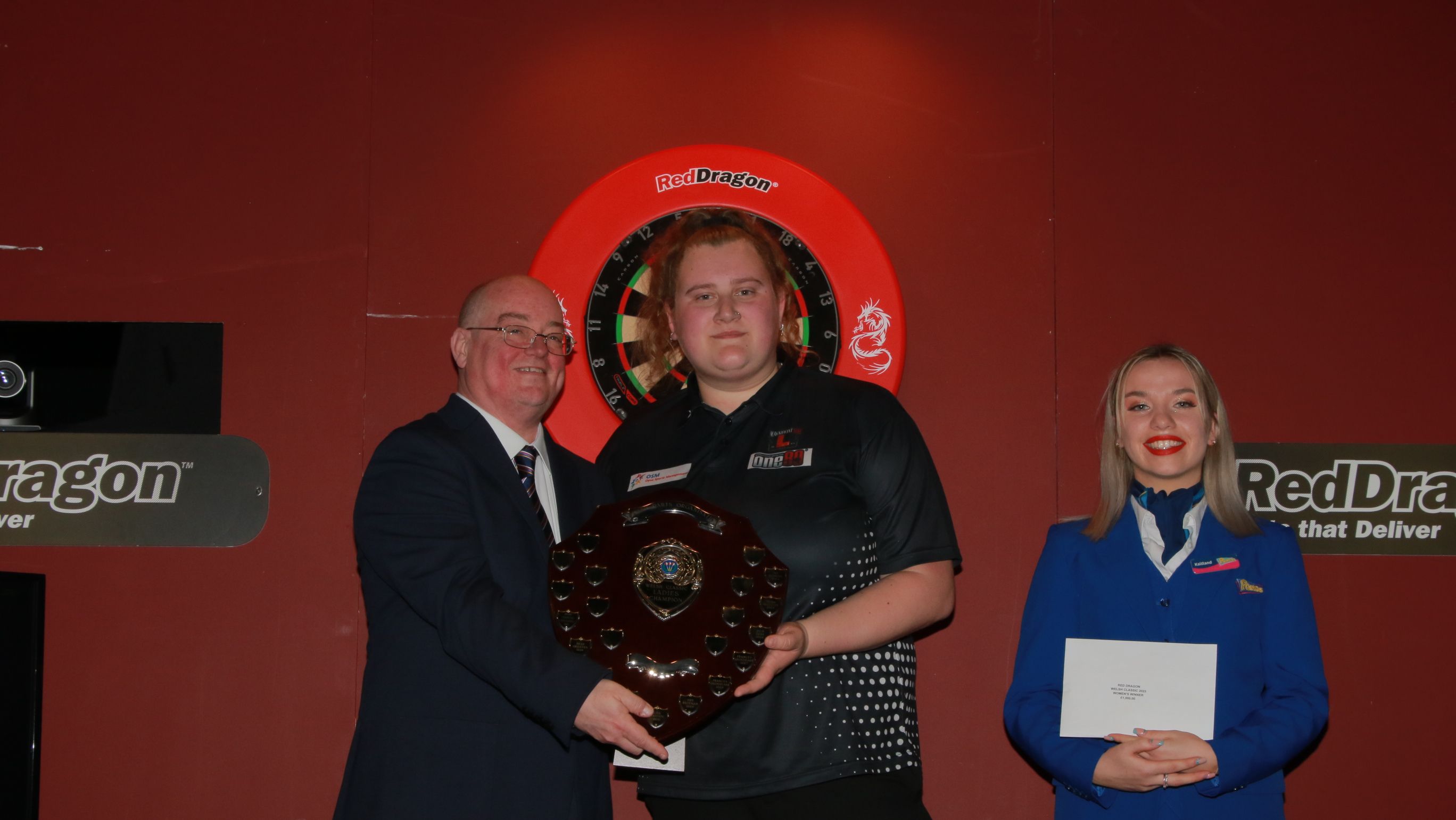 2023 Welsh Classic Women's Champion, Beau Greaves
Former England Youth international Connor Levett proved the pick of more than 300 players in the Men's Welsh Classic as he came through to claim a maiden ranking title on the WDF circuit. Opposite 'Knuckles' in the final was two-time Lakeside qualifier Antony Allen, who himself was searching for a first piece of WDF silverware.
After the first three legs went with throw, Levett seized the advantage by recording a 14-dart break of throw in the fourth to lead 3-1. Allen, nicknamed 'Shaggy', immediately broke back with a 16-darter of his own and then levelled the scores with a nervy 20-dart hold.
Levett hit the front again with a brilliant 120 finish, only for his scoring power to desert him in the next leg as Allen squeaked over the line to force a last-leg decider. Allen was the first to a double in that last leg but after he wired the bull for a match-winning 88 checkout, Levett stepped up and took out 60 with a double-double finish to seal an emotional title triumph.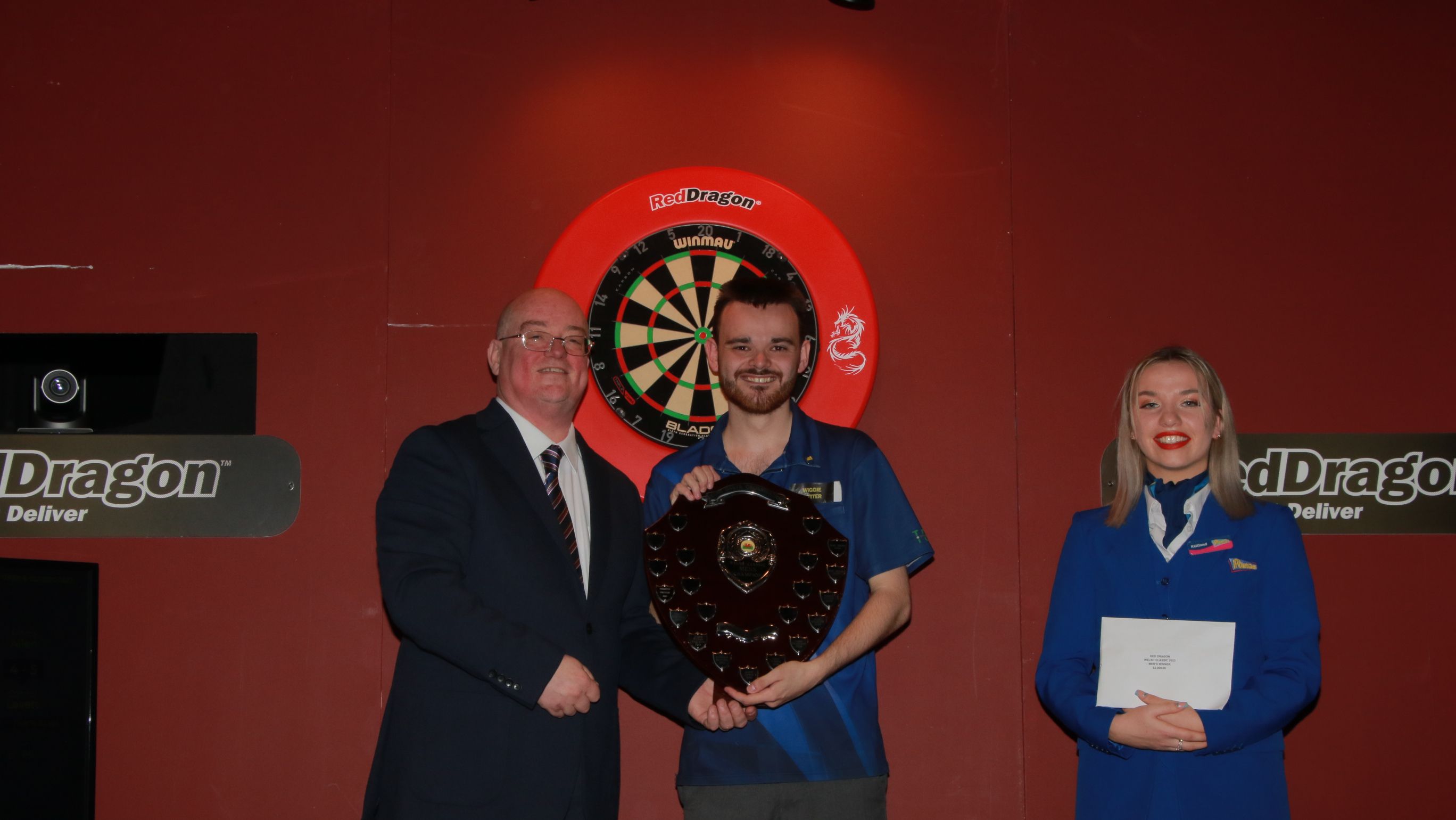 2023 Welsh Classic Men's Champion, Connor Levett
Just like Greaves, Thomas Banks kicked off an impressive weekend double in Prestatyn by winning the Welsh Classic Youth title.
Having knocked off Leighton Bennett in the last four, Banks accounted for fellow English player Daniel Stephenson 4-2 in the final.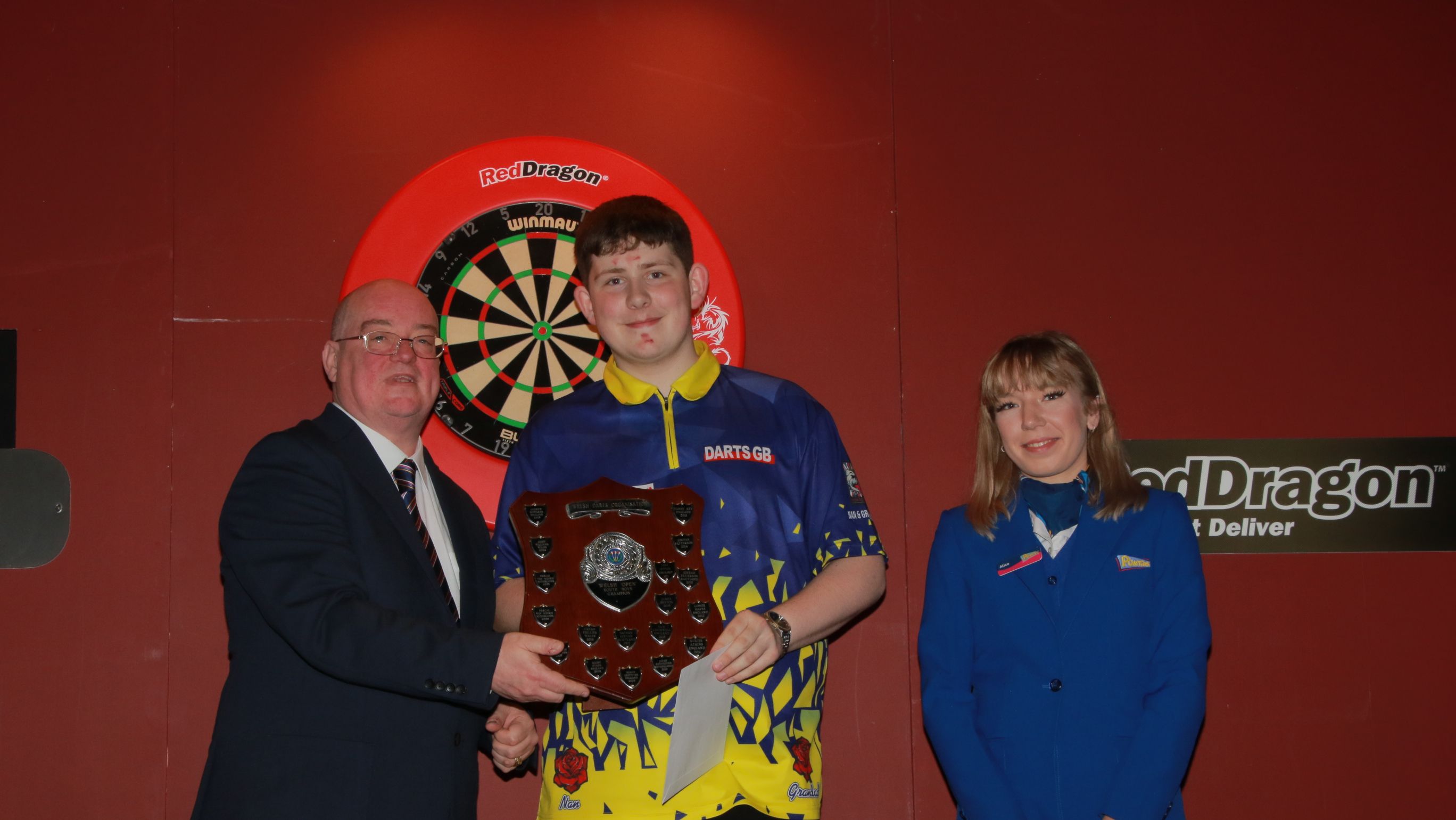 2023 Welsh Classic Youth Champion, Thomas Banks
First title in four years for Mathers in Queensland
Gordon Mathers won his first WDF title in four years as the tour returned down under for the Silver-graded Sunshine State Classic in Queensland.
Having survived match darts against Raymond Smith in the quarter-finals and beaten Dave Marshall in the semis, 'GG' faced Matt Mullen in the final.
From 2-1 down, Mathers won four legs on the spin to run out a 5-2 winner and seal his second career WDF event win with an 84.86 average.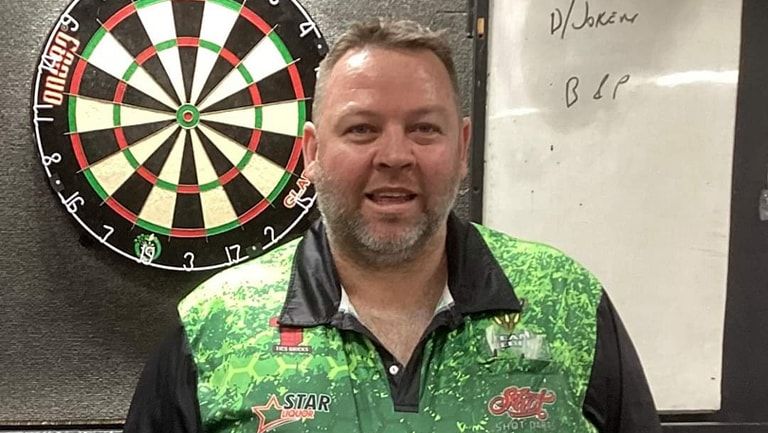 2023 Sunshine State Classic Men's Champion, Gordon Mathers. Photo: Darts Australia
Melina van den Kieboom proved the pick of the players in the Women's Classic, doubling her title tally for the year in the process.
Victory over 2024 Lakeside qualifier Amanda Loch in the semi-final put van den Kieboom through to a final meeting with experienced Australian international Joanne Hadley.
Hadley had already been to three finals in 2023 but unfortunately it wasn't to prove fourth time lucky for her in Queensland, with van den Kieboom emerging victorious 5-3 to cement her spot at the 2023 Australian Darts Open.
It was a tale of two contrasting finals in the Classic Youth events. Mitchell Galby just edged past Landon Key 5-4 to win the Boys competition, while in the Girls tournament Faith Kainuku thrashed Emily Jones 4-0 to take the title.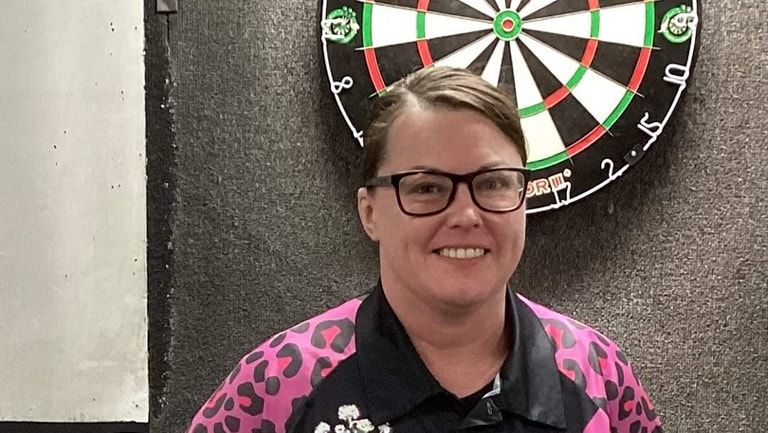 2023 Sunshine State Classic Women's Champion, Melina van den Kieboom. Photo: Darts Australia
Parker and Pickett pick up top honours at Kyle Anderson Memorial
The late Kyle Anderson was honoured once again in May with a Youth Memorial tournament in his name taking place in Western Australia.
In the second running of the event, Kelviston Parker won the Boys Memorial thanks to successive 4-2 victories over Ricky Pickett Jnr and Tyson Marsh.
The Girls tournament was won by Brianna Pickett, who overcame Abbi Aram 3-1 in the final.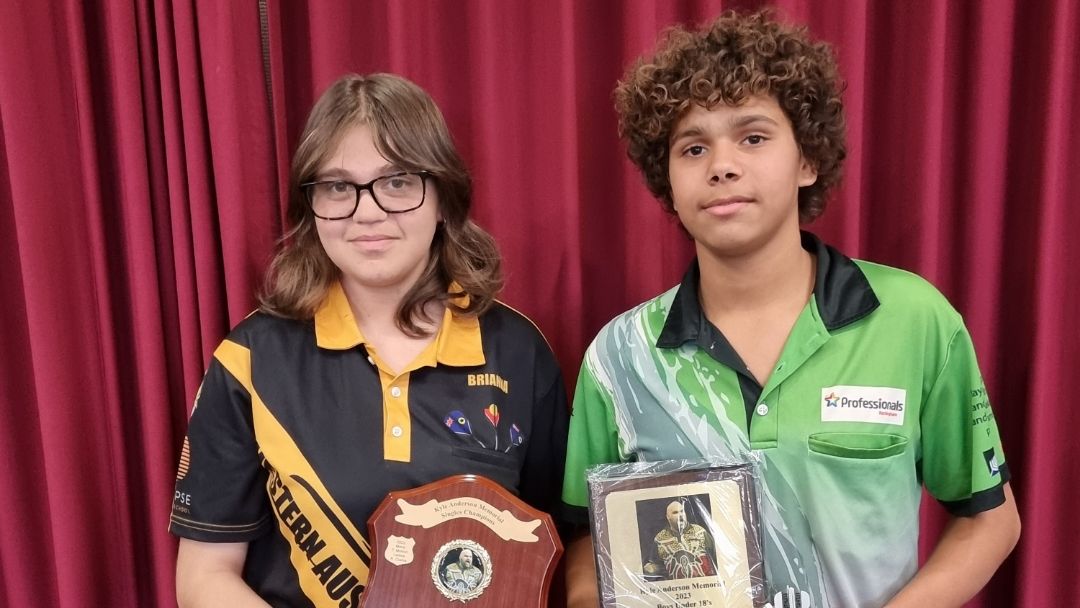 Brianna Pickett And Kelviston Parker Kyle Anderson Youth Winners
Sutton claims a pair as Scott and Melderis win second titles of year in Lithuania
On what was Coronation weekend in the UK, the WDF tour headed to Lithuania for a pair of Bronze-ranked tournaments.
The first of those, the Lithuania Open, saw John Scott win his second title of the year and move into a provisional 2023 WDF World Championship spot in the process.
'Gnasher' looked assured in beating Belgium's Bjorn Vervloet 4-0 in the last four, a victory promptly followed by a 5-1 triumph over Davy van der Zande in the final.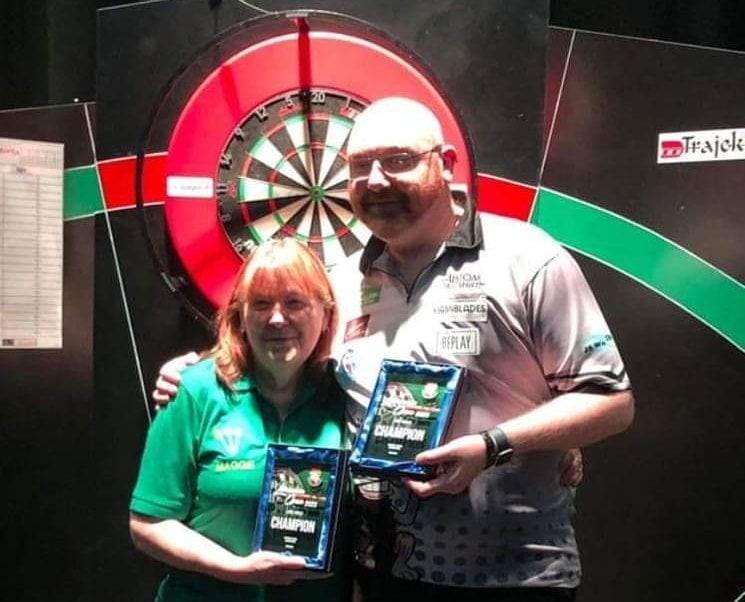 2023 Lithuania Open Champions, Margaret Sutton and John Scott
Scott had won the Kaunas Open in 2022 but he was unable to retain his crown in 2023, with this year's title instead going the way of Valters Melderis.
The Latvian won his maiden WDF title in Estonia back in April and he claimed his second in the Lithuanian capital with victory over Gintaras Nagevicius.
After home favourite Nagevicius took the first leg, Melderis reeled off five on the spin, recording finishes of 100 and 108 as he won 5-1 with an 82.18 average.
John Scott's county teammate Margaret Sutton headed to Kaunas looking to defend the Lithuania Open title she won in 2022. She left there in 2023 with twice as much silverware in her possession.
She retained the Lithuania Open with a 4-1 victory against Swedish veteran Helene Sundelin and then beat Anja Springborg Larsen 4-2 the next day to claim Kaunas Open glory.
Those two titles were the seventh and eighth in the lengthy career of 'Legs', who won her first WDF honours in Spain back in 1993.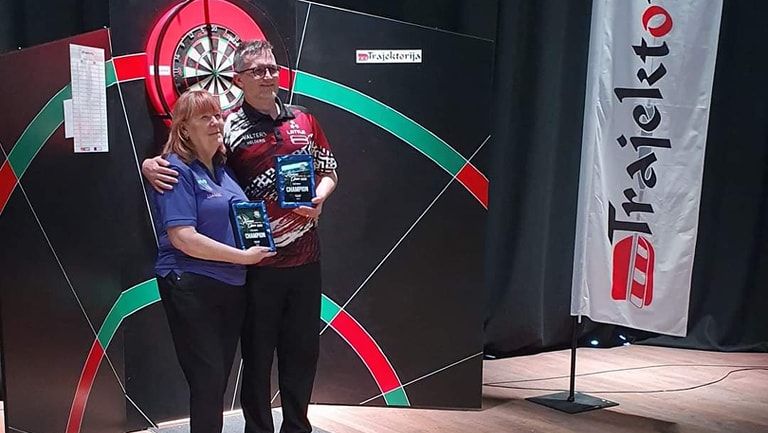 2023 Kaunas Open Champions, Margaret Sutton and Valters Melderis
Junghans and Muzik at the double as WDF returns to Cyprus
For the first time in four years, the WDF tour stopped off in Limassol, Cyprus for a pair of Bronze-graded ranking events. When all was said and done, Thomas Junghans and Christiane Muzik had bagged a brace of titles each.
Junghans converted on his top seeding to win the Men's Cyprus Classic and Cyprus Masters, his fourth and fifth WDF titles overall and first since the 2019 Swiss Open.
In the Classic, 'TJ' dropped just three legs in four matches to reach the semi-finals. There, he overcame Petros Christodoulou 4-1 to set up a final with Andreas Georgiou Nikolaou.
After the first four legs went with throw, Junghans hit the front for the first time in leg five with a 20-dart break. From there, he never looked back, taking the next two legs in a combined 30 darts to wrap up a comfortable 5-2 victory.
It was a similar story in the Masters. There, the Swiss dropped just two legs in three games before he knocked off Wayne Halliwell in the quarter-finals. He subsequently beat Greece's Kostas Pantelidis by the same scoreline in the semi-finals to book a final with the Dutchman Erik van Manen.
The Masters final proved even more plain sailing for the Swiss ace, who threw two 180s and averaged 92.41 in a comfortable 5-1 victory.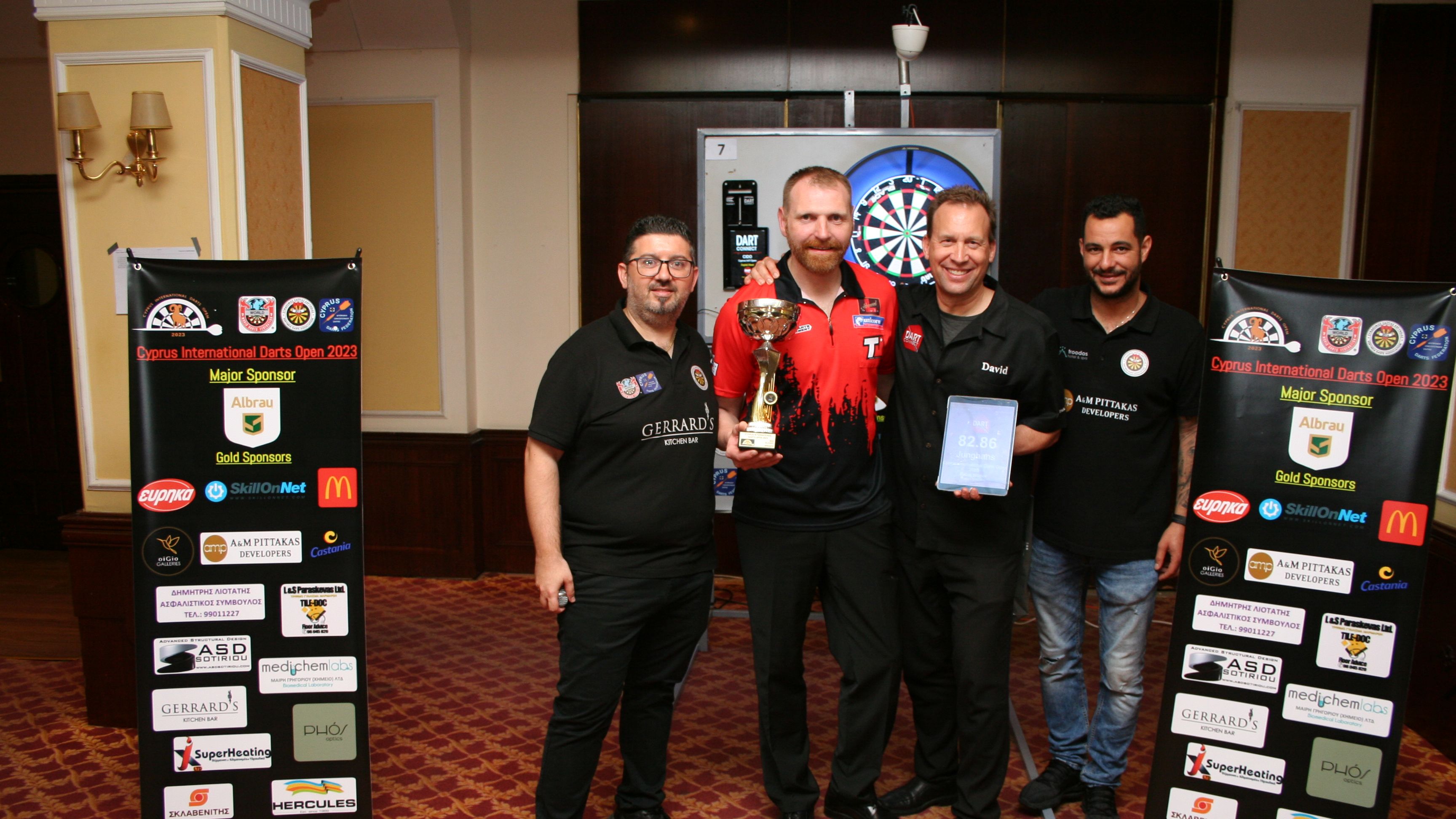 2023 Cyprus Classic and Masters Champion, Thomas Junghans. Photo: Cyprus International Darts Open
Austrian international Christiane Muzik had never won a WDF title before going to Limassol. Just like the old adage about London buses, she picked up two within the space of 90 minutes in Limassol.
In the final of the Cyprus Classic, she produced finishes of 95 and 74 in a 4-0 victory over Artemis Xiari. It was a far closer run thing in the Masters, where Popi Athanasiou forced Muzik all the way to a last-leg decider. That last leg brought the best out of the Austrian though, a 17-darter sealing her a 4-3 win and a second career WDF title.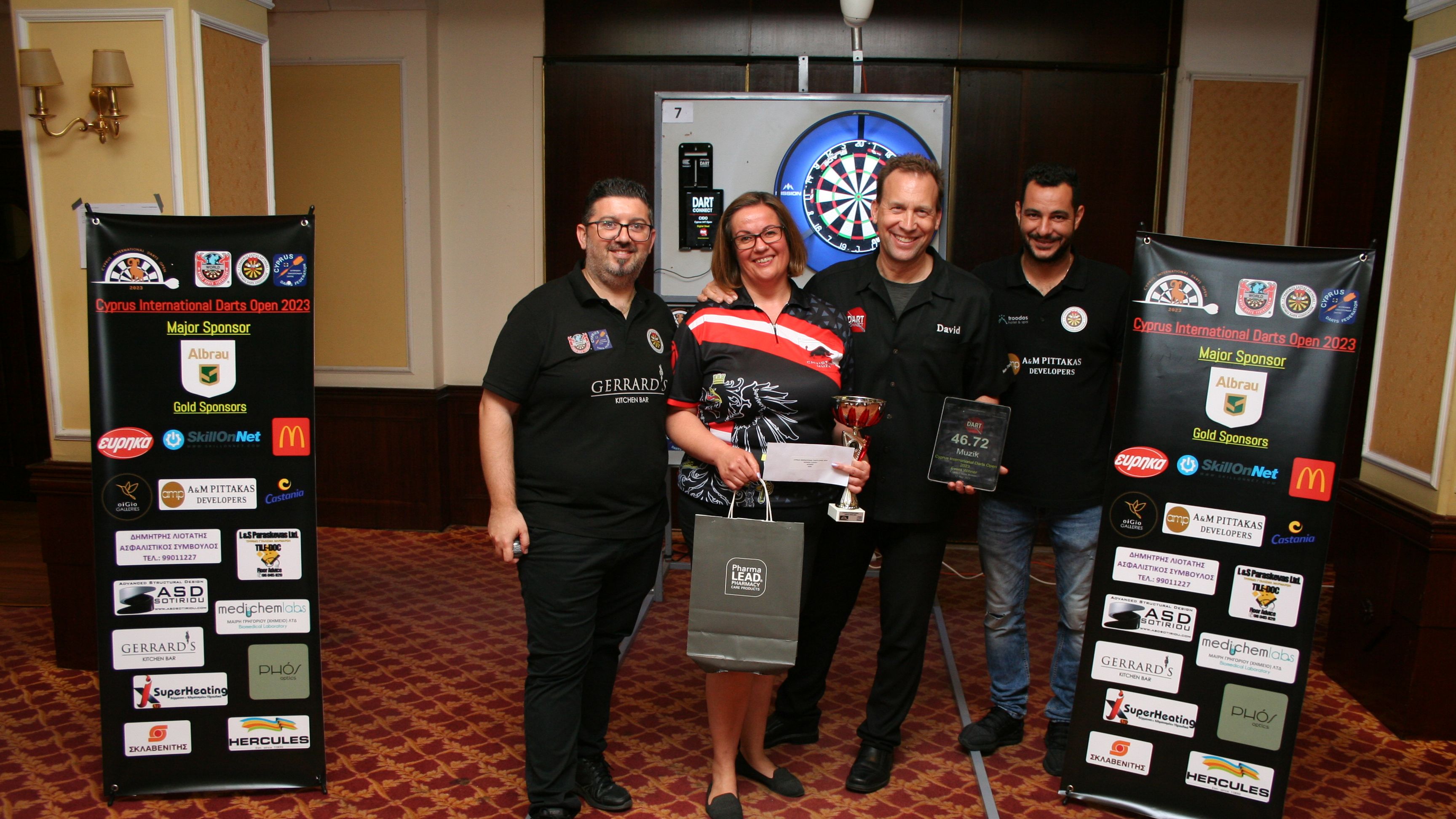 2023 Cyprus Classic and Masters Champion, Christiane Muzik. Photo: Cyprus International Darts Open
Lim among the winners as tour returns to Mongolia
Just like Cyprus, Mongolia hadn't played host to WDF ranking action in four years before welcoming players from across Asia for a pair of tournaments at the end of May.
Star of the weekend was Singaporean veteran Paul Lim, who at the age of 69 and 43 years after his first WDF event win, added to his title collection with victory in the inaugural Ulaanbataar Open.
In the final, the only man to hit a 9-darter on the Lakeside stage averaged 83.04 in a 4-2 win over China's Lihao Wen.
Lim had gone out in the Last 16 of the previous day's Mongolia Open, a tournament eventually won by Odkhuu Khundaganai.
A winner of the event twice before, Khundaganai beat India's Nitin Kumar 4-2 in the 2023 final, sealing victory and an 82.5 average with a 17-darter.
Bolormaa Batsuuri bagged a brace of titles across the two Women's Opens, narrowly defeating Khulan Bayanmunkh 4-3 in both finals.
The two Youth Open yielded a pair of different winners, with both Tergel Khurelkhuu and Bayartuvshin Munkhuu tasting title success.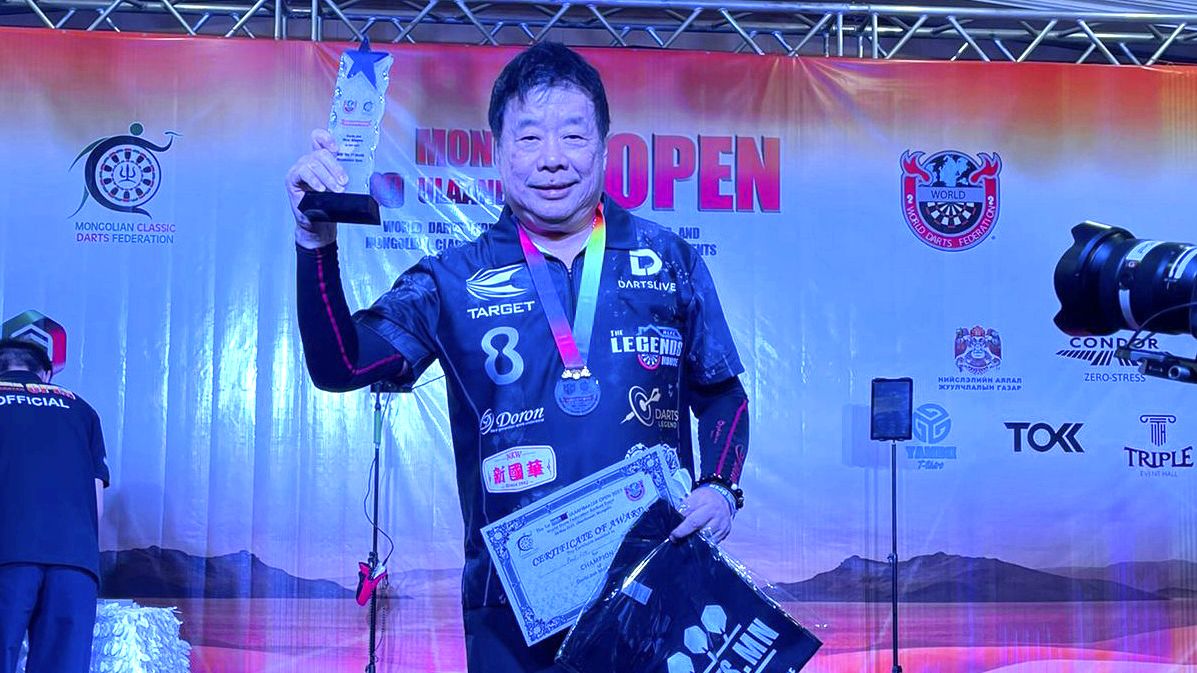 2023 Ulaanbataar Open Men's Champion, Paul Lim. Photo: Target Sports Japan
Puha and Regnaud victorious at John Wilkie Memorial
Haupai Puha and Nicole Regnaud sealed top honours as the WDF tour made its fourth stop of the year in New Zealand for the John Wilkie Memorial.
Puha sealed his sixth WDF ranking title, and second of 2023, with a narrow final victory over Ben Robb. Having already come through a last-leg decider in the earlier knockout rounds against Christopher Clements, 'Hopes' was well prepared to pip Robb 5-4.
The Women's Memorial saw rising star Regnaud win her first WDF title of the year. The 23-year-old dropped just one leg in the knockout rounds of the Bronze-graded tournament before she took on Mihi Awatere in the final.
Awatere, who won her first WDF title last year at the Ted Clements Memorial, had beaten the likes of Desi Mercer and New Zealand No.1 Wendy Harper on the other side of the draw but she fell just short against Regnaud, losing 4-3.
The Youth finals were more one-sided, with Hunter Eyles beating Jack Sheppard 5-1 in the Boys and Jadine Black seeing off Maia Black 4-1 in the Girls.
New Zealand goes Gold during busy June
With five months of the season gone, Jordan Brooks, John Scott and Aaron Turner occupy the three open spaces in the field for the 2023 Men's WDF Lakeside World Championship. Dutch Open champion Berry van Peer leads the chasing pack, just ahead of Australian duo Ky Smith and Danny Porter.
June will see the conclusion of the qualification race for August's Australian Darts Open. The Main Race table will be finalised after the Swiss Open weekend, as although Andy Baetens boasts an insurmountable lead in the Men's table, the Women's spots are still firmly up for grabs.
The cut-offs are later in Australia and New Zealand as they've got one (Australian Masters) and two (New Zealand Open, Canterbury Open) events left respectively.
Elsewhere, June's slate of events also includes returns to Estonia, Hungary and the USA.
Sat, Jun 3rd – Swiss Open, Switzerland (Silver)
Sun, Jun 4th – Helvetia Open, Switzerland (Silver)
Sun, Jun 4th – Canterbury Open, New Zealand (Bronze)
Sat, Jun 10th – Kassiaru Cup, Estonia (Bronze)
Sat, Jun 10th – Oregon Open, USA (Bronze)
Sat, Jun 10th – International Youth Challenge, Hungary (Silver)
Sun, Jun 11th – Kassiaru Open, Estonia (Bronze)
Sun, Jun 11th – Australian Masters, Australia (Silver)
Sat, Jun 17th – Cherry Bomb International, USA (Bronze)
Sun, Jun 18th – New Zealand Open, New Zealand (Gold)
Sat, Jun 24th – Balaton Darts Masters, Hungary (Bronze)
Sun, Jun 25th – Balaton Darts Classic, Hungary (Bronze)
Tags:
WDF Tournaments
WDF