Nine countries secure medals at 2023 WDF Europe Cup Youth
108 of Europe's brightest teenage tungsten talents converged on Vienna, Austria in early July for the 32nd edition of the WDF Europe Cup Youth.
Germany's Yorick Hofkens and Italy's Aurora Fochesato stole the show by claiming singles gold, although a total of nine different countries claimed medals across the three days of action.
Hofkens beats Banks to win Gold for Germany
Yorick Hofkens became the fourth German to win the WDF Europe Cup Youth Boys Singles in the tournament's history, and the first since Nico Schlund in 2015, when he beat Thomas Banks of England in the 2023 final.
Banks began the final with a 15-dart break of throw, only for Hofkens to immediately respond by taking out 91 for a break of his own and then holding in 19 darts to lead 2-1.
A further two holds followed before Hofkens moved two legs in front, this time breaking the Banks throw with an 18-darter. Banks was able to hit back with a match-best 13-darter but he couldn't make any further inroads on his German opponent, Hofkens pinning 92 to lead 5-3 before sealing a 6-3 victory with a 14-darter.
Hofkens, who finished the final with an 85.63 average, had beaten the Dutchman Pim van Bijnen 5-1 in the semi-final. That Bronze for Van Bijnen proved to be the only medal the Netherlands picked up in the entire 2023 WDF Europe Cup Youth.
The other bronze medal, meanwhile, went the way of Wales and Connor Hopkins. Hopkins had impressed throughout the tournament but ultimately lost out 5-4 to Thomas Banks in the other semi-final.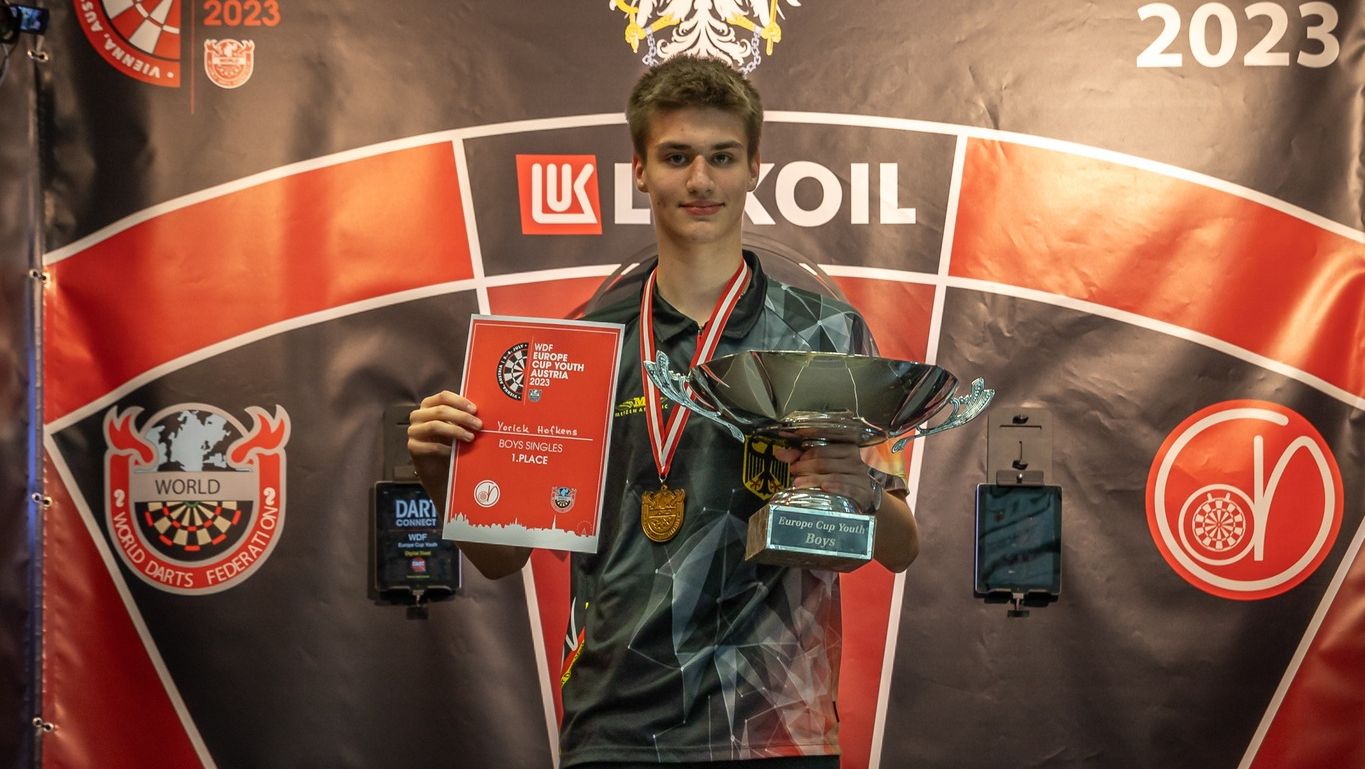 2023 WDF Europe Cup Youth Boys Singles champion Yorick Hofkens. Photo: Österreichischer Darts Verband
Fochesato goes back-to-back in Girls Singles
With a final victory over Turkey's Zehra Gemi, Italy's Aurora Fochesato became the first person since Casey Gallagher in 2013 to retain the WDF Europe Cup Youth Girls Singles title.
Fochesato topped her round-robin group for the loss of just two legs and in the last 16 beat Germany's Jacqueline Rantsch 3-0. She was pushed harder in both the quarter-finals and semi-finals, though, beating Finland's Iida Lanko and Ireland's Rebecca Allen 3-2 and 4-2 respectively.
Facing Fochesato in the final was Gemi, who had beaten Scotland's Sophie McKinlay in the other semi-final.
Despite the eventual 5-2 scoreline, the final was a closely contested-affair that featured just one break of throw. Fochesato had throw to start and after breaking Gemi's throw in 16 darts to lead 4-2, she sealed victory with a 20-darter.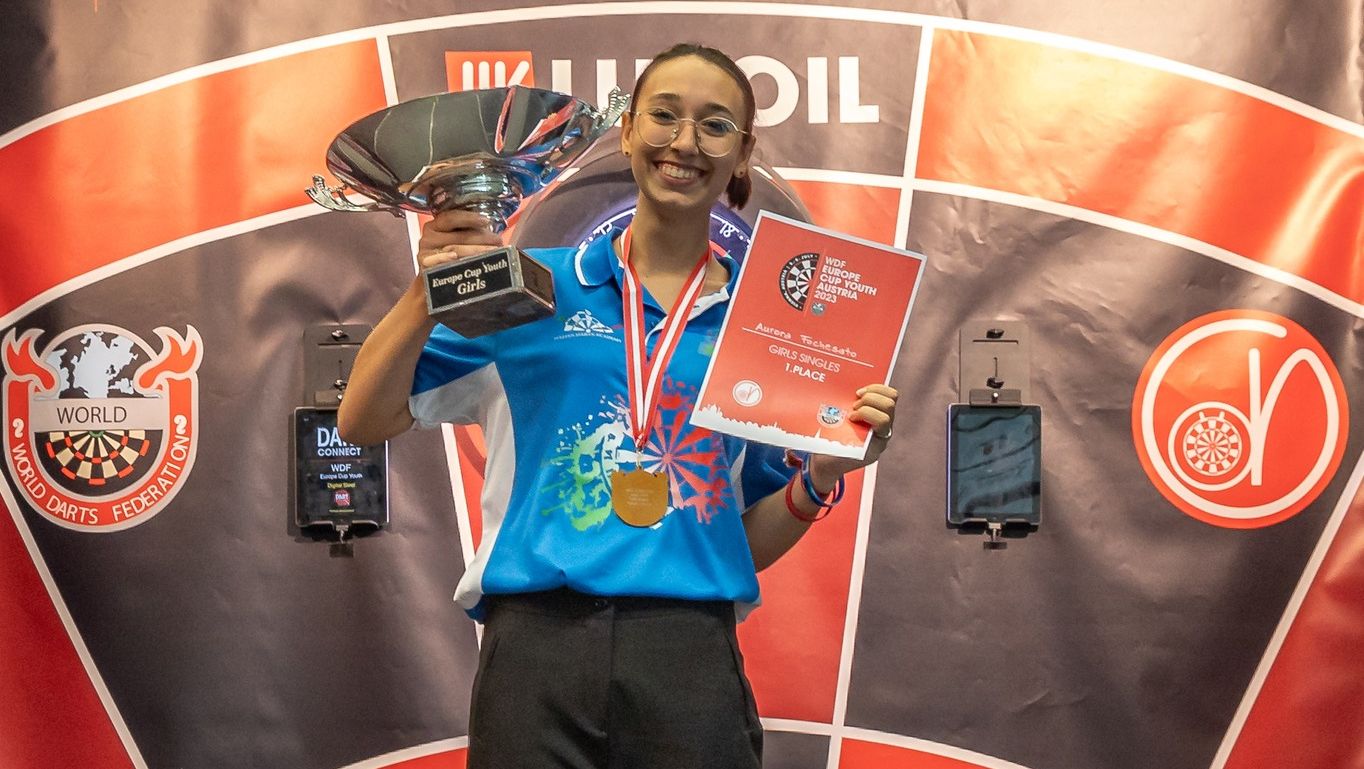 2023 WDF Europe Cup Youth Girls Singles champion Aurora Fochesato. Photo: Österreichischer Darts Verband
Singles runners-up claim Pairs Gold
Both losing singles finalists, Thomas Banks and Zehra Gemi, had already claimed one gold medal earlier in the day as both had triumphed in their respective Pairs competitions.
Banks was one half of the defending Pairs champions having teamed with Charlie Manby in the 2022 Europe Cup Youth. In 2023 he was alongside the diminutive Archie Self and proved just as impressive.
Banks and Self came from 3-1 down in the semi-final to beat the Hungarian duo of Rajmund Papp and Balazs Szotak and set up a final meeting with Yorick Hofkens and Alexander Steinmetz. The German duo had beaten the Irish pair Sean McKeon and Aidan O'Hara 4-3 in the other semi-final.
An impressive four-leg burst in 72 darts put England on the brink of victory in the final and after suffering some double trouble in the sixth leg, they got over the line in the seventh to win 5-2.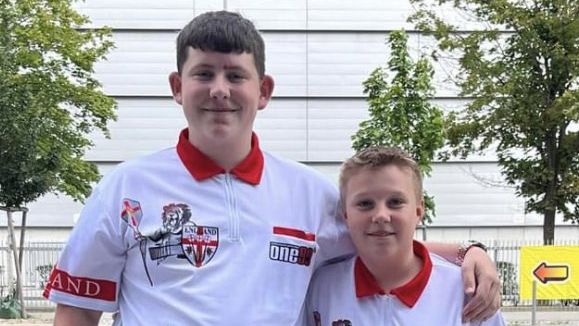 2023 WDF Europe Cup Youth Boys Pairs champions Thomas Banks and Archie Self
In the Girls Pairs, Gemi teamed up with Belinay Pelivan to secure Turkey a gold medal in the category for the very first time.
Gemi and Pelivan were hugely impressive throughout and after beating Ireland's Rebecca Allen and Christina Byrne in the semis, they defeated the English duo Paige Pauling and Hannah Meek in the final.
The other bronze medallists were Italy's Aurora Fochesato and Giada Macchi.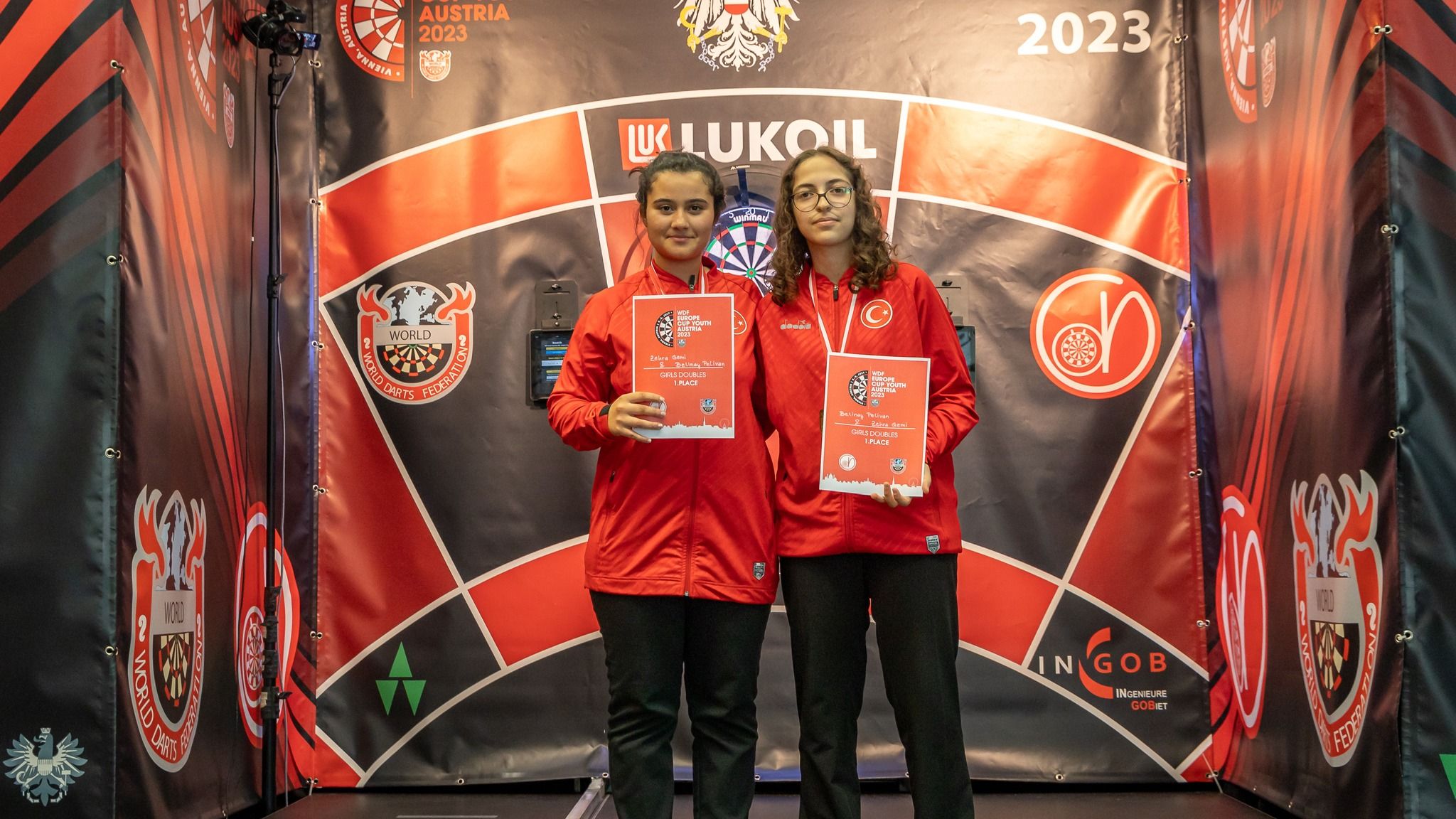 2023 WDF Europe Cup Youth Girls Pairs champions Zehra Gemi and Belinay Pelivan. Photo: Österreichischer Darts Verband
England and Turkey win Overall Gold
Victory for Banks and Self in the Boys Pairs, Banks' run to the Singles final and England's gold in the Teams event meant they secured overall Boys gold for the second successive Europe Cup Youth.
In the Boys Teams tournament, England beat Germany 9-3 in the semis before defeating Hungary by the same margin in the final, Jenson Walker sealing victory with a 16-darter.
The other bronze medal went the way of Wales, taking their tally for the tournament to two.
Ultimately, England topped the overall table with 186 points. Germany were 42 points back in second, with Hungary third and Wales fourth.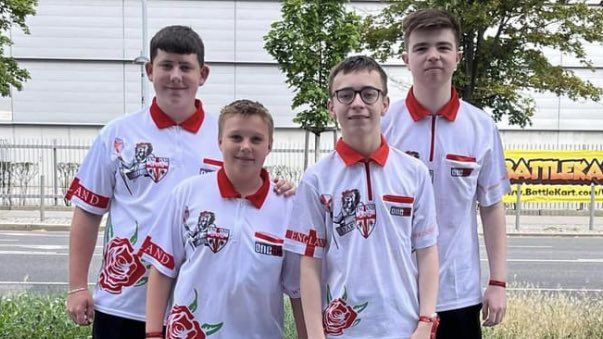 2023 WDF Europe Cup Youth Boys Team champions Thomas Banks, Archie Self, Callum Beddow and Jenson Walker
Turkey's victory in the Girls Pairs and a silver medal in the Girls Singles ensured that they won the Girls overall title for the first time.
England, who had won the Overall title in the last three editions of the Europe Cup Youth, were only good enough for bronze this time, with Aurora Fochesato's Singles gold for Italy giving them a well-deserved silver.
All in all, it was great to see so many talented players in Austria this month and such passion for youth darts from our member countries. A big thanks goes to the Austrian Darts Federation, who ran all five tournaments to perfection.
Tags:
WDF Europe Cup Youth
2023