Tricole and Zijlstra claim Lakeside 'Golden tickets' at 2021 Denmark Open
While we weren't able to run the WDF World Cup in Denmark as planned this year, Esbjerg's brilliant Blue Water Dokken venue still played host to the Gold-graded Denmark Open and Silver-graded Denmark Masters this past weekend.
Saturday's Open saw two more players, Thibault Tricole and Anca Zijlstra, book their places at Lakeside for the inaugural WDF World Championships in January 2022, while Sunday's Masters produced a second title of the year for Deta Hedman and a first event win since 2019 for Dutch ace Richard Veenstra. Andrew Sinclair recaps the action.
Terrific Tricole books Lakeside debut
Thibault Tricole is now a matter of months away from becoming the first French player to compete in a World Championships on the Lakeside stage after defeating Andreas Harrysson 6-3 to win the 2021 Denmark Open.
After exchanging breaks of throw in the opening four legs, a brilliant 13-dart hold for Sweden's 'Dirty Harry' left the final finely poised at 3-3. Spurred on by a sublime 105 finish in the seventh that put him in front, Tricole secured a second break, this time in 14 darts, to move 5-3 ahead and within one of the title.
Needing to win three legs on the spin to keep his immediate Lakeside hopes alive, Harrysson's scoring power deserted him in the ninth leg; the Swede could only find a significant treble on his first visit. Tricole, by contrast, kicked off with scores of 100, 140 and 100 before taking out 16 with his third dart in hand to secure the fourth, and by far the most important, ranking title of his career.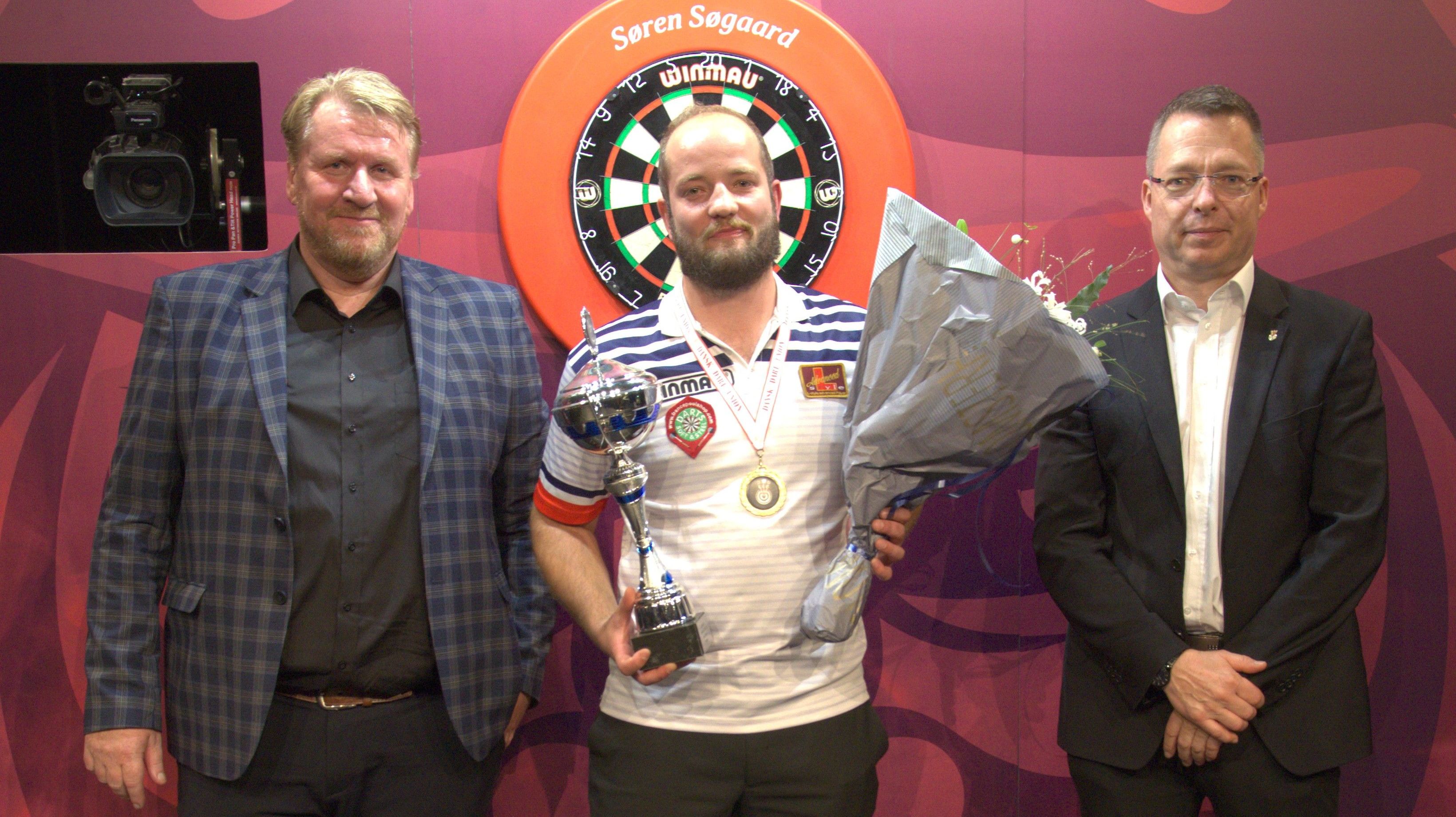 Seeded fifth for the tournament, 'The French Touch' looked pretty comfortable throughout, seeing off Johan Rosander, Brian Buur and Dennis Grosser in the early point-scoring rounds before whitewashing recent Catalan double-winner Andy Baetens in the last eight. Baetens' fellow Belgian Brian Raman, the WDF World No.1 and recent England Open champion, pushed Tricole hard in their scrappy semi-final before eventually losing 5-3.
When the draw was made, Harrysson's recent good form in other events made him one of the most dangerous unseeded players in the competition and he proved worthy of that tag in making his first ranking final since 2018.
Rapid Dutchman Chris Landman was among Harrysson's early scalps, with the Swede's most impressive performance being his gutsy, come-from-behind quarter-final win over Scotland's Shaun McDonald. He secured his spot in the final by defeating Aaron Turner 5-2 in the semi-finals.
Tricole joins Wayne Warren, Ross Montgomery, Jim Williams and Brian Raman in securing an automatic spot at Lakeside next year, while Harrysson's impressive weekend in Esbjerg gives him a great chance of also qualifying, either through the main ranking table or the North Europe regional table.
Ziljstra denies Dobromyslova to secure Lakeside return
Anca Zijlstra's last World Championship appearance came in 2018 when she was beaten 2-0 by Anastasia Dobromyslova. With a guaranteed spot at the 2022 Worlds on the line, the pair renewed hostilities in the Denmark Open final and on this occasion it was Zijlstra who emerged victorious.
Zijlstra started the final in fine fashion, securing an opening leg break, before Dobromyslova responded in kind in a scrappy third as she levelled it up at 2-2. Dutch international Zijlstra then broke again in the fifth to restore her lead and from there never looked back, combination finishes of 75 and 116 securing her the title and important 'Golden ticket' for Lakeside.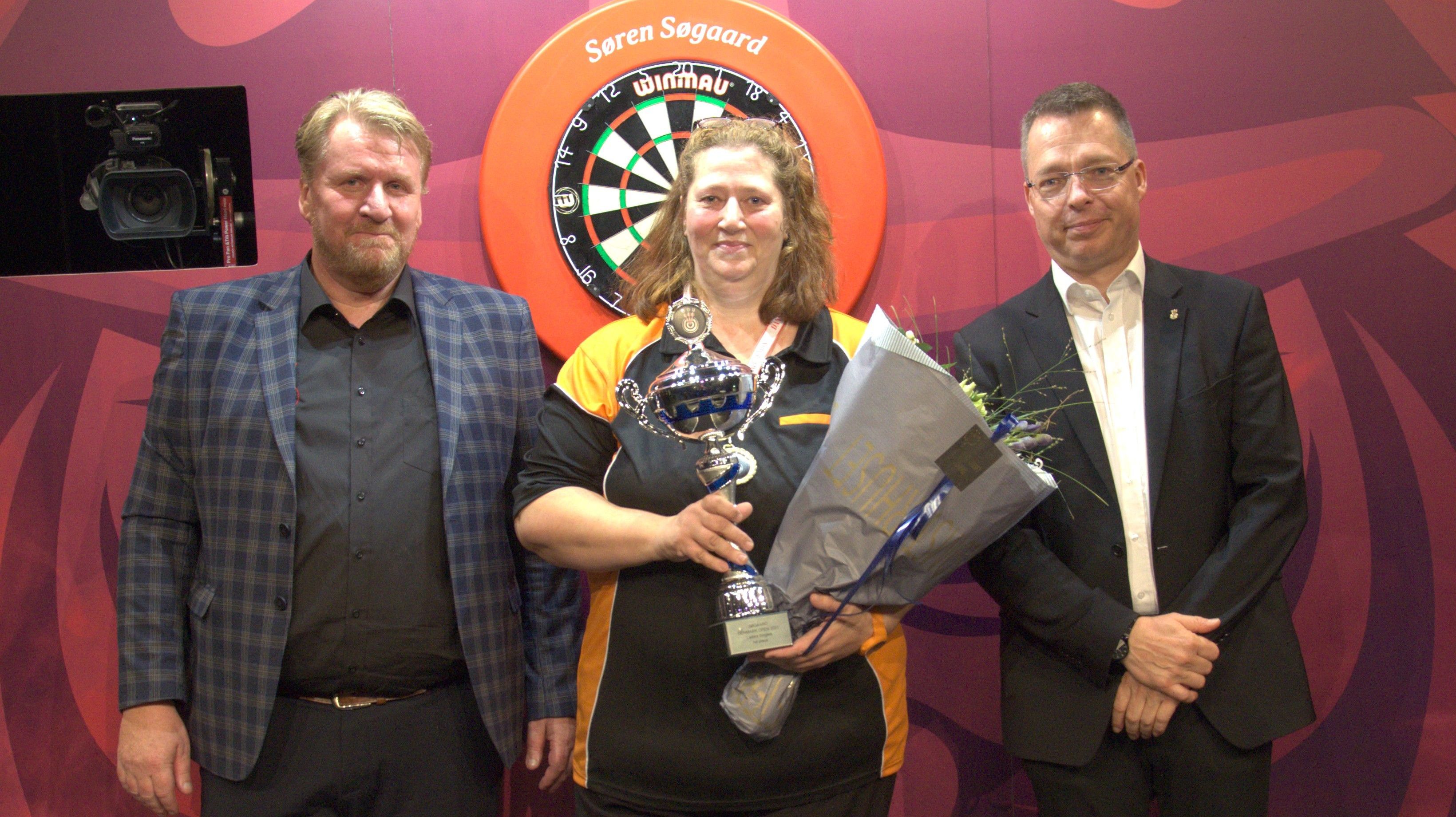 Nicknamed 'The Phoenix', Zijlstra had defeated Maja Christensen, Ramona Mostad-Eriksen, Dorthe Mouston Nielsen and Suzanne Smith for the loss of just two legs to reach the final.
Dobromyslova's early progress the point-scoring rounds was equally comfortable but she was pushed to a last-leg decider by close friend Lorraine Winstanley in the last eight and in the next round was forced to dig deep to beat Deta Hedman 4-2 in a rematch of the England Open final.
Zijlstra's win netted her a ranking title for the first time in over four years, while for Dobromyslova it was a third unsuccessful final appearance of the 2021 season.
Fantastic Flyers nullifies Nauman threat to win Denmark Masters
WDF World Number 1 Brian Raman entered the 2021 Denmark Masters seeking to retain his title from 2019 and further burnish his growing reputation. Despite having match darts to reach the last four, he was beaten in the quarter-finals by the man who would go on to win the whole thing – Richard Veenstra.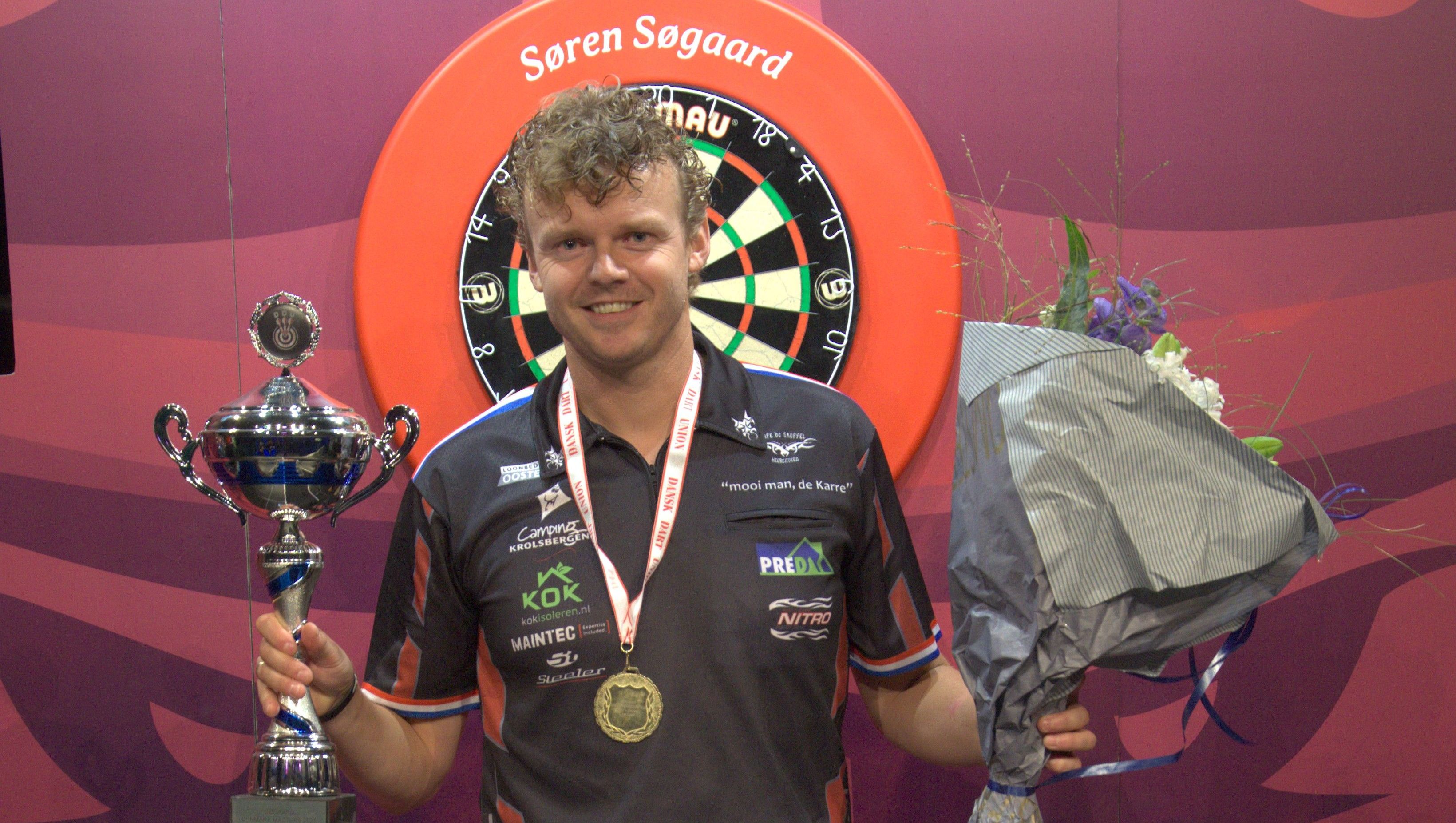 Veenstra never really hit top gear in his semi-final win over fellow Dutchman Willem Mandigers and he continued to struggle through the first six legs of the Masters final against Sweden's Ricky Nauman, finding himself 4-0 and 5-1 down and on the verge of a disappointing defeat.
Nauman, meanwhile, was merely continuing to show the excellent form he'd displayed in his semi-final win over compatriot Andreas Harrysson. In that last four clash he'd taken out four ton-plus finishes and he'd already hit two, a 102 and a 104, in the final to build a sizeable lead.
The turning point came in the eighth leg, Veenstra taking out 118 for a leg against the darts while Nauman was sat on 60. From there it was all one-way traffic, 'Flyers' winning the next three legs in 14, 15 and 19 darts to win the match 6-5 and bag the ninth ranking title of his career.
217 titles and counting for incredible Hedman
Deta Hedman's England Open triumph back in September took her to career title number 216. Three weeks later and that number has ticked up once again after 'The Heart of Darts' won the Denmark Masters.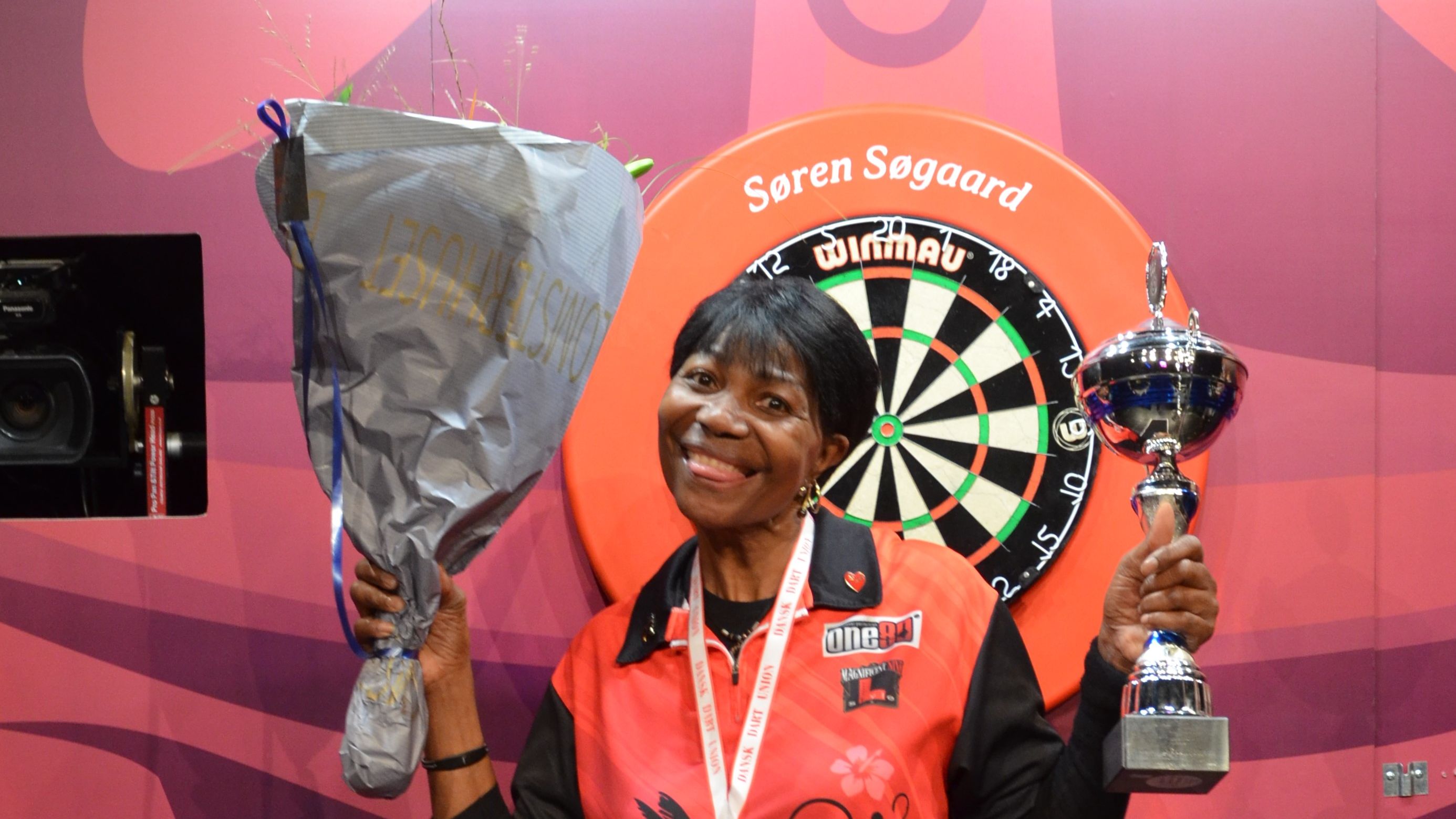 After seeing off Norway's Ramona Mostad-Eriksen in the last eight, Hedman went through the gears to beat Anastasia Dobromyslova in the last four, a 12-darter the highlight in her 4-2 victory.
Her opponent in the final was former World Master Aileen de Graaf, into her third ranking final of the season after edging a last-leg decider against Hampshire's Jo Rolls in the semi-finals. Former Austrian Open finalist Rolls had defeated the previous day's winner Anca Zijlstra 4-3 in the quarter-finals.
Unfortunately for de Graaf, however, the Denmark Masters final didn't go the same way as those previous two title deciders had done. In Catalonia she'd won both Bronze-graded events with 4-1 wins; here, despite a fantastic 147 finish in the sixth leg, she found herself on the end of a 5-2 reverse.
Hedman's victory was a product of exceptional finishing – she finished the game 5/5 on tops and her match-winning 118 out was her third ton-plus finish in the match. She further extends her sizeable lead atop the women's world rankings with de Graaf back up to third behind Denmark Open winner Anca Zijlstra.
Honours even in Youth events
The Denmark Open and Denmark Masters Youth finals were both contested by the same two players – Dutch thrower Tinus van Tiel and home favourite Nikolaj Jorgensen. When all was said and done, both youngsters had a title apiece to show for their efforts.

Van Tiel drew first blood in Saturday's Denmark Open final, beating 15-year-old Jorgensen 4-1. Sunday's Denmark Masters saw a complete reversal, Jorgensen firing in two maximums and averaging over 87 as he whitewashed van Tiel 4-0.
October Gold rush continues with two more Lakeside qualification opportunities
Players will have two more chances to book automatic qualification spots for the 2022 WDF World Championships during October with Gold-graded events in England and Wales.
Bridlington plays host to the iconic British Open on October 17th, with the always popular Red Dragon Welsh Open played in Prestatyn the following weekend.
Tags:
Denmark
WDF Tournaments