Welsh title hat-trick for Littler as Greaves wins again
One of the most popular events on the WDF calendar, the Welsh Open, took place this past weekend. Coming out of Prestatyn, the headlines were all about Luke Littler winning a trio of titles and sealing an automatic World Championship return and Beau Greaves coming through an absolute corker with Fallon Sherrock to win her third title of the year. Andrew Sinclair recaps the action.
Littler downs Newton to book World Championship return
Luke Littler wrote his name in Lakeside legend last month when he became the youngest player to win a game in the Men's World Championship. He's guaranteed another crack at the WDF's top prize next year after defeating Wes Newton 6-2 to lift the 2022 Welsh Open title.
Despite Newton taking out 101 in the second leg of the match, an 84 finish and a crucial break of throw in the fourth gave Littler an early 3-1 lead.
'The Warrior', playing in his first ranking final in nine years, broke back to make it 3-2 but his attempted comeback would prove shortlived. A 13-dart break re-established Littler's two leg advantage, with the 'The Nuke' then kicking on to wrap up victory with a brace of 17-darters.
Littler, who broke Rusty-Jake Rodriguez's record as the youngest-ever winner of a senior WDF event last November when he won the Irish Open, finished the final with a 93.71 average.
The 15-year-old started his run to the title with a pair of 3-0 wins over Wayne Willis and Lloyd Arnold before being tested by Windels Levi in the Last 64.
3-0 down to the Belgian and just one leg away from elimination, Littler won the next four in 13, 15, 11, and 17 darts.
That win was swiftly followed by victories over Heber Thomas and Thomas Lovely as Littler reached the quarter-finals, where he took his game to a whole new level.
Antony Allen was dispatched in the last eight, Littler producing two maximums, finishes of 125 and 95 and an astonishing 109.31 average - a career ranking high for the teen - in a 4-0 win.
Littler backed that performance up with another ton-plus average in the semi-final, a 102.18 in a convincing 5-1 win over the Denmark Masters champion James Richardson.
By contrast, Newton endured a tougher route to the title decider. After defeating Shaun Walshe in the Last 64, the Lancastrian had to come through last-leg deciders in his next three ties, against Aaron Turner, Richie Parkin and Moreno Blom, to reach the semi-finals.
He found himself 2-0 down in the last four against the in-form Martyn Turner but stepped through the gears to win five of the next six legs and run out a 5-3 victor.
Littler joins Dave Prins, Neil Duff, James Hurrell and Sebastian Białecki in sealing automatic 2023 WDF World Championship qualification. 'The Nuke' is also now back up to second in the WDF rankings, with Newton 34th.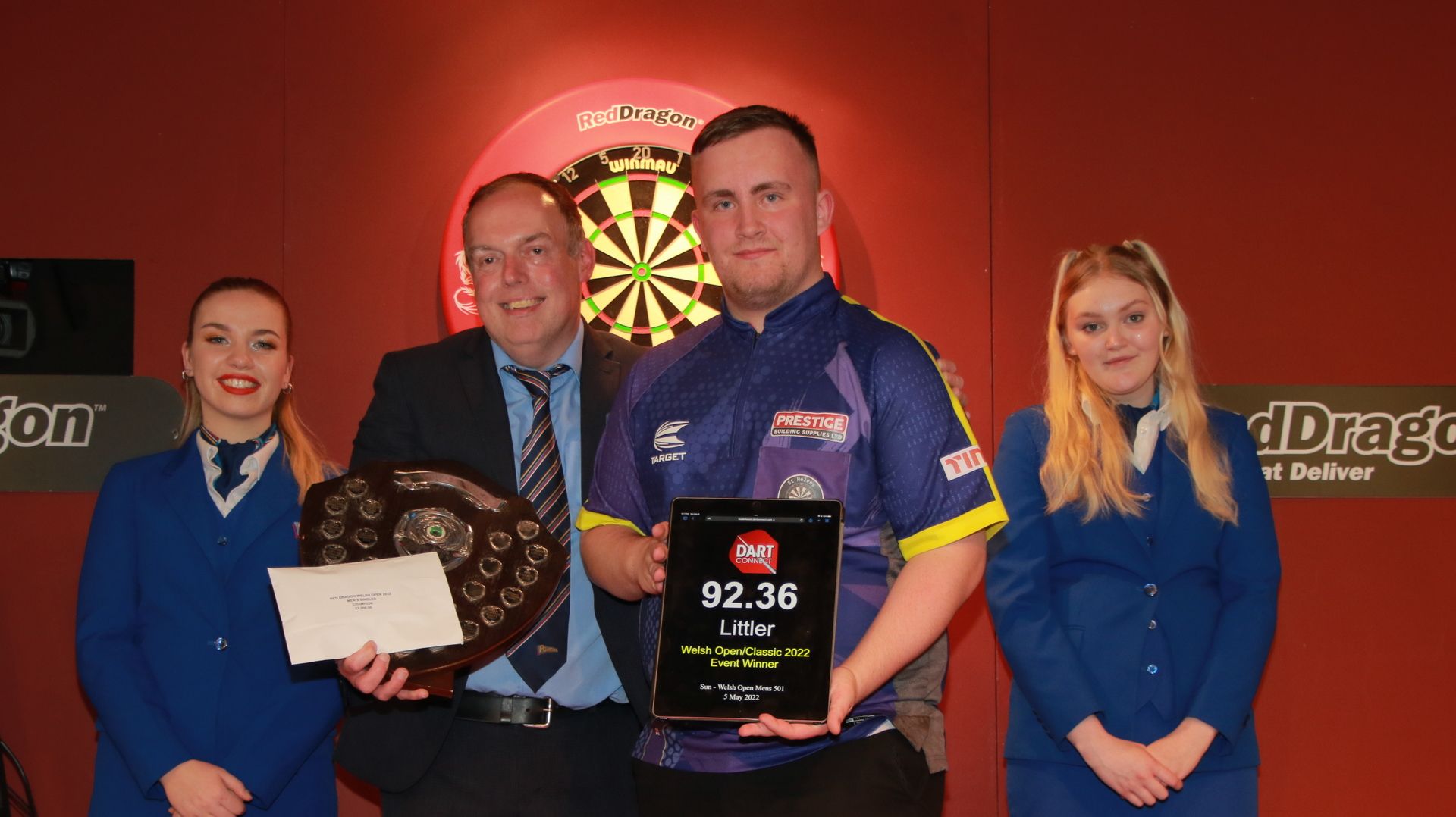 2022 Red Dragon Welsh Open Men's Champion Luke Littler. Credit: Welsh Darts Organisation
Greaves denies Sherrock to win third title of 2022
Beau Greaves has always seemed to go well in Wales, winning the Welsh Open in 2019 and losing to Kirsty Hutchinson in last year's final. She can now call herself a two-time Welsh Open champion after coming from behind to beat Fallon Sherrock 5-4 in a high-quality women's title decider.
The World Champion started the day's play in convincing style, dropping just one leg in her first four games to set up a quarter-final with Lisa Ashton, who was playing in her first WDF event in more than two years.
Momentum swang both ways in their meeting, Ashton leading 3-2 before Greaves won the last two legs in 19 and 16 darts to claim a 4-3 victory.
In the semi-finals, we were treated to a rematch of last year's final and of this year's World Championship final as Greaves took on Hutchinson. Greaves ran out a comfortable 4-0 winner on this occasion to book a clash with Sherrock, who'd only dropped legs to Deta Hedman all day to reach her second final of the weekend.
As you'd expect for a final between two of the best female players on the planet, the audience in Prestatyn and fans watching the livestream were treated to an absolute spectacle.
Sherrock punished a slow start from Greaves to race into a 3-0 lead, only for the World Champion to draw level with a 46-dart three-leg burst that included an excellent Bull-25-Bull 125 out.
4-3 down after Sherrock had registered her second 14-darter of the match, Greaves needed something big to save the game and she found it, checking out 158 to take the final all the way.
Sherrock was sat on 140 in that leg and didn't get a shot at a finish. In the decider she had left herself 32 but again didn't get any match darts, Greaves pinning 62 with the last dart in hand to seal a 5-4 victory.
Greaves recorded three maximums in a final that saw both players finish with averages above the 90 mark. The Doncaster teenager closes the gap on Deta Hedman at the top of the women's rankings, with Sherrock up to sixth.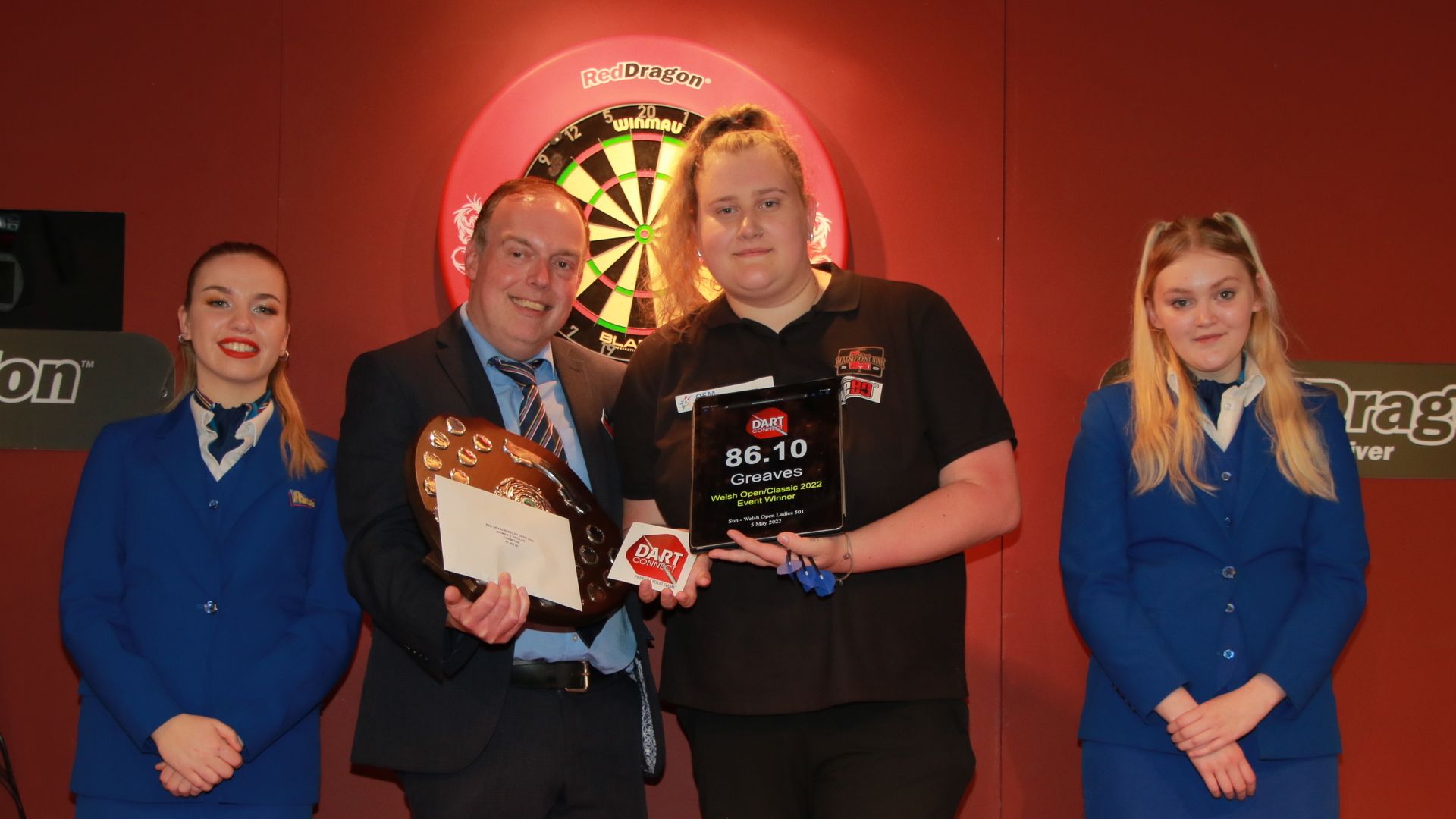 2022 Red Dragon Welsh Open Women's Champion Beau Greaves. Credit: Welsh Darts Organisation.
Copeland completes comeback to win Classic
Northern Ireland international Barry Copeland came from behind to defeat Graham Hall 6-5 and win his maiden WDF ranking title in the Silver-graded Welsh Classic.
Excellent combination finishing had been key throughout the tournament for 'The Daddy', who was playing in his second career final, and that came in clutch for him once again against Hall, who raced into an early 3-0 lead.
From that point Copeland won five of the next legs, a run that featured checkouts of 95 and 96, to take a 5-4 lead and move within one of the title.
A 14-dart hold from Hall levelled things up at 5-5 and took the game all the way. Both players missed a dart at tops for the title in that decider but Copeland made no mistake the second time round, pinning double 10 for an emotional victory.
The standout performance in the earlier rounds from Copeland came in the Last 32 against James Richardson. 2-1 down against 'Ruthless', Copeland produced finishes of 84, 87 and 92 in successive legs to win 4-2.
He followed that up by defeating Windels Levi 4-1 and taking out 104 to pip Ian Jones in a quarter-final last-leg decider before seeing off Martyn Moore in the semi-finals.
On the other side of the draw, Hall grabbed the headlines by recording a tournament-best average of 112.73 in his opening round game against Clive Rule.
While not quite as blistering after that, the Englishman averaged over 90 in five of his seven games before the final and beat the likes of Sean Fisher, Kevin McDine, Jim McEwan and Ryan Murray.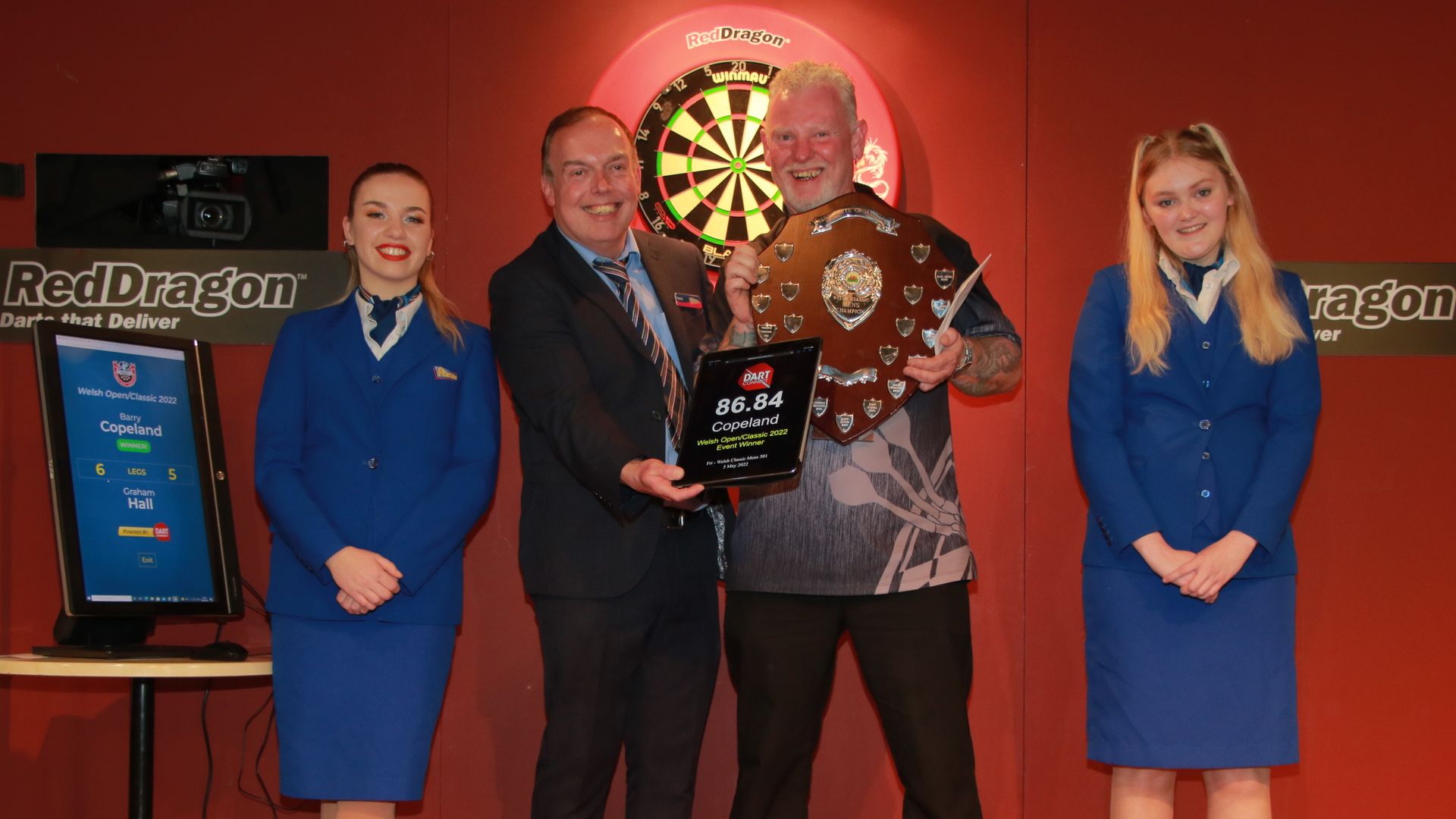 2022 Welsh Classic Men's Champion Barry Copeland. Credit: Welsh Darts Organisation.
Sherrock punishes O'Sullivan misses to claim Classic title
It was a role reversal of sorts from the Open for Fallon Sherrock in the Welsh Classic final, as it was her that had to come from behind against Rhian O'Sullivan to register victory.
Welsh captain O'Sullivan was playing in her first ranking final for almost a decade after an impressive run that had seen her gain revenge for her recent Lakeside semi-final loss against Kirsty Hutchinson with a win in the Last 16 and take out 121 and 101 in successive legs to beat Beau Greaves in the semi-finals.
She started the final strongly, recording two more big finishes of 118 and 144 as she led both 3-1 and 4-2 in a race to five.
At 4-2 up O'Sullivan seemed in a commanding position but she bust a shot at 72 and would go on to miss a total of six championship darts in that leg.
Those misses would ultimately cost her as Sherrock capitalised to win that leg before also reeling off the next two, thanks to 88 and 73 outs, to win her first WDF title of 2022.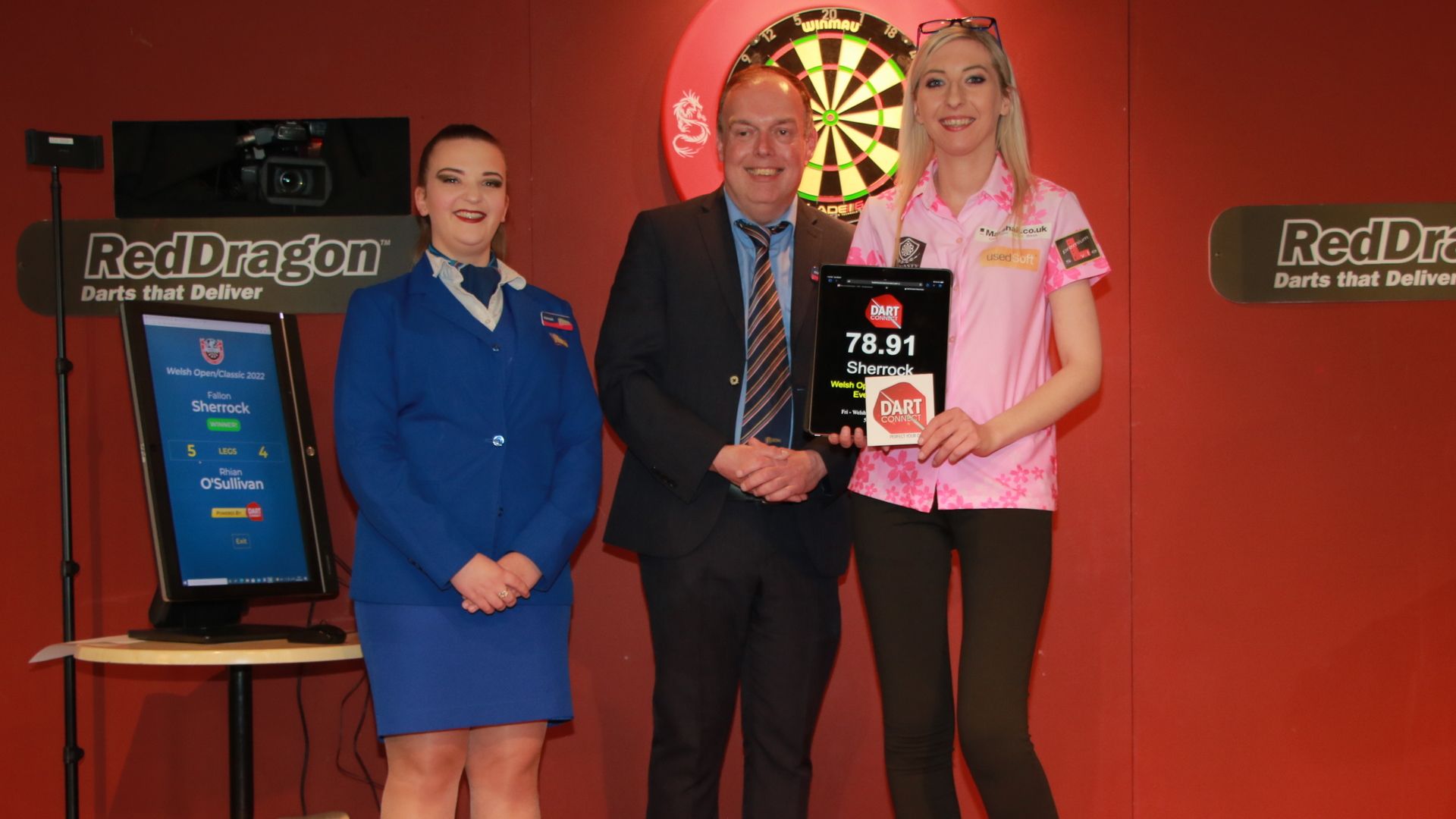 2022 Welsh Classic Women's Champion Fallon Sherrock. Credit: Welsh Darts Organisation.
Littler does the Youth double once again
As has so often been the case recently, Luke Littler was once again the dominant force in the UK-based WDF Youth events, retaining his Welsh Open and Classic titles in style.
The player that pushed him hardest all weekend in the Youth events was Kieran Thompson, who took him to a last-leg decider in the Open quarter-finals before taking two legs off 'The Nuke' in the Classic final.
Littler won that final fairly comfortably in the end, though, taking it 4-2 and recording his fourth ton-plus average of the weekend, a 103.68, in the process.
The Open final was even more straightforward, Littler thrashing Cayden Smith 4-0.
Paige Pauling recorded two 180s in a 4-2 win over Amy Evans to add the Welsh Open crown to the England Open one she claimed last September.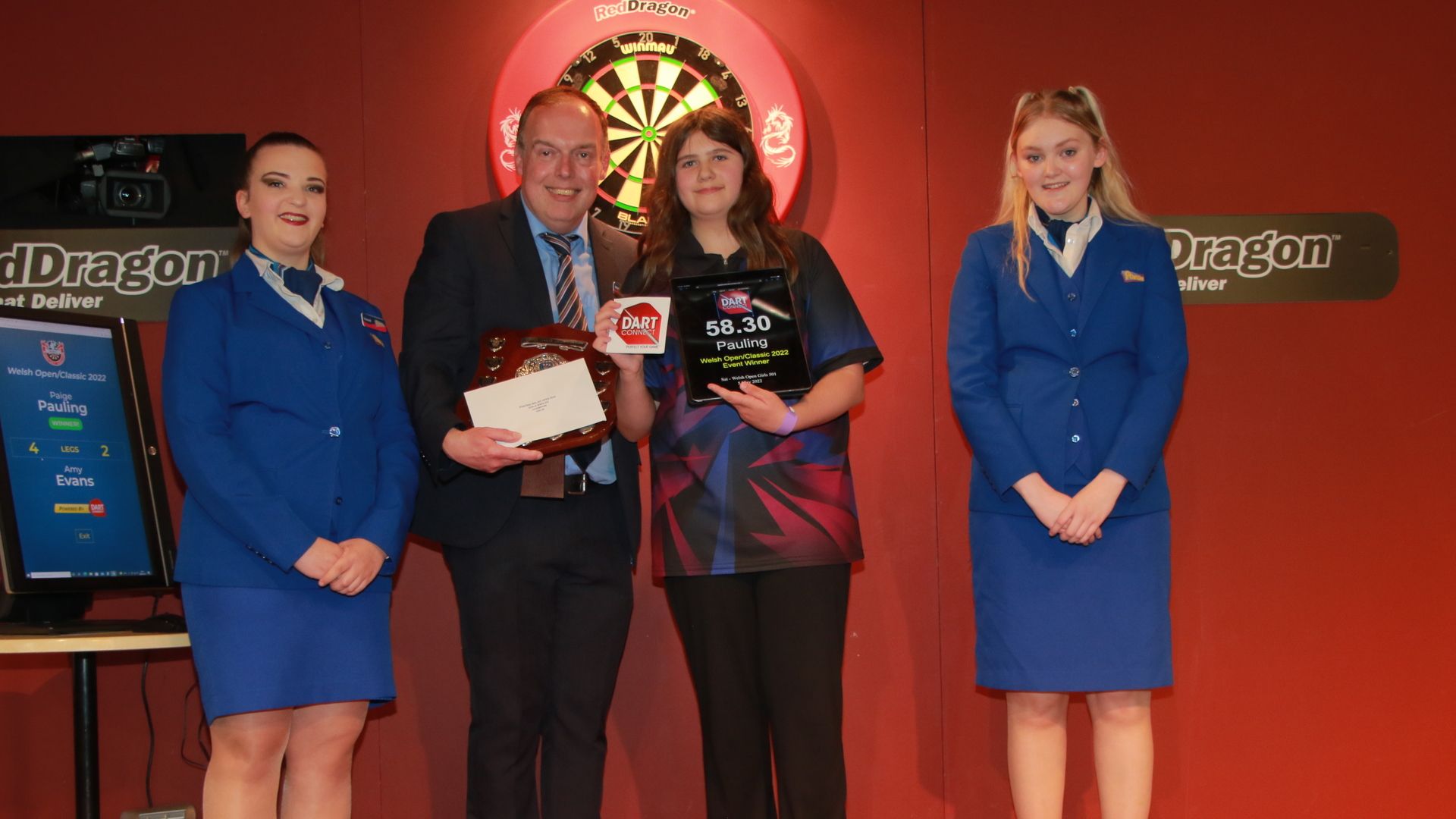 2022 Welsh Open Girls Champion Paige Pauling. Credit: Welsh Darts Organisation.
All eyes on Platinum-graded Dutch Open
May's schedule wraps up with a handful of Bronze-graded events in Lithuania, Sweden, Australia and the USA.
The next tournament with automatic World Championship places on the line is the Dutch Open, which takes place from June 10th-12th at De Bonte Wever in Assen.
Photo Credit: Welsh Darts Organisation.
Tags:
WDF Tournaments
Welsh Open
Welsh Classic